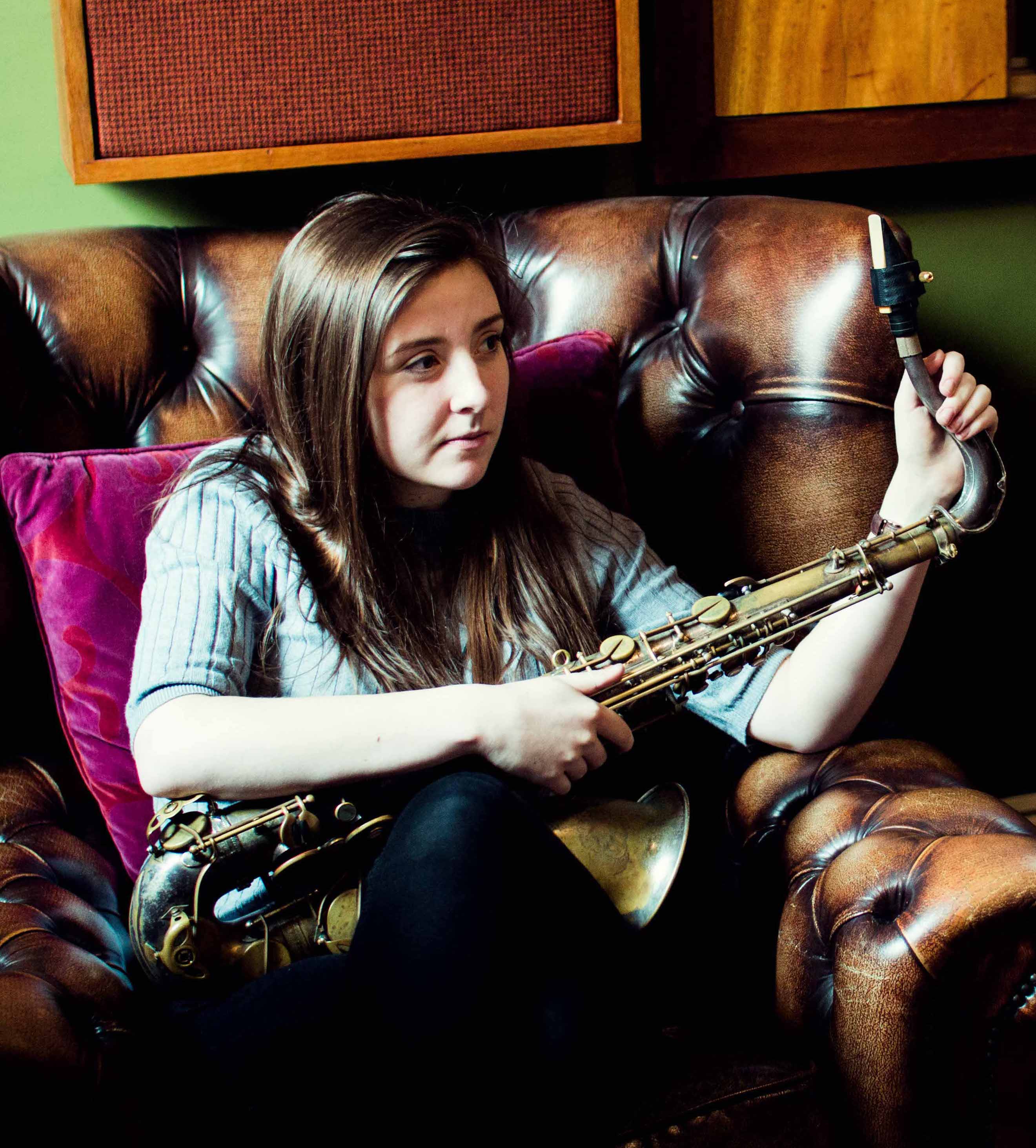 Hello Emma how are you?

Hey Derek, all okay here thanks, how are you doing?
I'm good! Thanks for asking!
Congratulations on making the Fresh Faves with "Hold Me Tight", how did you come up with such a gorgeous piece?
Thank you so much – I'm really excited to have made it to the Fresh Faves for the first time and chuffed it's with this little song.

The story behind Hold Me Tight is quite a sentimental one really. We had a house flood in late 2019 and so in early 2020 while I was trying to write the album (feeling like I was running out of time to get it finished before recording in April – ah hindsight) there was a lot going on and it was moderately stressful. Between unexpected asbestos, a builder who potentially created more problems than he solved and having no bathroom for a month, I was finding it quite hard to write or to be honest, get anything much done at all under the pressure.

The day before I wrote this track, everything got on top of me and I felt totally overwhelmed and like I wouldn't get everything I needed to done in time. I went downstairs feeling defeated and pretty emotional (moderately rare for me). My partner put the kettle on, sat me down, gave me a big hug and listened as I let it all tumble out. Then we worked out what I needed to be able to start getting back on track – which was essentially to move all of our belongings which we'd moved into the study to save them from the water so I could get into the room properly – and I felt so much better.

The next day, I sat down in my newly cleared work space and wrote this track in full. It's probably one of my favourites.
The video is awesome too, did you have a concept for it in mind before Jolin Matraku created it?
I totally agree – she's made something so incredible.

I told Jolin a version of the story above and sent her the music as a starting point, but was really clear that I was happy for her to take it anywhere she wanted and to use as much or as little of the story as she liked.

We've spoken a bit about her process and essentially she listened to the song a lot whilst at home and came up with the idea that the video would be like a standard day but that goes a bit weird, as you'll see if you watch the video!

I feel like the whole style and speed of the animation and how it gently develops is so perfect for the song and I'm so glad I gave her the creative freedom to take it where she wanted as it's far better than anything I could have imagined.
Congratulations on the release of "Worry Not", how does it feel?
It's definitely been a whole mixture of emotions.
Because the album has been delayed so many times (I think we're on plan F now!), it's been over 18 months of thinking about it pretty much every day, so there's quite a sense of relief in being able to let go of that a little bit and have some time and space to turn my attention to other things.

The feedback has been overwhelmingly positive and kind, so that's really been exciting and quite moving that people are sharing their experiences of worry and getting different things from the music, which is always really interesting to hear about.
It's your first album, what's your favourite track from it?
I'm afraid that's too difficult a question!

I think as an album it all fits together and the pieces kind of need each other to work, so it's difficult to single out an individual one. I do have one favourite moment though, which is the guitar and piano breakdown after the head of Waterlogged (maybe from like 0.37 into it).
In terms of meaningful tracks, Vertical Planes is the first song that I wrote for this band in maybe 2015/16 so that's got a special place in my musical heart. I love how it's developed over time.

I've obviously spoken about the inspiration behind Hold Me Tight and I think that's probably the one I could listen to the most – I do avoid listening to myself as much as possible, but the album on the whole is sprinkled with moments I really enjoy, especially in the solo sections from the rest of the guys.
What was the easiest and hardest part of recording it?
The easiest bit was working with the band and the studio team.

The Gravy Boat are super kind, easy going, very talented folk that I'm really lucky to have on board, excuse the pun. They really just give the music whatever it needs and I think you can hear that balance of sensitivity and really strong intention in all their playing.

The hardest bit for me was the physical pressure. It might not seem like a lot, but the demand of playing the saxophone for such long days really took it's toll on me. I think it's mostly just that I was out of practice, not at playing, but at holding the saxophone and playing consistently for a big block of time. On the Saturday, I was really struggling with severe arm pain and a weird nose/throat thing that I occasionally get which I think is to do with tension. I tried to push through it, but it was quite frustrating and worrying that it might happen again on the Sunday and we might not get 'the take' of a few tunes.

Luckily, a bath and a combination of stretching, painkillers and a mindset of just trying to enjoy the day worked wonders and the Sunday went really well.

It was a huge testament to the guys who were so patient and kind on the Saturday, and then put so much in on Sunday to get new takes of a lot of the tunes that I didn't think I'd played well the day before. There are still a few moments when I listen to a couple of tunes that I can hear I was more tentative than I'd like to be, but I'm working on that and glad to have something to aim for for next time!

You are a saxophonist, composer and arranger based in Leeds. How did it all begin for you?
It all began on the other side of the Pennines in glorious Lancashire.
I'm from a town near Accrington and was lucky to go to both primary and high schools where there was a lot of extra-curricular music going on.

I played the recorder and then the clarinet in primary school and then was introduced to the saxophone by my high school teacher Mr Elmer because there were 'too many clarinets in the swing band'. Not that I'm complaining – I didn't really look back.
My Dad plays the piano and he encouraged me to start learning that if I fancied it. I don't think I was too convinced at first, but I'm so glad that he gave me a little nudge in that direction as being able to play a bit has opened up so many doors for me in terms of writing and collaboration. I write all my music on piano first before arranging it for the band and hoping I can play it on saxophone.

I was fairly set on becoming a musician from my early teens, despite the understandable worries from parents and teachers that it might have been a phase, and can remember starting to write music around then with the dream of being a film music composer.

Somewhere along the way I got distracted from that idea by jazz improvisation, and am kind of toying with the idea of juggling both of those things in the future, or certainly doing more writing for different projects, as that's something I really love.
What did you listen to growing up?

A lot of Radio 2 mostly!
I grew up listening to a lot of song writing greats, which I'm ever thankful for.
Strong memories of a lot of Beautiful South and Billy Joel as well as my Dad cooking on a Sunday along to George Michael.
My Mum had Norah Jones on in the car for so many years and she's absolutely one of my favourite artists, although it's been good to check out more than one of her albums in the time since then!
At school, I was kind of in between a lot of groups, so I listened to quite a variety of music, some better than others! I had a pink Ipod mini which I couldn't live without and I used to put my earphone down my sleeve so I could rest my head in my hand and listen to it in class – rebel?!
You lead your band "Emma Johnson's Gravy Boat", who's in the band?
The band is cinematic, melodic quintet which is made up of myself on sax and four incredible musicians. They are:

Fergus Vickers on electric guitar
Richard Jones on piano
Angus Milne on double bass
Steve Hanley on drums

As I was going through listing them just now, I was thinking about pointing out bits on the album that are great from them or that you could check out for a highlight of each player, but it kept boiling down to just listen to the album. There are so many moments that the four of them create with relentless energy and interplay and I really just couldn't be luckier to have them playing my music.
What was the catalyst for putting them together?

I initially started the project with friends in 2016 as a group to play some of my compositions, without much of a plan beyond that. We did quite a few gigs and recorded some bits but it was mostly something I did for fun on the side of other work.In 2019, there was a slight cross roads where the line-up I'd started out with were getting busy with their own projects and wanted to focus on them more, which is totally fair. I think up to that point, I'd been treating the project as something I did with friends as a bit of a hang, a reason to write some music but not much more than that.

At that point, I was pretty unsure whether to carry on or what to do with it, but had the realisation that if I was going to keep going I should probably treat it a bit more seriously and give it some more care and attention. I

Around this time, I was lucky enough to get some helpful advice from Kim Macari and Trish Clowes, two incredible jazz musicians who have so much knowledge and helped me find my direction and work out what I wanted to do next.

I asked four musicians whose playing I love and who I really admire and luckily they all said yes. I was fortunate to be on Jazz North's Northern Line Touring Scheme at the time and had lined up some really lovely festival gigs for the year, which gave me the momentum to decide to really go for it. From there, we were awarded the Peter Whittingham Award to record our debut album, and after a year's wait, here we are!

You are an arranger, how do you usually approach an idea when you start working?
Most of the arranging I do is for horn section and I usually approach the start of an idea in a similar way to how I write, which is by singing (fairly awfully) into my phone.

For Gravy Boat, when I get an idea I'll sing it into my phone so I don't forget it and then I write from there at the piano. I tend to write pieces quite completely and then type them up so that they are legible and clear for the band when we next have a rehearsal. There might be a few edits and revisions at that stage, but it's quite a straight forward compositional process.

With arranging, I tend to sing along with a track and get a load of different ideas together before starting to think about the shape of the piece and where the horns might work best etc. I then work between the piano, Logic and Sibelius to have a working draft that artists can both see and hear, and it tends to be a bit more of a collaborative process throughout.

What saxes do you have?

I'm unbelievably lucky to have Selmer Mark VI's as my tenor and alto saxes.
I'm not a huge swapper and changer as far as gear is concerned, so I've played these horns for the last 10 years or so.

In terms of set up, I'm really excited to play and represent SYOS mouthpieces who helped me find a tenor piece that gives me more projection for non-mic gigs whilst keeping the same warmth and body in my tone. I also use an AMT Quantum 7 Mic thanks to the endorsement of Affinity Audio Ltd which is just the most lovely sounding wireless mic you could imagine.
You have played around the world, was there a place that was a dream come true for you?
I'm really fortunate for all the opportunities I've had to play and huge highlights so far have been Lancaster Jazz Festival for the second time with Gravy Boat, Islington Assembly Hall as part of a horn section for Los Campesinos, and a crazy tour in Europe with some amazing musicians in 2019.

I've definitely played in a few places, and it's a bit of a whirlwind getting to play the saxophone for a job, but I think most of my bucket list gigs are still to be achieved in all honesty.

We've got some album launch gigs coming up from this week onwards, and touch wood, I'll be part of a couple of tours later in the year that I'm really excited about…one with Gravy Boat and one not! Keep your eyes out I guess.
What are you listening to at the moment?
I listen to quite a mixture of music and it often depends on the setting, but I'll do my best to summarise what I'm listening to right now and what I come back to consistently.
My go to artists are Norah Jones who I've already mentioned (if you haven't given her a listen in the past 5 years or since that one debut album that was played non stop, you're missing out on one of the most prolific, incredibly talented multi-instrumentalists and writers around) as well as James Taylor and Joni Mitchell.
I like quite a lot of sad music, which I think a lot of people find weird, but I just don't think there's much better than a well written ballad. Probably going to make a playlist along these lines at some point, so if you want to join me in mellow, moving music, keep an eye out on my socials or Spotify.

This year, there've been some really amazing new jazz albums which I've been spinning on repeat.
Four highlights are Fergus McCreadie's Cairn and Snowpoet's Wait For Me both on Edition, and then John Pope Quintet's debut Mixed with Glass and the new Archipelago record Echoes to the Sky, which have both been released on ace new label New Jazz and Improvised Recordings, who are putting out amazing new music and I'd recommend checking out.
I've also got an inspiration playlist for Gravy Boat which is quite a lot of tenor sax/guitar led quintets and is here if anyone wants some more (mostly melodic, mostly modern) jazz to listen to: https://open.spotify.com/playlist/5bylxLItiGBTnIermXLfNW?si=955f3ce0d82b46c8

I'm definitely not very hip in my music tastes, and though I do like listening to all sorts, I also find real comfort in music I know every little nuance of. I also stray into pop territory fairly often, especially on late night gig drives and recently HAIM, Dua Lipa and Lake Street Dive have been pretty high up the playlists.
COVID affected the creative industry as a whole, what kept you motivated?
Mostly just the album to be honest. The knowledge that I needed to be ready to record whenever we got chance to safely in the studio kept me ticking away on the practice, and replanning the release six times kept that nicely at the forefront of my mind!
When it was clear we were going to be delayed for a while, I made the decision to release a single that we had recorded featuring vocalist Nishla Smith, both as a way to share some new music and keep up the momentum and because it was a really peaceful, serene ballad that I thought might help some people at what was a really horrible difficult time. That sort of gave me something to focus on through the first lockdown and was a good experience in terms of learning a lot about releasing music, which I think has helped me prepare for doing the album this year.

After I'd released the single, the recording was pushed back again and I started some coaching with Lucy Woolley, who really helped me to think about my priorities, what I wanted to work on and was amazing for giving me a sense of direction and focus in such a directionless time.

Aside from Gravy Boat stuff, I did a charity bike ride challenge in September where I cycled 300 miles in a month for Cancer Research and then wrote some music inspired by ideas that I'd had on the rides.

I think that probably sums it up, and I did manage to keep motivated on the whole, but there were definitely ups and downs, as could probably be expected. If I'd known it was going to be a whole year I would probably have taken some more time off to be honest…

2020 was a time to reflect what lessons did you learn from this period?
I think it's been a difficult year for everybody in one way or another, and I definitely felt fortunate to be in a position where I had the space mentally to make use of some of the time to reflect and learn. The main thing that I'm trying to build into my life going forward is the need for rest and leaving space to do things I enjoy and be present for friends and family.

I've had a lot of lovely conversations with people over the past year, and a lot of them have helped me to realise that I'd fallen into the trap of 'busy-ness'.
I think when you first set out being self-employed, there's this real need to say yes to everything literally to scrape a living. There's then this idea of 'making hay while the sun shines' which is an expression that I hate, but you can't know when work might dry up or you might have a rough month (or there might be a global pandemic!), so you keep going with saying yes to everything and it becomes sort of a habit.

In 2019, I was completely burnt out and I didn't even realise. It was normal to get to a gig and complain the whole time about how tired we all were and how our next day off was 19 days away or something and then that one glorious day off would be spent in a ball on the sofa feeling awful and zombie-ish. In hindsight, it seems so bizarre that this is how I was living and it was definitely the case for a lot of other people that I know too.

Getting to make music for a living is such an incredible opportunity, and I think I've been reminded of that and want to appreciate the work I'm lucky to have going forward, and ironically to be able to do that, the answer is maybe to do a little less of it! Work in progress though!

What are you looking forward to next?
I've got a few lovely things on the horizon that I'm excited about.

First up I'm doing three album release gigs with Gravy Boat in July which are on the 9th (Otley) 23rd (Leeds) and 25th (Newcastle). We're celebrating the launch in a socially distanced way and are so excited to play the music live and to an audience for the first time.

I'm currently working on a commission with Nishla Smith who was a guest on the single that I mentioned we released last year. We're writing four new pieces for a Manchester Jazz Festival Originals Commission which should be coming out at the end of Summer under our duo name, Night Porter.
Beyond that, I'm looking to what's next for Gravy Boat with a full UK tour in the works (touch wood) for Autumn.
I'm also looking forward to doing some recording and live work with other projects as part of a horn section and to do some more writing of my own too!