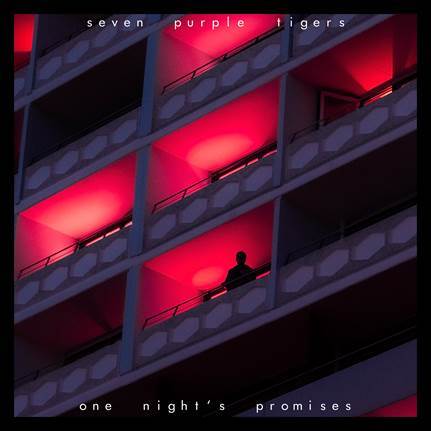 Congratulations on the release of One Night's Promises, how does it feel?  
It feels amazing! We've had this song for a year and knew it had something that could really resonate with people, so we've been looking forward to releasing it for a long time! Now that it's out we couldn't be prouder of it! 
You're an international band in more ways than one how did Seven Purple Tigers come into being?
To keep a long story short, we met on a year abroad in Krakow, Poland, studying international relations and law, respectively. There was a student band we met through and we immediately felt a musical chemistry between the two of us. We began meeting to write music of our own, and our modest goal of 6 songs by the end of the semester turned to be something closer to 30. It told us this was the thing to do and we haven't looked back in nearly 6 years. 

What were your influences when starting out?  
While we were in Krakow The Doors were kind of the center of everything for us, especially in terms of a life philosophy and way of being as artists. That was good place to start, but we quickly expanded past that. The Smiths, John Frusciante's solo albums, and Jeff Buckley all played a pretty major role in the early days, along with Kings of Convenience and Jose Gonzales. 
Describe your sound in three words? 
Hmm… beach-y, emotive, and song-driven? At least at the moment. 
What's the story behind "One Night's Promises"? 
Phil was noodling with some chords in our studio while we were supposed to be working on something from our back catalog. At first it was a bit of a joke, we thought it was funny that it sounded like a lot of the surfy indie pop you hear on playlists. But it had something special and we very quickly worked it into a song. 
The lyrics ended up being about those romantic what-if's and near misses, the one's we all have and dream about sometimes. There's a certain melancholy mixed with nostalgia in those memories that lent themselves very well to the song. 
You spent five years writing together, what were the early writing sessions like? 
For lack of a better word, magical. Neither of us had much at all experience with songwriting, yet together we found ourselves capable of turning out song after song, and pretty decent ones at that. We'd start late in the evening in Phil's very 60s apartment near the castle, have a few drinks, and Phil would play something on the guitar. If we liked where it was going, I'd pick up a notebook and pen and usually within 20 minutes we'd have something. Sessions would usually go to the wee hours of the morning. I'd often suggest chord changes and in turn Phil would help work out the vocal melodies. We still work like that today, we have a little idea on guitar or a vocal hook, and then flesh it out together as a whole piece. We still work best at night, too! 
You make music in the restaurant of an old inn, how did you come by this space? 
Phil's dad was renovating the inn himself, having taken it on following a life of office work. He made the space available to us. The restaurant and kitchen had long since been relegated to storage space, so we pushed out some room and put acoustic plating up. Because of all the stacked up tables and chairs, the room actually has excellent diffusion and works great for recording. Over time, we've added more gear and decoration, creating a very vibey environment to create in. The windows have also been treated with acoustic plating, so the lack of natural light makes time pass rather strangely. 
Pre Covid you were active on the live circuit, what are your favourite venues to play? 
We love vibey clubs like Räng Täng Täng here in Freiburg, but also really enjoy playing bigger venues and festivals. We're in the habit of playing with a number of guest musicians now, so more space is always better to do our thing!
2020 was a time to reflect, what did you learn about yourselves? 
We definitely took a long hard look at ourselves, musically speaking. Our album was out and we spent a lot of time comparing ourselves to the music we like to listen to, what's popular, and our biggest heroes and influences. It felt like we could really dig deeper and push harder creatively and that became our mission when we hit the studio during lockdown. I'd say we've done well in our metamorphosis and we're incredibly proud of our new songs. 
COVID has affected the creative industry in a big way, what kept you motivated? 
For us, the prospect of having an unlimited amount of time to be locked in our studio and create wasn't at all daunting. We had been gigging often enough before the pandemic that we were still married to our old setlist. Having the time to finally focus in on demoing our back catalog and writing new material was an unexpected upside to this terrible situation and we got some 18 new songs out of the time. This won't last forever, and when we burst back into the scene it'll be with a whole new bag of tricks. 
What are you listening to at the moment?  
We have The Strokes' and C.W. Stoneking's records on repeat pretty often, and we're really enjoying some of this years new releases from our favorite artists. Kings of Convenience have delivered nothing short of gorgeous, and Tyler the Creator's new record is amazing. It just hits so hard! 
What are you looking forward to next?
We're very much looking forward to seeing how One Night's Promises resonates with people! We also look forward to releasing the music video for One Night's Promises and dropping our next single, "Ignorance is Blitz"!