This is Emma Johnson's Gravy Boat's first album, a project put together by Leeds based saxophonist, composer and arranger Emma Johnson. She leads the band competently and confidently through 8 tracks that have touched me differently on each listen, and for me, when I received the CD and the handwritten note (I can't remember the last time I actually received post… This is pretty special and a lovely touch), I was really excited. So let's get into this.
The line up:
Emma Johnson – Tenor saxophone
Fergus Vickers – Electric guitar
Richard Jones – Piano
Angus Milne – Double bass
Steve Hanley – Drums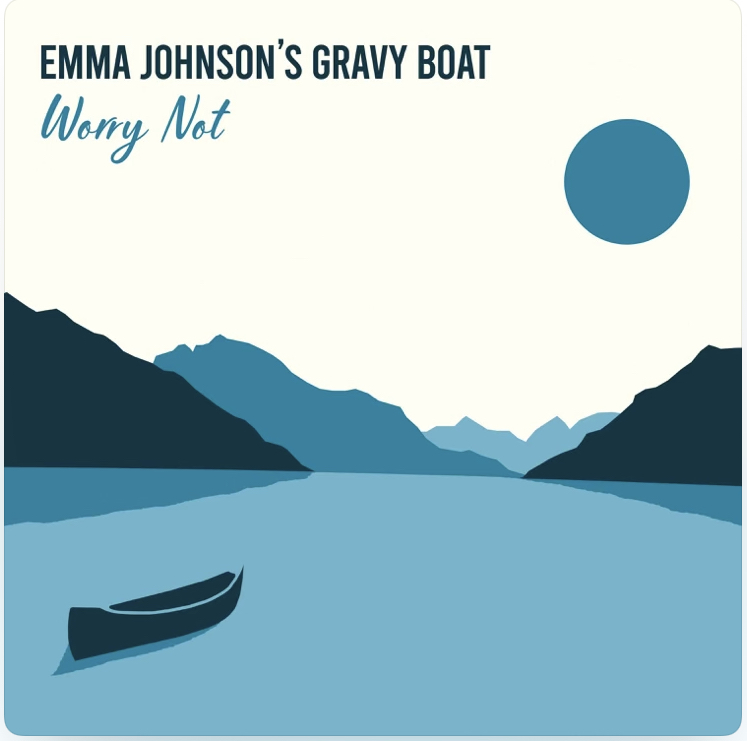 Setting Sail
The first track opens with a flourish of notes from Emma's tenor sax, played in unison with guitarist Fergus Vickers's guitar. It's a beautiful pairing, really well done. The bass, drums and piano lay down the carpet for Emma and Fergus to groove on, a kind of a latin flavour, as well as a laid back 6/8 section that they switch back and forth to. As I noted in my Fresh Faves review there is no one person showing off here everyone gets to shine, and for an album opener if you have never come across this band before it will definitely not put you off. Nice piano solo from Richard Jones by the way. As a piano player myself I really appreciate this, the slightly off kilter rhythm of the solo then he falls into step. All in all, fab performance from all.
Vertical Planes
One thing that I should note before I go any further is that there is a double bass involved here. I love a bit of double bass, it really sounds great on these tracks on a whole.
This next track has a really nice chord progression, and the Richard Jones's piano riff gives the group a great platform to play off. The rhythm has an almost African beat to it Steven Hanley adding flourishes of snare rolls and ghost notes. I like his use of rim shots to provide that off beat feel, it works beautifully here. This is probably my favourite track on the album so far.
Fully Fledged
I like the opening to this, Richard's piano playing reminds me a little of Bob James, one of my favourite albums from the 90s is "Grand Piano Canyon". He plays his part well giving some really thoughtful solos on this. Again, Steve brings the fire on the drums, and makes me wonder if he's got an appreciation for drum n bass? That may be a question that I'll need to put to him at some point…. Hmmm. Richard takes centre stage on this playing a piano solo that I love in the middle, the sax and guitar are playing the melody line which is the familiar formula here, but the piano is going for a noodle…. Time signature is fluid here, and gives the band the chance to really go to town. I need to get a chance to play this piano by the way. It sounds really nicely tuned and mic'd. Great job on this, chef's kiss to the engineer!
Interlude
Oh come on! YOU CAN'T DO THIS! 0:54 and just as I'm resting my eyes and my feet…. It ends. No. No no no. I need it to be longer.
Only kidding. Beautiful.
Waterlogged
Angus Milne and…That double bass….. is KILLING it. The intro is played on the double bass the notes that are played don't relate too much. This goes through some dynamic changes, Richard is back playing his beautiful piano solos. It shows that Emma's not above giving the band the space to shine, and the improvised playing shows how comfortable they are with this. Easily my second favourite track on the album. Oh and that double bass intro comes back out for the outro for everyone to vamp it out…. Yup… Definitely a favourite.
Hold Me Tight
This is the point at which Emma Johnson's Gravy Boat came into my life.
This is what I said originally.
There is something about the sax that is just beautiful… This is an instrumental piece from a group led by Leeds-based saxophonist and composer Emma Johnson. Everyone shines here, the drummer lays down a Latin-ish groove that allows everyone to shine, no showboating here, just giving of their talents. The guitar and sax play their parts here well, and keep it summery. The piano's keeping it simple too, nothing overpowering same with the bass, which sounds like a double? If so…. NICE. Not enough of those around in music nowadays.
Emma, I felt so chilled after listening to this… Thank you for blessing me with your saxophone playing and such a sweet track. For this reason, I give you my one to watch.
What I will add to this is that this would be stunning on a tv show theme tune!
Worry Not
Here we are at the title track. This is moody. It opens with just the piano and sax playing,… What I like about this is the chord progression. I can imagine a singer singing the melody line, possible someone with a gravelly voice… Other than that… Oh damn. Yeah now I'm torn. I'm not sure which one I love the most now….. Yeah it's a tie…. The outro with just the piano and sax closing it out. This piece has made me feel things. It reminds me of my friend Nick, who I haven't seen in over a year. I know he loves a tasty chord progression and I know he'd be thrilled at this…. I will send him the track!
Sun Stones
The bass and guitar kick off the proceedings on this…. Starts off chilled, then drops into a latin groove, with some really lovely stabs, there's a part where Steve solos while trading stabs with the band, which works so well. Then it's back to the chilled section… I can't wait to hear this live. This album is so obviously written with that in mind… Again Richard with the piano solo, making some interesting choices with his notes…
A truly inspired choice for closing the album out.
In conclusion, this album really does show off Emma's composing and arranging skills, she should be proud of what she's achieved here, and so should the band, I became a fan from "Hold Me Tight", I'm a big fan of the saxophone as it is, and maybe one day I'll record one for a track (Emma, there will always be a space for you at my microphone if you're up for it).