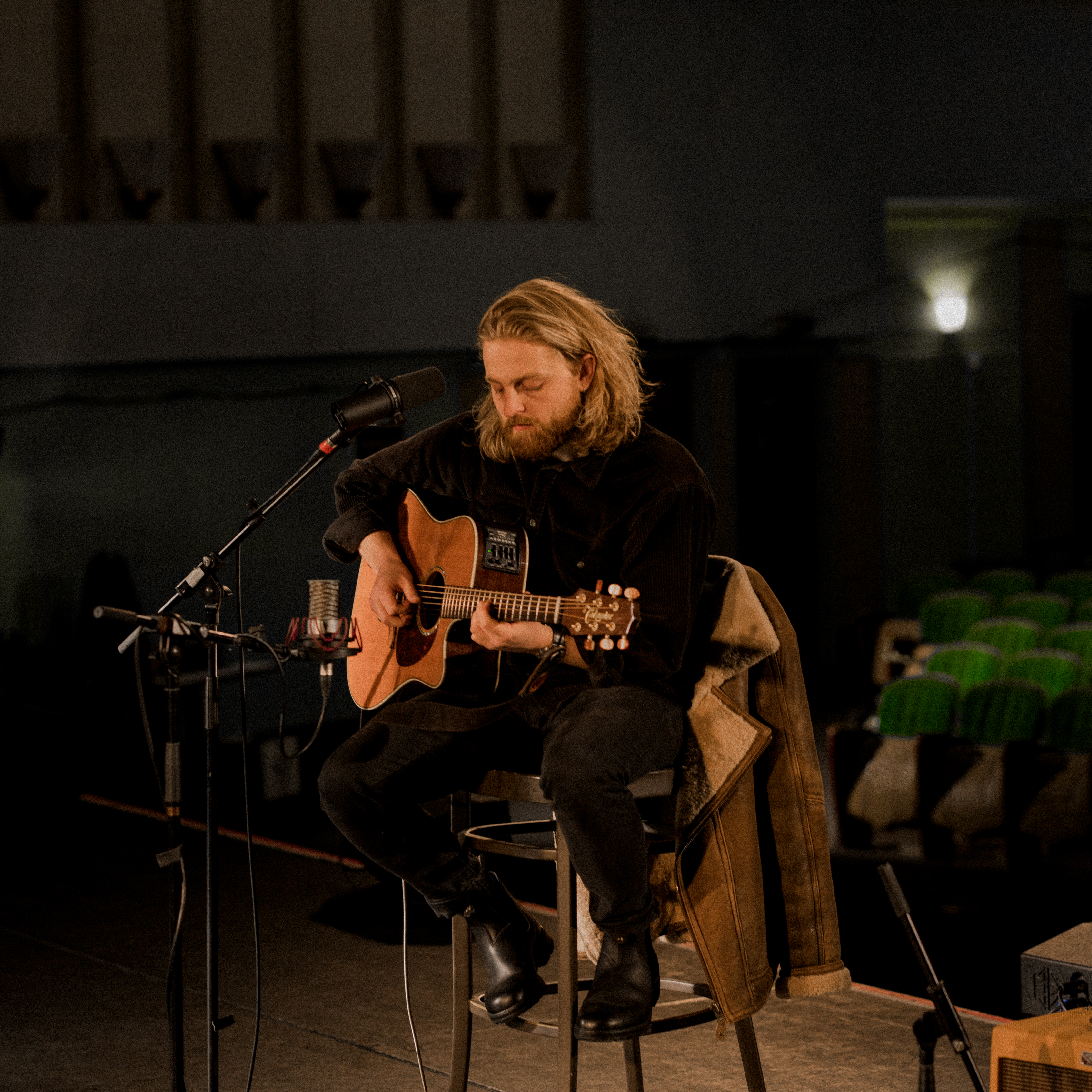 Hello Alex, how are you?
Hey Derek, I'm great thank-you! Hope you're well!
Congratulations on the release of "White Water" how does it feel?
Another musical baby out into the wild, it feels good. It's been a weird time figuring out releases with the current climate. It's felt a bit of a slow process, so it's nice to finally see the wheels turning again!
It's a gorgeous predominantly acoustic number, how did it come about?
Thanks for listening! 🙂 The song was inspired by a surfing trip to Ireland actually. It came after a near death experience involving some swell I had no place being involved in! Haha. I basically gave into that stupid macho peer pressure and entered into a situation that was quite literally, out of my depth! It was mid march, so that wild west Atlantic was doing her thing. The whole scenario sort of made me reflect inward towards things like masculinity, and the importance of voicing your concerns with all aspects of life really. It's a bit wild that it took a bashing to make me stop and think, but there we go!
It was recorded at Abbey Road, how did it feel being surrounded by so much history?
Well as much as I'd love to say it was all tracked at Abbey Road, it was just the mastering we had done there, by the very awesome Christian Wright. All the songs were recorded with Producer Sahil Ansari in Goanus, Brooklyn. (Making it's own history!) Haha.
You are a singer songwriter and musician how did it all begin for you?
Like most musicians really. Acoustic guitar, learning to play your favourite song in the bedroom! My dad worked all over the country, and in the summer holidays I'd go with him on some jobs. With the acoustic loaded in the van, wherever we'd end up, he'd find us a local open mic to hit up. Looking back now, it was a real good way to cut your teeth! 
What did you listen to growing up?
All sorts really. My parents aren't musical but were true music lovers. So we'd have everything from Rod Stewart and the Beatles to East 17! Haha. 
You spent a bit of time in Brooklyn recording, what's a funny story from those sessions?
It didn't happen during the session, but at a party one night. It involved me and my buddy Quinn hopping the subway from Brooklyn to Manhattan for a Stephen King movie drinking night. After courteously leaving my shoes at the door of the apartment, I proceeded into the party. Some hours, and a few too many sherbets later, I decided to locate my shoes for some rooftop air, only to discover their replacement with paper towels. Weaving through the party goers I stumbled into the kitchen to find a cool looking chap arched over the sink doing a deep scour on a soggy object that kind of resembled my shoe. As I approached the sink, the scrubbing got quicker and that's when I noticed the other shoe beside him, full to the brim of his girlfriends burrito. It all started to make sense. I thought it was quite a unique party trick to be cleaning someones shoe during a gathering, and I was almost ready to score it down to 'cultural differences', until the vom of course. Moral of the story, Next socks are sturdier than the look. That, and the New York subway grills make for an interesting sensation on the toes!
You are also work with mindcafemedia, being their podcast director, tell us a bit about that?
Mind Cafe is a brand based on relaxing, mindful essays about happiness. Founded by my good friend Adrian Drew, with the incredible collection of writers the team has for the print editions, and their steady rise to critical acclaim on the app Medium, I felt there was a space to bring the conversation into the audio world, so suggested the podcast. We're only two episodes in so far, but it's already proving to be incredibly insightful for me personally, so I hope people enjoy listening/watching them.  
Your EP is pending release. What's your favourite track from it?
I think for me it has to be the track 'Calibrate'. There's so many evolving parts to that track, and before I went out to NY, I used to dream about how all those parts would interlink if I could ever find a way to pull it off. Then of course I had the privilege of getting to know Sahil, and he made those dreams a reality. Favourite part is probably the counter female vocals from Sarah Cicero and Margaux. The blend was better than I could have imagined!
2020 was generally a time to reflect. What did you learn about yourself in that time?
That I have a drinking problem? Haha (Bad joke soz) I think I really learnt the value of friends and family during this time. It's been so difficult being cooped up with everyone, and the fact that we all still get on is a testament that really. Also found a deeper love for gardening too! (I grew some pretty impressive crop last year if I don't say so myself!) 
COVID has had a major impact on the creative industry as a whole, what kept you motivated?
To be honest I have struggled with the motivation during parts of last year. Gigging was basically my life, and having that abruptly pulled, did leave some pretty big identity questions. Slowly but surely though, I made it back into the shed, and through listening to all the amazing efforts of so many of my friends, it gave me the kick I needed to start writing again. 
What artists are getting you excited at the moment?
There's so much good stuff looming from every corner of the industry right now, so it's hard to say. But for me, it's always worth keeping an eye on Charlotte's label 'Babywoman Records' (Not cuz I'm on the roster!) she's really got her ear to the ground, and I'm really exciting to be working alongside other artists in the quest of bringing some of that gold to light! 
What are you looking forward to doing next?
Gigs, gigs and more gigs!