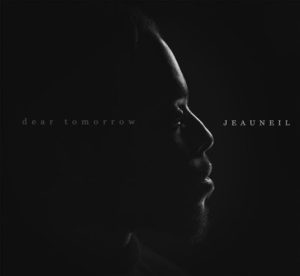 Hello Jeauneil how are you?
Hi Del, I'm great, thank you!
You are a singer/songwriter/producer from London, how did it all begin for you? 
It truly began from my days in college while studying Music Technology. Although I was into music a lot while I was growing up, college was where I really began to learn about music, the industry, and where I fit within all that. That's when I knew it was for me, it then became about growing into myself.
Congratulations on the pending release of your EP "Dear Tomorrow" how does it feel?
It feels so good to finally let go of a body of work that I've been piecing together for so long. Though, over the release period, feelings do tend to change – for example as I talk to you, I feel very focused… eyes on the prize. But come release day, I'll be nervous, anxious, happy, sad… every emotion you can think of… I guess that's only natural, right?
Agreed!
What's the story behind it? 
Each song in the EP represents a time in my life, and probably a time in yours too… where you've loved, or lost… you've been searching for someone, or maybe you've been searching for yourself. While putting these songs together, I often found myself looking back at the person I used to be, imagining myself then, writing a letter to my future self asking myself "Do you ever find love? Do you ever find yourself? Your purpose? Do you become happy?"
What is your favourite track from it?
For a while it was "Ten Thousand" (My personal favourite), but then I had "Falling" on repeat… I then found that my favourite became "A Conversation" and after sometime "Dear Tomorrow" was my favourite. Well now…? Now I feel as though the EP altogether is one track, because they flow so well together, one after the other. So long story short, that was my way of saying each track is my favourite!
Your sound is heavily gospel and soul influenced what did you listen to growing up? 
Exactly that! I was surrounded by gospel music, especially because my family and friends were playing it. Kirk Franklin, Fred Hammond and Marvin Sapp are only a few names out of the many I could pull out. Growing up in a Christian family, I'd go to Church and would be fascinated by the musicians playing there – I'd sit right at the front and absorb everything that was happening. I grew older, and started playing at Church myself, and that's where I learned a lot of what I know, you could say it's the foundation of a lot of what I make today especially in Dear Tomorrow.
You played at the O2 arena what was your favourite part of doing that?
The energy! When you get up on stage and look out at rows and rows of people in the shadows, you don't see the end of them, it's almost like you're playing to the world. You think to yourself that the next moments in time that happen on stage, all these people are focused on what you do. It's scary but exhilarating. It's the same with many of the gigs I've performed at, it's about the energy from the people around you.
You're a keyboard player who are your favourite keyboard players? 
Big Yuki is one of my favourite keyboard players for sure. I find that his musical choices, his melodic storytelling and chord progressions are much like the ones I'd use. Whenever I hear new music from him, I'd listen and it's like he plays exactly what I want to hear, even though I don't know what I want to hear. Some honourable mentions are keyboardists like Kiefer, Tigran Hamasyan and Ray Angry.
Covid has affected the creative industry in a big way what's keeping you motivated?
Thinking about all of the possibilities that could happen when we're free to socialise again. I mean, there are many possibilities now, but a little while ago in the summer, I had the privilege of hearing and seeing live music again for the first time in months… although it wasn't exactly my favourite genre, the feeling was almost surreal, something amazing that has now just been rediscovered.
What artists are getting you excited?
One artist I am really excited for is Yasmin Green, another Singer/Songwriter from the UK. She recently released an EP that really left me wanting more music from her. I'm also excited to hear what the group "KING" have been working on, and I'm hoping for some new music from them soon. Their album "We Are KING" is one of my favourite albums of all time.
You're a keyboard player what's your go to synth for writing?
At the moment, it's got to be the Roland Juno 106. Firstly, I'm a Roland guy. Secondly, the Juno has staple sounds that have been popular from before the millennium, that stand the test of time, being very popular and relevant even today. Though I've used the hardware, I'm currently limited to the software version, which still packs a punch, though I'd love to get the real deal at some point.
You like to collaborate, how does that process typically begin for you?
Sometimes while I'm working on a song, I'd think to myself "who'd sound good on this?' If it's someone I have access to, I'd hit them up almost immediately, and arrange a session if possible.
What are you looking forward to next?
I'm looking forward to developing my songwriting skills, as well as writing and collaborating with other producers and songwriters. I'd also love to release more music this year!