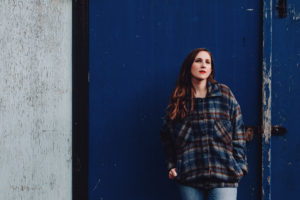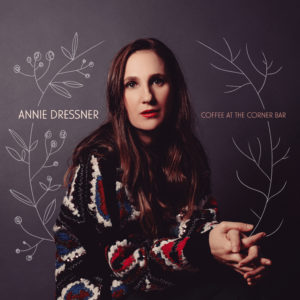 Congratulations on the release of your album "Coffee At The Corner Bar". How does it feel?
Thank you so much! I am really very excited that it is out and that people seem to be listening to it!

What's the story behind it?
I don't have much of an interesting story behind the album – I tend to collate songs I have written once I have enough for an album, or try to continue writing more to have enough for an album.  I think that I decided I was ready to make another album after I wrote the songs 'Nyack' and 'Dogwood.' I tried to think of what other of my songs would go well and was surprised at how many I had. I did write a few more and voila! An album comes poof out of nowhere! Actually, after months and months and months of hard work and then waiting to release it after a four month delay because of Covid, the album arrived on 4 September!

You're from New York how did it all begin for you?

I was born and raised in Manhattan.  My mom loved to dance and my father was always playing piano (he is very good at it).  My family had a lot of musical people in it and I played the piano since I was four.  Weirdly I never play piano anymore when I perform – perhaps I should change that!  I taught myself to play the guitar out of my father's Simon & Garfunkel piano sheet music songs the day that I graduated high school, and started to write songs almost immediately after that.  I met my husband at a bar not far from the hospital where I was born. Now I live in Cambridge and we have two kids. Life is super weird.

What did you listen to growing up?

Simon & Garfunkel, musicals, Carly Simon, John Denver, Nirvana, Foo Fighters, Green Day, Smashing Pumpkins, James Taylor…

What kind of effect has lockdown had on your creativity?
I spent the first few months primarily fully focused on making sure my children were happy.  That took most of my mental space. It's only been recently that I have started playing guitar for fun again, and I actually managed to write a song!

You moved to the UK from New York what are three things that you miss and what are your favourite things about living in the UK?
Plain Bagels, Everything Bagels and Buttery Bagels.

Okay, what do I miss?
1. Bagels  2. Wandering around the streets of NYC and people watching  3. My friends and family

You've received airplay on national radio stations what was that feeling like?
Pretty great! I always appreciate when anyone plays my songs and when people listen.

Your song "Fly" was used as part of a film trailer for Drive Me To The End, as well as a song on the soundtrack. Is this something you'd look forward to doing again?
Totally! I would love to have more syncs and work with film – it would also be super cool to score a film or something.

Tell us about The Pollyanna Band.

My good friend Polly Paulusma and I wrote a bunch of songs and called ourselves the 'Pollyanna Band.'  We only managed to record and put out one Christmas single, Christmas. All The Time & Silent Night – we were even contenders to be the Christmas No. 1 in The Telegraph in 2013!  We didn't get it, but that was pretty cool.  I don't know what our plans are, but I hope we can one day record the songs that we have written as I love to play and sing with Polly and I think that the songs are good!

What are you looking forward to most in the future?
My hope is to continue to make music and to have people enjoy listening to it.  I would like to tour. It would be really great if the right label or manager took an interest in working with me – but either way, I think I will keep trudging on and working!  I would really like to get into songwriting for other people or with other people if at all possible — that seems like fun!
"Coffee At The Corner Bar" by Annie Dressner is available on all platforms and formats including CD and vinyl.