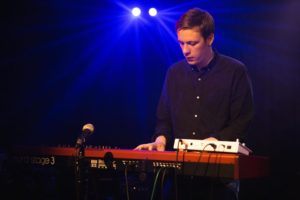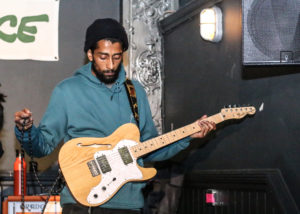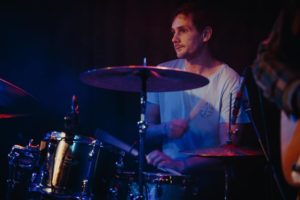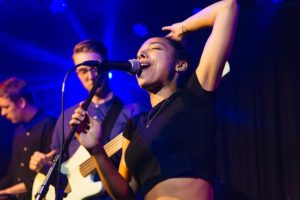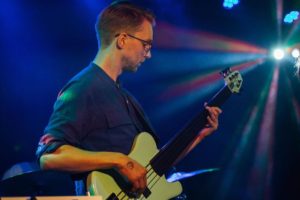 You're a five piece band from London how did Prime Panda come about?
Two of us met at uni. By pure chance I happened to hear our guitarist playing drums in the uni practice room and I basically just went up and introduced myself. I've regretted it ever since.
The singer and bassist we found through gumtree basically. We had a trial for a new drummer, Michael walked in, casually just nailed our tracks – including 2 tracks with odd time signatures and we didn't have a choice!
Who plays what?
Singer/sax: Tess
Guitarist/pedalboard: Shay
Keys: Alex
Drums: Michael
Bass: Tuur
Your bio states that you came about through a love of the weirder worlds of music, who's got the weirdest taste in the band?
We all got quite varied taste, but probably Shay. He likes some really weird techy stuff like progressive metal and experimental/electronic jazz but then also like trap and grime…
But we all kinda share music, I shared a lot of jazz and UK hip hop with him and I've gotten into a lot of the stuff he listens to. Knowing that we have these varied influences really helps us when writing, it allows us to borrow sounds/songwriting techniques from a range of genres. Our roots are kinda jazz, soul and hip hop – but anything else that grows can stay as long as it sounds good!
Congratulations on the release of the EP. What was the writing process like?
Thanks! Some songs just got written in an hour. Normally tho when we write it sorta goes fits and starts. We get a good idea with a few parts and then it takes us a few sessions to progress into a full song. Each song is quite different.
We had a bit of a nightmare with recording cos we lost one of the mixes and had to redo it! Learned a good lesson though – backup your files in multiple places and immediately!!!!
What is a typical Prime Panda jam session like?
Most practices start by setting out to practice the set, then just start playing random jams instead. Maybe throw a few jokes in on how our bassist has not said 1 word throughout the whole session.
Either me or shay bring in an idea and then everyone starts hammering it into shape. It more or less becomes a song once Tess writes lyrics to it.
What are you all currently listening to?
King Krule's new album, Nubiyan twist, Yussef Dayes, Jhus
You have been featured on BBC Music Introducing, and played their showcase how did it go?
Yeah it went well, it was kinda odd cos we had to adapt our set to a stripped back 3 piece. We're quite a loud band so we had to rejig some things. But we got good feedback and just being there and meeting other artists was really inspiring and just makes you want to work harder.
Your bio implies that you have a love for puns, who's the joker in the band and what's your best joke? (Keep it clean!)
How do you scare a Panda?
BamBOO!! 🙂
What is your favourite song on the EP and why?
I think we all got different favourites. We all like the end of state your business cos the dub vibes go down really well live.
A lot of people really like Rainfall which was the first song we ever wrote – so we kinda have a soft spot for it too.
The video for "Last Train" features your mascot, what's his backstory?
Well he's a figment of a drunken imagination. But in reality he's also an amalgamation of all our stupid humour and personalities just rolled into one. He's fun and wants to have a good time – hopefully just like us!
What's next for Prime Panda in 2020?
We actually just released a new single called beyond the sun! We also got another release coming in April and more live recordings later in the year. It's a super exciting time for us – so stay tuned!
We also got some great gigs coming up:
We've got our single launch for Beyond the Sun in March. Then a gig in Brighton in April, followed by a Greenpeace fundraiser gig the day after in London – and then maybe Brighton again the week after! Follow us on Instagram and check us out on Facebook to keep updated – and hopefully see you at a show! 🙂
https://open.spotify.com/artist/7JmS0R0GpHkiWqClgX9C5g
https://www.instagram.com/prime.panda/
https://www.facebook.com/primepandauk/