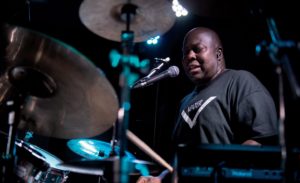 What made you want to start playing drums?
I started playing drums because of my brother. He was the drummer. To my amazement, a drum set showed up in my brother Howie and my bedroom. The room was already small enough but there it was. My mother was a very strict woman. I know she was always concerned about the neighbors and us making too much noise, but she allowed this. My brother would let me play but not change the drums around. I'm left-handed. The drums are set up for a righty drummer, is the reason why I play open handed.
You are the drummer for Chic, and it looks like you are constantly having a whale of a time on stage. What's your favourite song to play in the set?
I have to tell you. It's the best place to be is on that stage with my friends (family is more like it) playing some of the greatest musicians and singers I have ever worked with. My favorite song to play is I Want Your Love. Kimberly Davis takes that vocal to a place that is beyond just a performance but a place that is emotional and deep. She's living the lyrics and the band is giving her the best canvas for her amazing brush strokes.
You have been all over the world with Chic, what for you was a big wow moment?
The big wow was my first professional gig. I'd never been on a plane before. Never had a passport. Never been to a foreign country. The group was Musique and the hit disco chart topper in 1979 was Push Push in The Bush. It was very exciting and so much fun. After that, I worked locally with my band, Indigo. To me…all of it, from then until now has been exciting. Good, bad or indifferent.
What equipment do you use on stage?
Yamaha Absolute Custom Nouveau or Maple (black sparkle finish) + REMO & Evans heads
01 – 22" kick drum (Remo Power Stroke Pro head)
01 – 14" x 5.5" Yamaha Dave Weckl snare (Remo Ambassador coated head)
01 – 14" x 3.5" brass piccolo snare drum (Remo Ambassador coated head)
01 – 8" x 7" tom (Remo Ambassador coated head)
01 – 10" x 7.5" tom (Remo Ambassador coated head)
01 – 12" x 8" tom (Remo Ambassador coated head)
01 – 16" x 16" floor (Remo Ambassador coated head)
01 – Roland SPD-SX Drum pad
Cymbals-Zildjian
01 – 10" A custom splash
01 – 14" A custom Z combination hi hats
01 – 14" ZXT trashformer
01 – 16" A custom fast crash
01 – 16" A custom medium crash
01 – 17" K custom hybrid crash
01 – 17" K china
01 – 20" A custom ride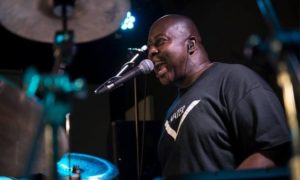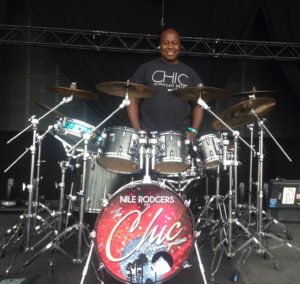 You also have your own cookie company and restaurant. What made you start this, what's your personal favourite and when will you start selling them in the UK??😂
Yes…I do own a cookie company and a restaurant. The Soul Snacks Cookie Company and The Soul Snacks Café are both located in the Bronx, New York. One is in the Port Morris section of the Bronx and the other in the Westchester Square area. I am proud of this achievement. It's very important to strengthen all communities. I feel very honored to have a chance to do this. The cookie company started in 1996 and the restaurant opened this year. My personal favorite cookie is the Ebony and Ivory Almond Cookie.
You host workshops and seminars, what's your best advice you'd give to musicians starting out?
Learn about business just as much as you learn about your instrument. Many forget that it's called the music business. I tell my audience, "The day you get it…the day you really get it is when you realize that you're NOT in the music business but in the BUSINESS MUSIC." They're always going to be musicians and singers but will they know about the business? That's the big question. Most of my friends are great business people. They understand the ins and outs of most dealings. That extremely important. Just as important as being amazing players and singers.
You have recorded at Abbey Road, what's it like recording there?
What's it like recording there? How about…what's it like to walk in the building without passing out? I don't know what I did to deserve the gifts that I've received. Recording at Abbey Road is more than a dream come true. I literally lost it when I stood in the room that the Fab Four recorded in. And, to go back there and do some teaching and more recording and greeting with so much love has almost completed my musical journey. It's an energy in the building that you cannot describe. I'm very, very lucky.
What new artists are you listening to at the moment?
I like Adam French. Great singer and amazing writer. Not very well known but he will be.
What drummers are you enjoying at the moment?
Harvey Mason, Steve Gadd, Dennis Chambers, Elvin Jones, Robin Russel, Bernard Purdie, Questlove.
What's the plan for the next year?
My plan is to teach a lot more. More masterclasses. I love teaching. I started teaching before I started touring, Also, I'm doing more with my other businesses. My cookie company and my restaurant. My Bronx community means the world to me and the more I can do, the more I can enrich other people's lives, the better our world becomes.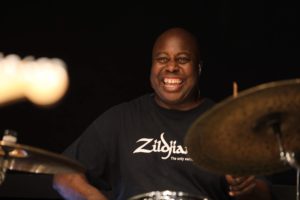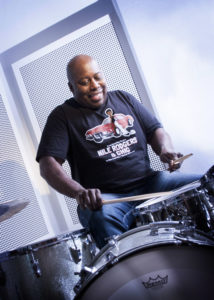 Website: www.ralphrolle.com
Instagram: @drumrolle
Twitter: @ralphrolle
Soul Snacks
Instagram: @soulsnackscafe
Twitter: @soulsnacksnyc