Tell us about Vex Red.
Vex Red originated from Aldershot and began in the late 90's.  Nick, Ant and Keith were school friends and formed Vex Red. We needed a line up change and met Terry Abbott (Singer) in a music shop in Fleet and asked him to join.  Once Terry was on board, got together a set, played local venues and eventually sent our demo off to Ross Robinson in the US. Ross had produced some legendary artists like Sepultura, Korn, At The Drive In, Glassjaw, Slipknot  and was looking for new bands to sign to his I AM record label.  He liked what he heard, flew over to checked us out and saw something in it. he decided to sign us and went on to write and record "Start With A Strong And Persistent Desire".
You were invited to play Robert Smith's Meltdown Festival. What was it like getting the call and how did it go?
We had a hiatus of around 15 years so to get back together and within months getting the call to play this festival was really special to us. All of us are big fans of Robert Smith. The Festival encapsulates us as a band to be on the same Bill as Nine Inch Nails, Deftones was just phenomenal.  This was a huge privilege for us and a show we will never forget. The show itself was fantastic. We pulled in some favours and manged to put in some lighting production, video projections and drafted in an Orchestra and played through our album in its entirety and played some new songs as well. All in all a very special night and a show we are very proud of. It was more like an evening with Vex Red than a full on rock show.
Your sound encompasses metal and electronica, what do you listen to in your downtime?
We have so many different influences throughout the band. Tastes have changed perhaps even more so as we are older. Some of us still very much into the heavy metal scene, with others listening to more ethereal/soundscape.  There are certain artists we all have a mutual love for which were the foundations of our friendship and the main influencers of our music. Bands like  Nine Inch Nails, Deftones, The Prodigy, Will Haven, Sepultura, Silver Chair, Rage Against the Machine, The Chemical Brothers, Leftfield, Aphex Twin…  so many the list can go on and on.   Right now, I still love all the above but at this moment in time the Fontaines DC record is spinning and I'm loving it.
What's in your guitar rig?
My personal rig consists of  Gibson Les Paul Smart wood, ESP LTD, Fender Telecaster, JCM 2000 Marshall Triple super Lead, Pedal board consisting of Digitech Whammy, Boss Octave Pedal, Boss Digital Delay,  Boss Tuner, Tremolo pedal, Electro Harmonix Small Stone , Electro Harmonix Reverb.  Peavey 5150 CAB
You play gigs extensively are there any pre gig routines that you have fallen into?
We don't really have any pre gig routines. Perhaps put on some music we love and have a little dance and get ourselves psyched up That's about it.
You're currently working on a new album how's it going?
We are going to release a new EP first off. With everyone in the band so busy with other commitments, its very difficult to find time now to record. We are going to release the new EP and see how that goes. Do a tour off the back of the release and take each day as it comes.
What's your favourite song on the project so far?
I love all the new songs. I think a song called "The Lake" is a masterpiece but I think the song "Air" has a great vibe.  Very heavy and has more of a Deftones feel to it.
What's the plan for the next 18 months?
Release the EP, then perhaps do another EP and play some shows. We would all like to do more, but right now it's very tough given the work and family commitments everybody has. Unfortunately life gets in the way a little and being in a band has to be on the back burner. We all love it when we do it though, so looking forward to continuing the journey as new Vex Red is a great band to be in.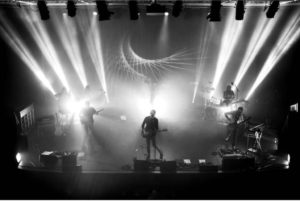 Insta: @Vex.Red Twitter: @VexRedBand