Photo credit: @vcaterinaphotography www.instagram.com/vcaterinaphotography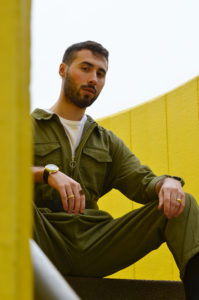 Hello Giubey how are you?
Hello Derek, I am doing well thank you. Thank you for having me on your blog, it is such a pleasure.
What have you been working on in the last year?
Of course I have been working on new music, but specially I have been and I am still working on my sound and trying to make it as original as possible since it is my artistic identity, I am also working on my songwriting and business skills since there is always something to improve and learn.
You recorded your vocals for "Who I Am" at the world famous Abbey Road studios. What was that experience like for you?
It was AMAZING, one of the most beautiful and significant experiences I have had so far with music. I have been in different studios during my music career but I guess I've never had an experience like that. It was a dream come true, if I just think that The Beatles, Lady Gaga, Amy Winehouse and most of the big names in this industry made or make music in those studios I'll freak out! It is such a magical place, the studios are massive and the people are very professional and talented. I can't wait to be back in Abbey Road Studios and make new music again.
You are from Naples, how do you find the music scene in the UK in comparison?
This is such a good question! I've personally been making English music since I was a child so I don't even identify myself as an Italian artist but I've had the chance to face both industries and as an Italian citizen I can definitely say that Italy has so much to improve and learn. Overall the Italian music industry is very tough and not openminded, it doesn't accept diversity AT ALL, which is unacceptable, especially in 2019 whereas the music scene in the UK is much different and openminded even though, in my opinion, there are some issues in this industry too.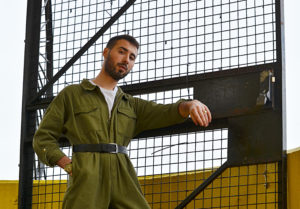 What artists are you listening to at the moment?
I usually listen to many artists but lately I am obsessed with Clean Bandit, Demi Lovato, Lewis Capaldi and JP Cooper and of course Sam Smith who is my biggest inspiration.
Who have you collaborated with on your current project?
I am currently working on my EP with few songwriters from BIMM and Raphel who is such a talented producer and multi-instrumentalist. I am also working with other artists and we are co-writing songs together.
I can't wait to release new music.
Are there any new acts that you have discovered?
I definitely did. I recently discovered few artists such as: Robin Stjernberg, Alec Benjamin and Sigrid and I really like their music, their lyrics but specially their authenticity. I really advice these artists to everyone.
You studied singing, what was the most important thing you've learned about your voice?
I have learned so many things, I had such an amazing experience studying singing. I was really addicted with vocal technique and most of the time this was not good for me, because I was blocked in a box, I was not able to be myself vocally. but overall I would say that the most important thing I have learnt is that I need to warm up and practice every day, how to be healthy with my voice and how I can control it.
What is your writing process?
Hmm well, I think the process changes for every song but I usually write a song when I feel that i need to, most of the time something important has to happen in my life of in my friends' life and from there I write down all my feelings down about that situation in my personal diary and after weeks if that situation still touches me I start to make those thoughts in lyrics.
My main instrument to write songs is piano, I sit in front of it and I decide the sound and the mood of the song, then I start to work on the chord progression and then the melody.
What's the plan for the next 18 months?
I have so many things planned for the next year or so. First of all I wanna release more music, increase my fanbase and hopefully get signed to a major label. I'd really like to work with a major label for different reasons and also I'd like to work with some artists as songwriter. I am also planning to fly to Los Angeles and see how the music scene is over there since America is my dream, and I guess this is what I have planned so far.