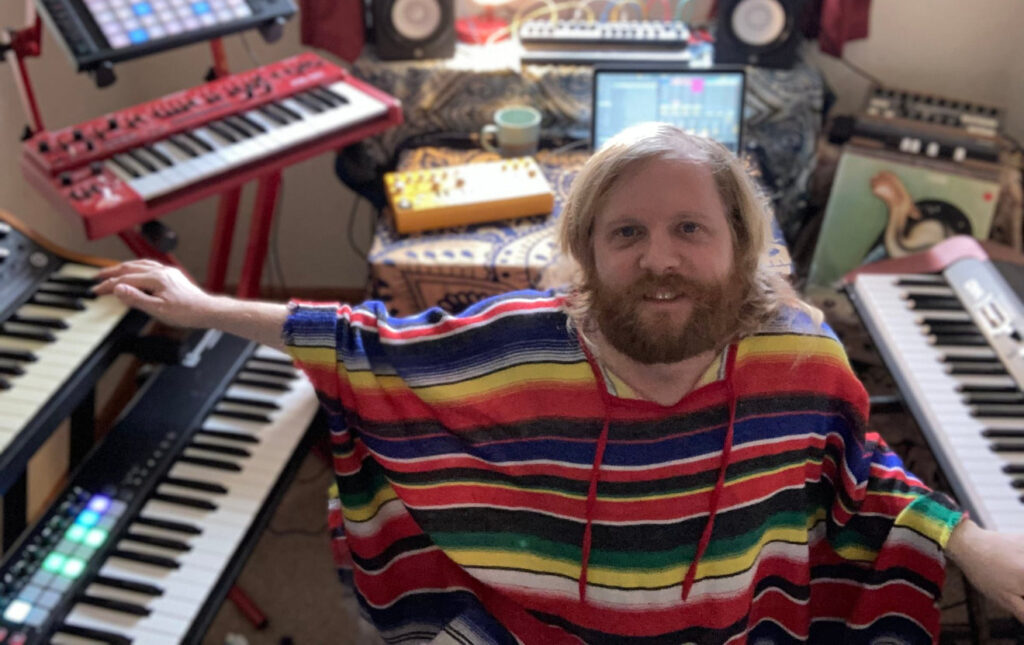 Hello Lee, how are you?
I'm very well, thanks!! Hope you are too 🙂
I'm great thank you for asking! Congratulations on the release of SANE:INSANE, how does it feel?
I think every release feels exciting, and a privilege. This one does feel really good, really vibey — the response has been great, lots of lovely comments about it and I'm really proud of the track.
What's the story behind it?
Around three years ago I was in my home studio late one evening having a psychedelic jam and came up with the main chord progression which I couldn't stop playing, and later that month played it live. My good friend Joey B-Side, who is always really supportive and an encyclopaedia of dance music was like, you've got to make that into a track, and it sort of went from there. We had the idea to make it an 'ode' to Privilege and Amnesia in Sant Rafael, Ibiza circa late 80s, as it has that Balearic vibe, but initially it wasn't my intention to create a Balearic track, I just went with where my instincts took me.
It's your first release in over two years, and it has been on quite a journey, what was the easiest and hardest part of recording it?
The easiest was coming up with the riff… the hardest was making a thing of it. Arranging is always a challenge — music can go in so many directions. To commit to one and within a very specific, finite space of time is difficult. I've done quite a few different mixes and edits, I almost didn't release it at one point!!
I think because I knew it was special, and I don't mean to be bigheaded, but I knew the chord progression was strong and it felt special, I was under a self imposed pressure to make the track great. But definitely the easiest was, like most tracks, coming up with the initial idea. That initial phase of writing is like a playground, where you have the freedom to do what you want.
You are a musician from Leicestershire how did it all begin for you?
At the very beginning, when I was nine I started to learn classical piano and did all the graded exams which was a really strong introduction to music for me and has enabled me to have a career in music. I then discovered bands like the Doors and late 60s early 70s psych/prog and Jazz Fusion music which blew my mind. I had a VHS of the Who playing at the Isle of Wight 1970, and after watching this on repeat (and Woodstock 1969) I just wanted to play live. Cue loads of bands, tours and good times!!
What did you listen to growing up?
Rachmaninov, Chopin, Beethoven and Mendollsohn I loved – I found it really inspiring. Especially the Rach 3 — I air piano'd to that in my bedroom! My first live concert was Rick Wakeman. I also loved Radiohead, I went through a happy hardcore phase, which kind of provided a similar adrenaline rush as some of the bombastic classical music. Ambient house music too… Only more recently have I got more into Dance music, but I see a thread between all these genres.
You've got keyboards for days, what's your favourite synth?
My Moog Sub 37… I don't think I'll ever stop learning about it. It's like the human brain. I also like the Behringer clones, I've a couple of them. Really authentic and nowhere near as expensive.
Your chord progressions are psychedelic, and have a really unearthly quality to them. How does writing usually begin for you?
It'll usually come by just sitting down and jamming a riff… I find the best stuff comes from having not played for a while, the first time you sit down at the keyboard and play usually something comes from that.
What piece of music tech has been a game changer for you?
Ableton Live and Push – brilliant not only for creative flow but also playing live, especially live electronic jams. Also, and this isn't strictly tech, but installing monitor speaker stands has proved invaluable for mixing.
Post pandemic what have you learned about yourself in the last three years?
That I don't have to play loads of gigs, and in fact I prefer being at home than on the road. Pre-pandemic I had so much live work booked in, when that all stopped it gave me time to think and figure out what was important to me.
Did you pick up any new skills?
Yeah, lots about mixing and production. I really got into sampling, especially from vinyl — I made loads of weird tracks which I must revisit sometime!! I wanted to build my own modular synth, but I've not got round to that one… yet!!
What are you listening to at the moment?
Aphex Twin's Selected Ambient Works is a constant bible for me!! I'm also enjoying the work of Molly Nilsson, Larry Heard, Underworld and Bronski Beat. My kids have discovered The Backstreet Boys (who are actually better than I remember!!), so we listen to them on the school run!
What are you looking forward to next?
Finishing the next batch of tracks I'm writing, which are intended to be a follow up to SANE:INSANE. I'm also collaborating with an amazing singer-songwriter called David Wyatt, we're writing and recording some library music which is taking shape very nicely.