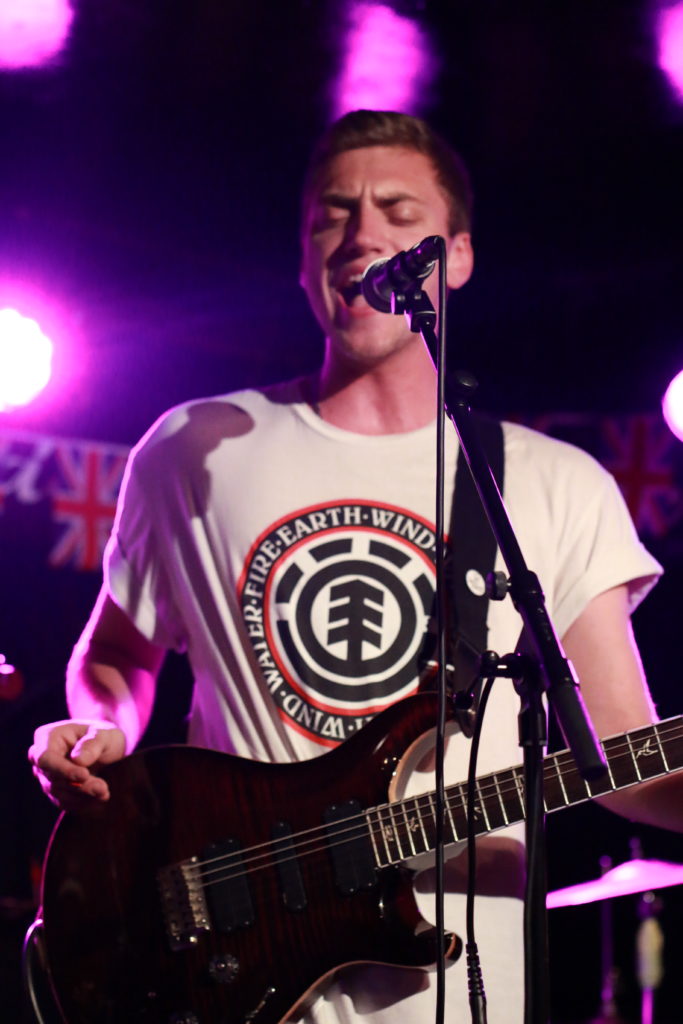 Hello Nick, thanks for agreeing to talk to us, how are you?
Hey Del! Hope you're well!
Im doing great thank you for asking! Thank you for the opportunity!

What have you been up to in the last year that you have been proud of?
In the last year, I am most proud of finishing my music degree at BIMM London with a 2.1.
You're a multi instrumentalist. What do you play?
I play Guitar, Bass and drums. Would love to play piano though!
You started from an early age, who and what inspired you?
Growing up I was massively into Michael Jackson and Queen. I remember watching Queen live in Montreal over and over again. My favourite part was Brian May's guitar solo in the middle of the set! I guess thats what set me off! I also think my brother was a massive inspiration to me. I used to sneak in and play my brothers guitar when I was younger to annoy him. Chris, my brother, is incredibly smart! I always wanted to be better at him than something and I guess guitar is that one thing I could beat him at.
You started writing from an early age do you remember the lyrics your first song?
My first ever song that I can remember finishing was a song called broken. I was 15 at the time.
"I'm not broken
Im just letting go of you
Let the tear drops fall
As the rain is falling too
Tell me why should I smile
I know I won't pull through
When you start to collect all the pain and regret
And your latest subject is the greenhouse effect
In your mind, can you see
When you want to be free
On a coloured TV, propaganda told me
Although my heart is numb
Im sorry for everything I've done
Like missing you
I should be happy now you're here
In the back of my mind I'm just scared
I dont want you gone for another day, I want you home."
I'll send you the whole song if you'd like!
That would be awesome! Tell us about Lofthouse.
We are a pop/rock band made up of ex-BIMM students. We met at university and we are still going strong! Just looking for more gigs to get us out there into the world! Light enough for the family to enjoy, heavy enough to go wild at gigs!

You studied music at university, what was the one thing you learned that surprised you?
The most surprising thing was learning how I, personally, could do whatever I wanted if I tried. I used to struggle with production and music theory so I never tried. But having the right teachers and the right mental attitude helped me succeed in my university career!
What's in your current live set up?
LOFTHOUSE has two guitarists, a bassist and a drummer (fairly traditional). In terms of my live set up, My main guitar is a PRS 25th Anniversary 513, Roland Blues Cube Stage with my custom built pedal board consisting of: BOSS TU-3 (tuner), CryBaby Wah, BOSS DS-1(Distortion), JHS Andy Timmons (Heavy Distortion), Behringer DD400 (delay) and RV600 (reverb). Then at home, I'm using Logic Pro X on my Mac to record my band's demos!
If you could write a song for another artist who would it be?
I'd love to write some heavy rock for a band like Lower Than Atlantis or Alter Bridge.
What's the funniest experience you've had on stage?
Duncan's guitar stop fell off in our most upbeat song 'For You' and he ended up looking like he should be in the Beatles. I was laughing so much I couldn't sing the next lyric!

Is there a venue you would like to play one day?
A stadium, an arena, an O2 academy (the obvious choices) and if I was to ever make it big, I'd love to play The Music Lounge in Stockton-On-Tees because I used to play there quite often when I lived at home.
What's the plan for the next year?
Keep pushing. Keep networking. Keep making contacts. No matter what happens, I'm here for the journey, not the destination. I just want to keep gigging and keep being happy! Hopefully we will be getting in the studio together and getting some songs out to our lovely fans! My dream is to be a full-time musician but we will just have to wait and see what happens.
(Pictured below from left to right; Harry Atkins, Sam Scott, Nick Lofthouse, Duncan Grant – Photo taken by Carys Hughes)