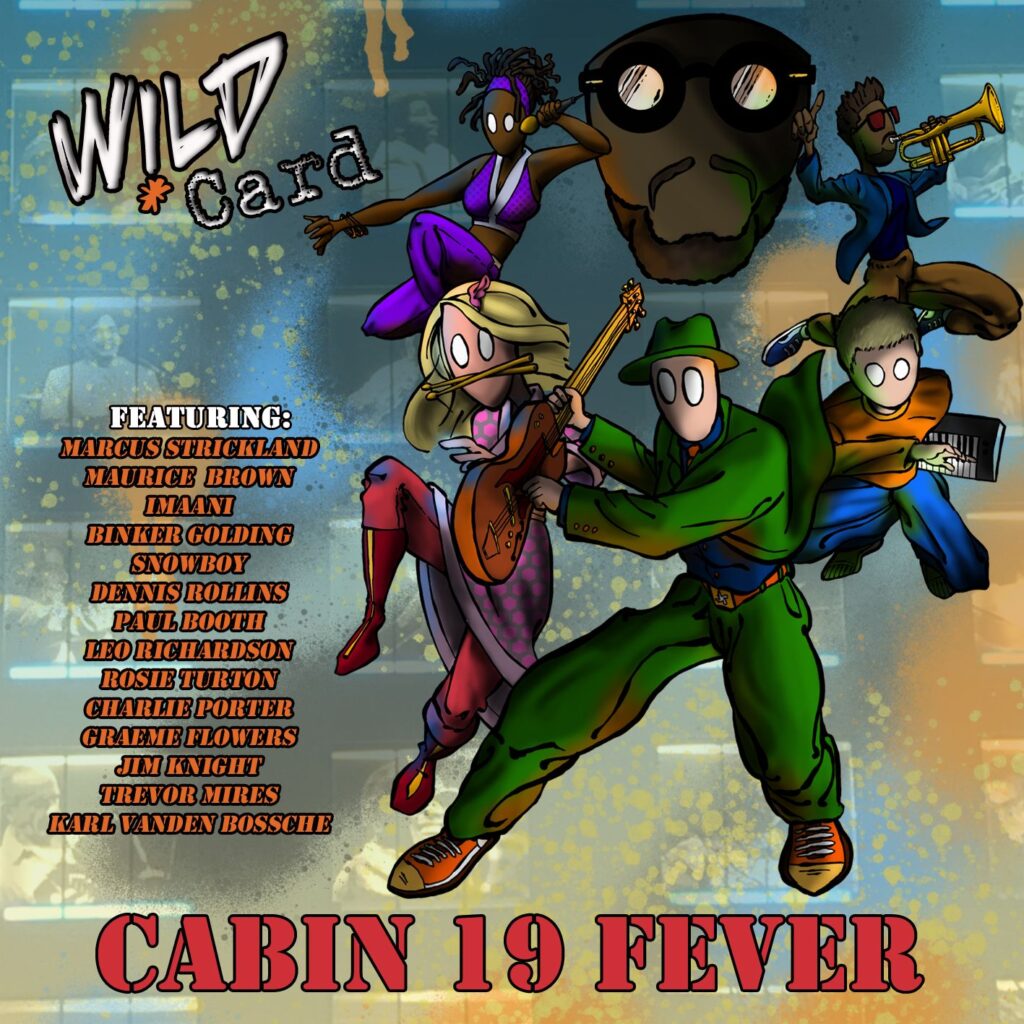 Wild Card is a London-based jazz combo led by French guitarist Clement Regert with British drummer Sophie Alloway and Australian organist/keyboardist Andrew Noble. Formed in 2011 and with five album releases to their name, the trio is popular on the UK jazz scene and performs regularly, with residencies at prestigious venues including The 606 Club and Ronnie Scott's to appreciative audiences. Their signature blend of Afro/samba, reworked pop tunes, and hard bop numbers is very suited to clubs and European jazz festivals.
'Cabin-19 Fever' features no less than 14 luminaries as guests of Wild Card including Mobo Winner Binker Golding (Zara McFarlane), Marcus Strickland (Blue Note Artist, Keyon Harold), Paul Booth (Steely Dan), Leo Richardson (Jamie Cullum) and Jim Knight (CeeLo Greene) on saxes, Graeme Flowers (Manu Katche, Archie The Goldfish) Maurice 'Mobetta' Brown (Robert Glasper), and Charlie Porter (Joe Zawinul) on trumpet, Trevor Mires (Gregory Porter), Rosie Turton (Nerija) and Dennis Rollins (Maceo Parker) on trombone, Snow Boy (James Taylor Quartet, Karl Vanden Bossche ( Gorillaz)) on percussion and Imaani (Incognito) on vocals. Many of these stellar musicians are Grammy Award winners and nominees, MOBO Award winners bringing style, sophistication, and experience with them. Topped by the regular trio of Clement Regert on guitar, Sophie Alloway on drums, and organist Andrew Noble, the line-up, as well as their past press reviews, inspires high expectations.
Wild Card lives up to the expectations and the singles, 'Aleppo Express', 'Georgy Porgy', 'Tweenies', and 'Olympus' have already been added to playlists across the globe including Jazz FM. The album comes out on Top End Records on 26th January. It follows 'Beast From The East' their highly respected and well-received previous album. 'Cabin 19 Fever' is a combination of tunes recorded at Eastcote studios in February 2022 and those produced and recorded during the different lockdowns in 2020/2021.
'Olympus' opens the album. The track was written after Regert had undertaken a 6-mile hike on the famous Olympus Mountain in Greece last October. He could completely see why all these myths, legends, and stories of demigods, centaurs, cyclops, and sirens were written as he felt it is a truly magical place with forests and falls overlooking the blue sea. Its deceptively gentle guitar opening is quickly usurped by a funky, driving rhythm with upbeat percussion and rising trumpet which harmonises with the trombone in some sections. Regert's guitar elevates the mood further and this track works well with its contrasts of tempo, rhythm, and atmosphere. The listener feels they are taken on a musical journey of different landscapes, from rock outcrops to the gentle rolling of the ocean. Golding's sax ebbs and flows as if carried on a wind, Flowers' trumpet soars, and funky, Latin rhythms keep the energy going to the end.
Regert penned 'Definitely Maybe' in response to the uncertainties and hopes experienced during the pandemic and certainly conjures up the stop-and-start feeling we all had during that time – yes, no, maybe. The track includes striking solos from Golding on sax and Brown on trumpet, who flies out the room in his almost throw-away but effective phrases. Yet more than that, the track encapsulates the sense of moving forward, stopping, trying, and pressing on again.
'Aleppo Express' was inspired by the powerful, moving story of Clement's friend (and barber), Armud, who flew war-ravaged Syria to travel illegally to London on his own when only 19 years old. It is moving, atmospheric, and intense, that intensity emphasised by the evocative, powerful soprano of Marcus Strickland. The track evolves, with instruments joining, adding depths and layers, familiar lines coming and going, with interesting keyboard work from Andrew Noble. An outstanding track, this is lifting, driving, and immersive.
'Mercy Street' is Wild Card's take on Peter Gabriel's catchy folky melody, with lyrics inspired by Anne Sexton's poem. Wild Card's horns arrangement and Afro/samba groove over the soulful, warm voice of Imaani make it a great modern take on that 80's pop tune classic. The horns solo, with Flowers and Rollins inserting powerful dialogue into the track, with Knight's alto sax adding a touch of intuitive jazzy free flow. The never relenting drums on this track are impressive and powerful.
'Tweenies' was inspired by the 'strong, pre-tween moods' of Regert's twelve-year-old daughter (she is going to love reading that) and is sassy, cheeky, and packed with energy, The lines for the soloists are brilliant, ranging from tempestuous, stormy ferocity, to softer, gentler nuance, the moods swinging with the nonchalance of a teenager yet there is a warmth in the arrangement which only a father could imbue.
'Copycat' is wonderful jazz/fink delivered at its crazy, souped-up best. Strong walking gait patterns, coupled with driving chordal lines and intriguing diversions from soloists, include a great drumming interlude. This is music to warm the soul.
'Cabin 19 fever' is a play on C19 and the lockdowns and is clever, with its oft-repeated riffs and phrases – something we all felt happened in lockdown, the repeated days, lockdown moments, and so on, but the ensemble also demonstrates it was not all like that as there are moments of standout solos from Flowers and Richardson and Noble. Lockdowns clearly inspired.
'Deception (Story of a break in)' is inspired by the experience of Regert, who, on a sunny day, was loading a van ready to go with the band to a festival the next morning and left his flat entrance door ajar, a few meters away. When he came back inside, he came face to face with a middle age woman he had never met before. She looked very confused and, when confronted, claimed to be from a charity coming for a clothes collection. He let her go only to find out a few minutes later that she has stolen his car and house keys, his wallet, and all the cash in the house while his 2 children were inside. The arrangement captures perfectly the sense of trepidation, confusion and confrontation, the nervous energy and eventually realisation and anger as the track closes with a decisive pounding from brass and drums.
'Georgy Porgy', written by D. Paich of the band Toto features Imaani's gorgeous vocals and a beautiful Latin-infused backing from the ensemble, soft deft guitar work from Regert, and quite beautiful blaring trumpet from Flowers. The final third includes great horn work from Flowers and Turton, backed by steadfast drumming and a powerful voice.
'I87' is inspired by a road trip that Clement took on the i87 highway from New York City to Montreal CA. A great track to close out this album, it encapsulates the driving funk of this jazz-rooted combo, aided and abetted by Booth's tenor and Mires' fluid trombone.
This is a gloriously genre-fluid recording, the ensemble switching from jazz to funk to rock, Latin, and much that unites one or more styles. Cabin-19 Fever encapsulates much we felt during Covid 19 lockdowns but also the sheer joy at the freedoms – musical and otherwise, we can now enjoy.