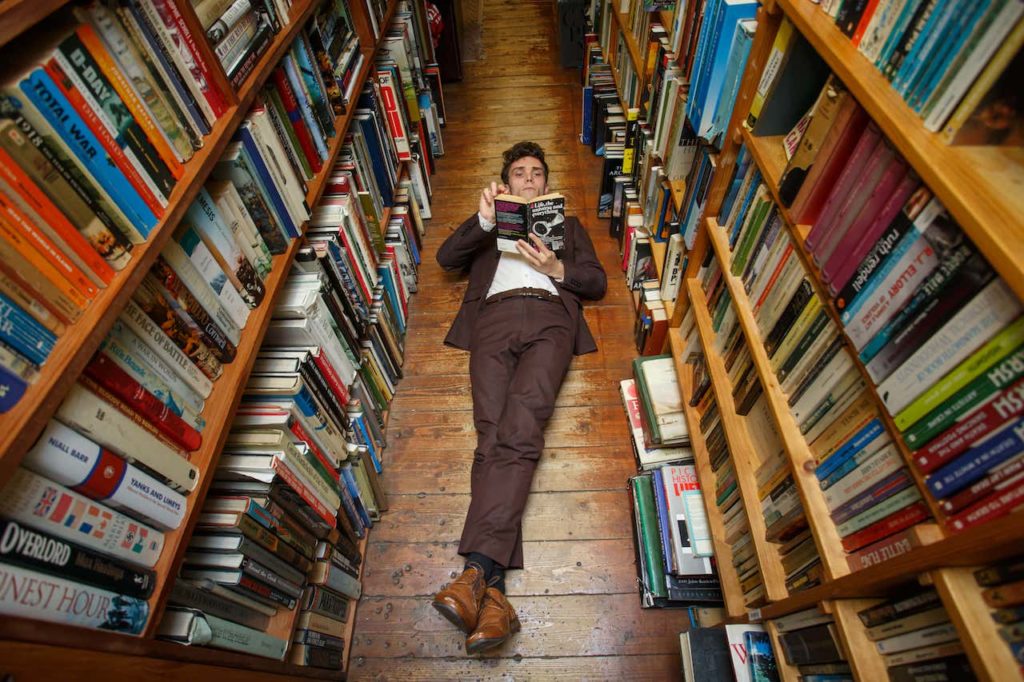 Congratulations on the release of "How To Truly Win At Life" how does it feel?  
It feels fantastic! I started writing this song way back in 2020 and it's only now that I've had the chance to put the recording and video together to release it. I'm thrilled with the response so far.
The video is very funny in the way it pastiches YouTube adverts, how did you come up with the concept of it?  
Well I noticed a lot of these 'life-coaching gurus' appearing on Youtube, claiming that they could help you to earn thousands of pounds and live an 'epic life'. It all seemed very ridiculous and many were quite obviously not able to deliver on their promises. I thought that if I ever made a video for the song then I'd want to replicate the kind of over-the-top nature of these original videos.
What was the easiest and most challenging part of putting it together?  
Shooting abroad in Barcelona was a big challenge for me; we were forced to shoot in early November due to a chain reaction of problems with the studio sessions.
What that meant was we were taking a huge risk on a) whether we'd be able to go – due to looming concerns of a Winter lockdown and b) whether there would be any sun or dry weather when we got there! 
There were many things that had to be booked in advance so it was a very risky thing to do. I think I lived in a permanent state of stress for a couple of weeks…
You wrote it during UK lockdown, how easy did writing music come for you during this period?  
That's a very interesting question – for me it wasn't easy. I found the pressure of creating when you are given so much time off was quite overwhelming. I much prefer to work under time pressures.
However, I was ultimately grateful for the time away from the stage to work on new material.
Your music is based on observational comedy and social commentary, who are your favourite comedians?  
I prefer to think that my music is based on a love of musicians who use humour, rather than comedians. But I really like stand-up comedy as well. Some of my favourites are Stewart Lee, James Acaster and Rich Hall.
You are a singer/songwriter originally from Northwich, Cheshire how did it all begin for you?  
Originally I started by learning as many string instruments as I could: banjo, guitar, ukulele, bass etc. Then I started songwriting at about age 17. 
When I first started I wrote a demo album every year until I was 22. I think that was a great experiment in just churning out ideas, whether they're good or bad.
What did you listen to growing up?  
I listened to a lot of The Beatles, Bob Dylan and Arctic Monkeys. I still do!
I think maybe the biggest influences on me have been: Randy Newman, Loudon Wainwright III, Bo Burnham and Tom Lehrer. 
You've performed at Glastonbury and toured Europe amongst other things, what was your favourite part of that?  
I loved touring in Europe and Germany especially. My personal highlight was playing a venue in Munich that was essentially inside a rubbish dump! But the venue owners had upcycled and converted the space into this brilliant bohemian den for all the local music lovers to come along. We played to around 100 people, having never even played in Munich before.
Do you have a funny story from the road?  
I have absolutely loads. While we're talking about Europe – we found out that we could do a show in Paris two days before it was due to happen. 
It would involve a seven hour drive from Dortmund to Paris all through the night. When we arrived, we navigated Paris in a daze and both me and my touring partner remember performing in front of around 150 people in a sort of sleep state. Fortunately, nobody else seemed to notice and we laughed about it later!
COVID impacted the creative industry in a big way, what kept you motivated?  
I managed to stay motivated by writing about the pandemic and commenting on the absurdity of it all through song. My song 'The Folks I Know' did really well, with BBC Upload Festival volunteering to play it. 
The last couple of years have been a time to reflect what did you learn about yourself?  
I have learned a lot in the past couple of years. I've learned to appreciate my independence in an industry that can be very competitive and unforgiving. I'm happy with my successes so far.
Did you pick up any new skills?  
Yes I honed my recording skills during the pandemic. It was a chance to join the Tiktok revolution as well, so I'm pleased to say my home filmmaking skills have improved.
What are you listening to at the moment?  
I'm trying to listen to a new album every week this year and it really varies from big artists to smaller ones. Some recent ones are BC Camplight, Courtney Barnett, Marren Morris and Cory Wong.
What are you looking forward to doing next?
Next is my second single 'Right Back Again' – that will be out in March 2022. Shortly afterwards my full EP 'Easy Ways To Be Happy' will be released.
I really can't wait to see what the future holds after these releases as I will be getting out on the road touring again in the Autumn as well.