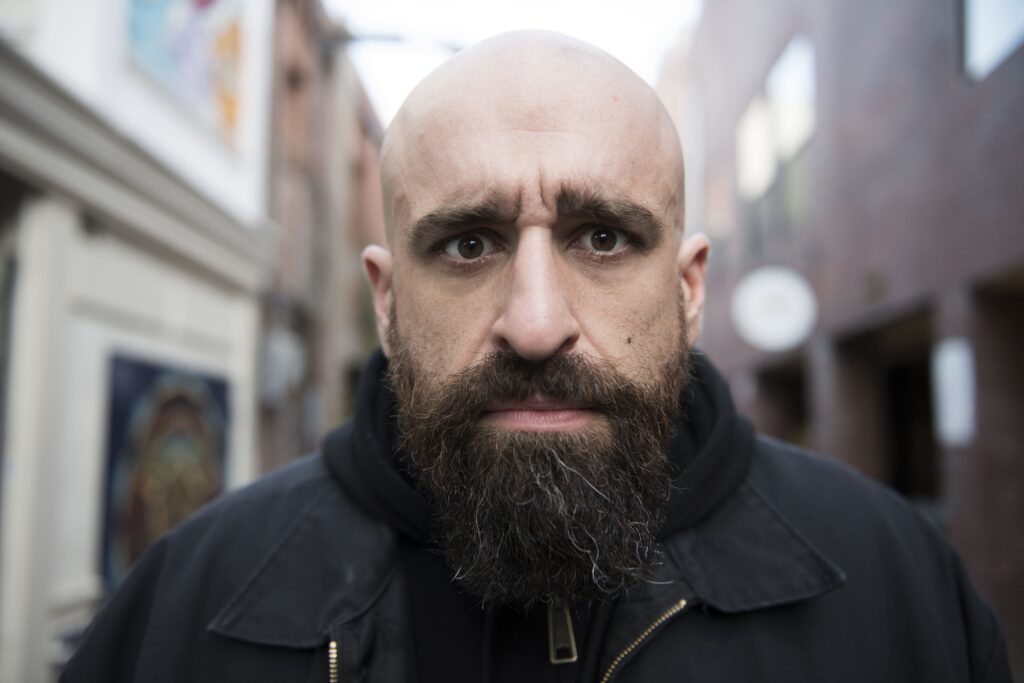 Congratulations on the release of "The Rock Cried Out" how does it feel? 
Everything around returning to releasing music and touring feels very strange and surreal right now.  Also, this collection of songs is highly personal to me, and was made during a very private isolated time.  Dealing with the onslaught of emotions attached to all of it is something I'm experiencing and taking pretty slowly day by day.
What's the story behind the song? 
I was alone in the hospital for seven days after a major surgery during the height of lockdown. During an intensely painful recovery, I found myself listening to certain songs over and over again, one of which was Nina Simone's "Sinnerman".  There's a Rock in that song that has one line, which is "I can't hide you".  I found myself empathizing with and thinking about that Rock as I related to it.  I wrote this song to tell more of that Rock's story, from my perspective.
It's quite an epic track, what was the easiest and most challenging part of recording it? 
The beat from Widowmaker made it instantly easier.  I had the concept first and was struggling to make the right instrumental for it.  Widowmaker happened to hit me at exactly the right moment with a beat they'd labeled "asteroid", and as soon as I heard it I knew this was the one I needed to write to.
The most challenging part was to say everything I had to say in the space of two verses and a 2 and a half minute song.  I really liked the length of the beat as Widowmaker had arranged it and wanted to stick to that, so to tell this whole story of the Rock witnessing man's rise and fall in 32 bars required me to do some math and planning and then write each bar or group of bars within certain guidelines of what I wanted to say or express at that part of the story.
You are an artist from Providence Rhode Island, how did it all begin for you? 
Seeing my name on a tombstone when I was 4 did it, I think.  My grandfather and father shared the same name as me.  I been weird ever since.  Michael Jackson fascinated me as a toddler and small kid.  I would dance on the table using a wooden spoon for a microphone.  My mom also played piano in the house and gave lessons as a side hustle. I mostly played piano when no one was home.  I was always obsessed with music and stories, and when I found hip-hop at age 12 it was like the perfect marriage of those things and I never looked back.
What did you listen to starting out? 
When I was very young it was my parents collection.  They had a lot of Pop music and sort of standard 80s white people stuff.  I remember when Prince did the Batman soundtrack and there was a track with samples on it.  I started figuring out how to loop and sample things using my parents dual cassette decks after that.
Scarface's "The Diary" is the one LP that made me go "I want to be a RAPPER," though.  I heard that at about 12 and it changed my whole attitude toward music and I started writing songs, poems and stories after that.
Your sound on this particular track has an old school vibe to it what kind of sounds usually influence you to rap? 
Good rap music influences me to rap.  I listen to stuff from all eras on a constant rotation, and tend to cherry a pick a song or two that really inspires me when I hear it.  I try to stay curious about new music and I also like to revisit older stuff and see how it's aged.  Doja Cat can rap for real.  I'm not necessarily their demographic but I know when the bars are official.  Hooks catchy as f**k.  Gangstarr's "Moment of Truth" album is also hitting different for me this week.  I've been revisiting that one too.
You're about to tour the UK, on a scale of 1-10 how excited are you? 
11.  I am wicked chuffed, bruv.  I leave my heart in the UK while I'm away and it's been a longer and stranger absence than usual this time.  There'll be lots of reunions along the way and the shows should be a blast.
How are preparations going? 
Not bad!  I just finished 24 new songs and now I have to cram a bunch of new lyrics into my brain, but aside from that this isn't my first rodeo.
Post pandemic what have you learned about yourself in the last three years?
I've struggled to fit that answer into a new album and set for this tour, so I know I probably won't be able to do it here.  It's a lot.  I basically was torn down to the foundation and have been rebuilding everything inch by inch.   Highly educational work at this point in life particularly.
I also changed a ton of things about the way I work, produce and release music.  
Did you pick up any new skills? 
Tons of them. I am a twitch streamer now!  I learned to partially work at green screen, and also got a lot of practice DJing on Twitch. That combined with a lot of research and work I was doing on writing have transformed a lot of what I do in ways I'm excited about.
What are you listening to at the moment?
I answered this question too soon!  One more artist I've been revisiting and have always held close to my heart is Sinead O'Connor though.  RIP.  She's the mother to my style.
What are you looking forward to doing next?
I look forward to creating the new stage show live in front of people.  That'll be a new kind of creative work I've been missing since I've been away.  Beyond that the plan is always just to keep writing and keep working, and that keeps me excited about the ideas waiting in line to be made.
UK tour dates below. 
Special thanks to Andy @ steamingkettlepr.com