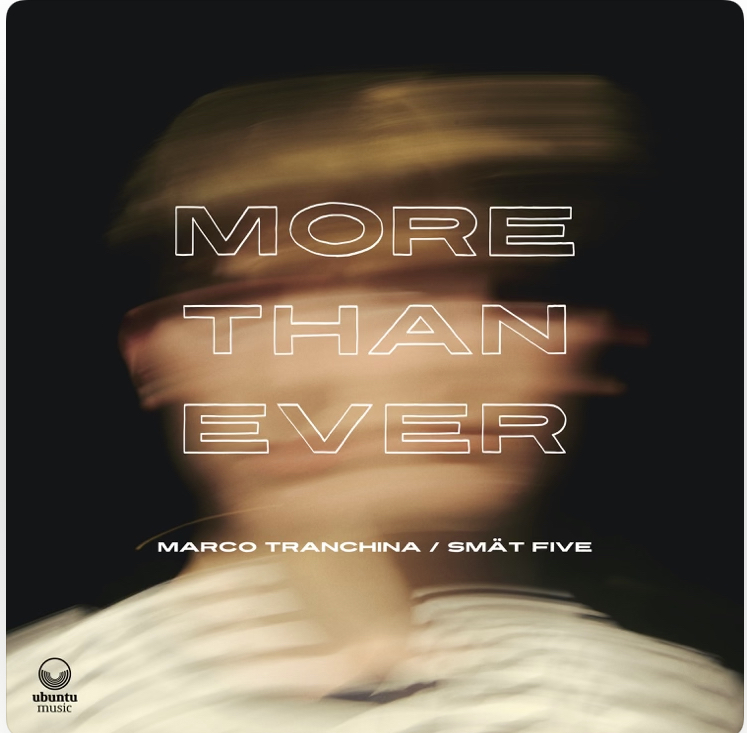 More Than Ever
Smät Five
Smat Five are a quintet led by Marco Tranchina. Comprised of an all Italian line-up, Smat five are Mikelle Montolli ( Sun Ra Arkestra, Nigel Price, Heidi Vogel, Judi Jackson) on bass, Alan Short (Donna Summer, Sam Moore, Natalie Cole, Groove Razors, Cong-Fusion) on alto saxophone, Andrea Solarino ( Manzi, Bosso, Burk) on guitar, and Filippo Galli ( Tony Kofi, Jure Pukl, Gina Schwarz) on drums. Signed to Ubunto Records the quintet release 'More Than Ever' on 25th February. All the musicians are experienced and in-demand players. Marco Tranchina is enjoying a growing reputation as an innovative, dynamic pianist and composer with a diverse approach to harmonics. He formed Smat Five, intending to present his original compositions that blend modern jazz with the atmosphere and cultural references of the Mediterranean region.
The opening track, 'More Than Ever,' which shortly into the first listen sounds like a regular jazz number complete with typical arrangements. However, pretty soon, there is a realisation that this composer is not regular at all, and the beautifully balanced and arranged sax solo over the rest of the ensemble shows deep understanding at work. Short brings his fulsome experience to the track, while Solarino is given the spotlight for several minutes, all the while over some solid support.
The final minute is intriguing with its crashing harmonics in the piano line, underpinning another explosion of solo work from Short on alto sax and the final phrases are verging on the divine.
'Push and Pull' is well worked with clever delayed entries and pushing effects created by changing the underlying tempo while retaining the meter in the top instruments. Short is superb on this track, as is Montolli on bass. Around the halfway mark is a little dialogue between piano and percussion which adds additional interest, especially when you twig the underpinning lines hardly vary until the bass lifts out of the background to serenade with the keyboard.
'Nitro' lays out its theme in the opening phrases with gentle echoes played between sax and guitar before the guitar is alone and slowing over the top of some dynamic percussion. A classy and well-arranged number.
' Axioma' is heralded by a piano opening and has a fast-paced blues feel to it throughout. The contrasts between the harmonised and solo sections are well placed and effective. Each component is crafted here and comes together diversely and dynamically.
'Lost and Found' is a beautiful track, both from the point of view of the extended piano introduction, which has classical harmonies, the solid saxophone solo which rises across the top after the 90-second mark, to the delicate touches of percussion and the bass line, which is perfect when it accompanies and sonorous when it rises. Gently now.
'Holger's Dream' is atmospheric with a solid theme and areas of counterpoint where the melodies are different, yet united by chords, roots, and keys, they meld together – which makes way for the second part, which is an adventure in tempo changes, swing and blues, rhythm divergences and interesting solos. Again, the sax soars but is not given free range, with the other musicians rising and creating diverse, intriguing lines themselves.
The flute introduces the listener to 'Irish Eyes' and leads this track for the first half before the guitar, piano, percussion, and bass add their touches. The flute leads the final minute, reintroducing the theme and quietly leading to the finish.
'4.3 Circle Song' is packed with rhythmic changes, subtle phrasing, dynamic arrangements, solos from saxophone, guitar, and piano. The percussion really catches the ear with its dynamism and perfectly placed time changes, one second thunking out a solid six-beat, the next adding delicate ornamentation and quarters.
There is a strong connection between the players, and the album is rhythmically solid, anchored in bebop and with lyricism right the way through.
On this release on Ubuntu, Tranchina explains, "I am very happy and excited to join the Ubuntu Music Family together with a roster of incredible musicians. The diversity showcased on each release is of the highest quality, and Martin Hummel's support and infectious energy have been with me from the start of this journey". Hummel says that " Marco's project knocked me out from the first time I heard his initial mixes." So, it seems a happy union has happened for the label and the band. Tranchina has played many genres of music, but his first love is jazz, and on this album, it shows. Yet there is enough rock, Latin and classical reference to please even the most pernickety of listeners. This has the feel of musicians working well with each other and also a sense of perhaps even greater exploration to come.
For more information, please contact Dynamic Agency:
+44(0)7769 554 247 / rupert@dynamicagency.co.uk / http://dynamicagency.co.uk
Notes To Editors:
Catalogue No: UBU0103
All compositions by Marco Tranchina.
Produced by Marco Tranchina. Executive Producer Martin Hummel.
Recorded at Fish Factory in London on 1st & 2nd May 2021.
Mastering by Rha Stranges.
Artwork by Marco Tranchina.