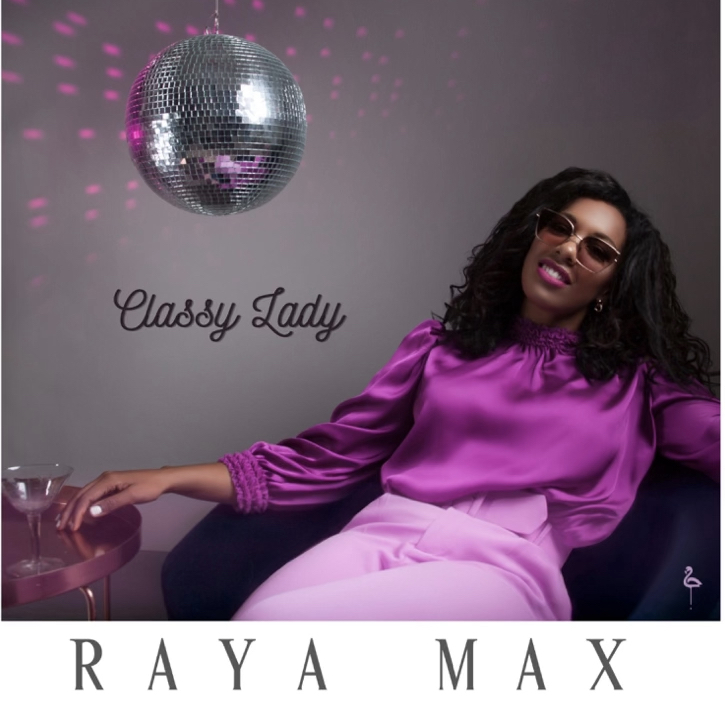 Hello Raya, how are you?
Fabulous, I've just whizzed here from a performance with my musicians with all my equipment, I went from glamour girl to bag lady in a hot 10 minutes!!
Congratulations on the release of "Classy Lady", how does it feel?
Thank you I'm totally hyped! I literally had a bop in my step as I went to get my morning tea on release day!
I want to pay homage to all the fabulous ladies and soul sisters in our lives who are always by our side in the good times and the bad with my new release 'Classy Lady'.
It's a very retro vibe what inspired it?
I'm inspired by the greats Stevie Wonder and Rod Temperton. I also studied the vocal stylings of Patti Labelle, James Brown and Tina Turner. Composers such as Quincy Jones made a huge impact on me as well the Motown days of the late 70s.
What was the easiest part and most challenging part of recording it?
Recording the vocals was the easiest part, I think because before releasing my own music I toured extensively as a Jazz and gospel vocalist to Europe and America, performing solo to a sold out 10,000 arena audience at the Mandalay Bay arena in Las Vegas among others. Some years more than 250 performances a year so the vocals were like home for me!
Ah yes a challenging part of recording Classy Lady has to be ; Clear as day I could hear the production to "Classy Lady" and my debut single, before recording it. So keen to actualize these ideas, I decided to produce the song! It took me ages to figure everything out that I ran out of money to pay for the studio sessions. I panicked and – I had to realize my clear idea. The studio said "Look if you can't afford any more sessions, then when we go home after work we can lock you in the studio overnight and when we come back in the morning to start work we can let you out" So kind! So I took the last tube to the studio for midnight and left at 8am the following morning!
You're a singer songwriter how did it all start for you?
I grew up bopping to composers such as Quincy Jones, songwriters Stevie Wonder and Rod Temperton, their craft inspires how I produce my songs, as well as the Motown days of the late 70s.
When I listened to these greats as a youngun' I felt like everything was going to be okay for those magical three minutes – I thought "That is best job in the world!." And so it began.
What did you listen to growing up?
Your tracks are upbeat what's the one song guaranteed to get you up on the dance floor?
"Starlight" is my debut single and has been chosen to feature on the BAFTA award winning sitcom 'Almas Not Normal' airing on BBC2 and BBC iPlayer. I'm keen to sow my Ghanaian heritage into my music in terms of enigmatic instrumentation and polyrhythmic percussive layers to give you an irresistible dance floor filler in "Starlight" The groove and percussion really gets you moving, With the chorus singing : "Dance under the starlight".
You have gospel and jazz influences are there any standards from those genres that you like to sing?
Oh very much so, My band and I perform them in our set!! I love "Lady Is A Tramp" because it reminds me of the humility you have as you work your way up in business! The verse intro is beautifully written and the swing section really swings. You can't help but smile and bop to it!
You have played to arenas what did it feel like?
It felt very natural I guess because it happened so slowly, over so many years. When you build momentum, and you start to perform on average 4 times a week 48 weeks a year by the time you finally arrive at the big moments of stadiums and bigger audiences it feels like a wonderful evening of music with loads of like minded friends! Nothing like it!
Starlight was featured on a BAFTA nominated show, Alma's Not Normal how did it feel when you found out?
Put it this way, I was speechless for about an hour and then I got straight on the phones to the girls and we went out celebrating that night!
COVID has had a big impact on the creative industry what has kept you motivated?
I really feel like my soul sisters stood by me and we inspired each other throughout the darkest hours. I think that it has been an incredibly tough pandemic and it has affected a lot of us, We need to stick together in the good times and the bad!
2020 was a time to reflect what did you lean about yourself?
That I'm a people person and the fun is where the party's at!
Did you learn any new skills?
Yes I learnt more about programming percussion in logic and writing string arrangements! You can hear the results of both in "Classy Lady'
What are you listening to at the moment?
Thundercat came out with such a cool album last year, Have you heard dragon ball doorag! Such a vibe! Also Anderson Paak always gets me vibin'
What are you looking forward to next?
The release of new music and connecting with more music lovers! I want to ignite the disco diva within after the miserable year we've had! Let's get it!
Special thanks to Sophie @ Quite Great PR