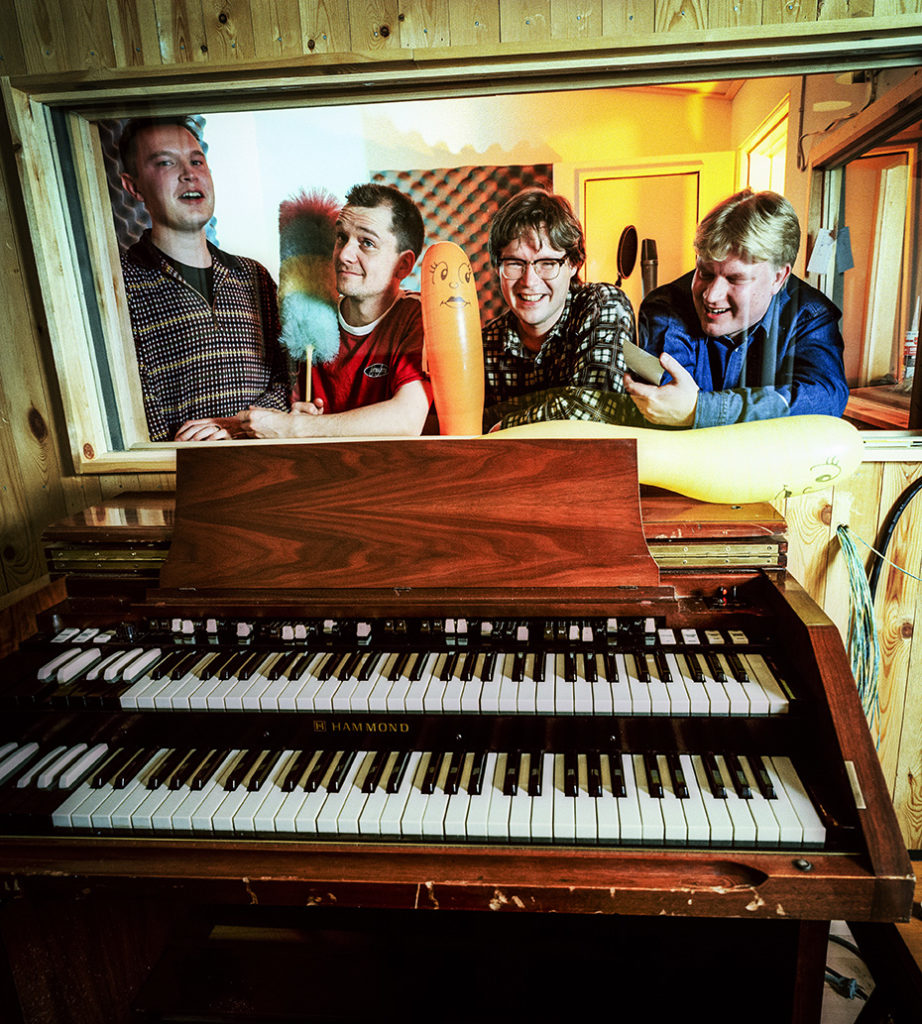 Congratulations on the release of Psychadilly Circus how does it feel?
I feel gratitude and relief…and deep satisfaction. I think we have accomplished something special.
You are a band from Finland how did it all start for you?
Me and Janne were introduced to each other through our older brothers. They hung around and Janne's brothers band rehearsed at our home – "the music room". The neighborhood kids used to hang around there, it was "the place to go," even home to many legendary parties. A bit like the ones described on "Psychadilly Circus". Especially when my parents were on holiday in Spain…
It was also equipped with all the band equipment: drums, vox amplifiers, Gibson guitars and my mother's old upright piano she got as a wedding gift in 1955. This is the same piano I still use in my studio-every time you hear piano on Psychadilly Circus" album, that's the one!
I had started to play cello at the age of 6. The song writing came immediately I started to play guitar when my brother showed me a few chords as I was having mumps. Janne and I used to hang around the music room, drinking excess amounts of coffee, listening to my brother's vast LP collection and reel tapes. Music from all over the place and genres. Every now and again I played some of my demos to Janne. One time in 1979 I suggested to Janne about forming a band and trying to play those demos. Janne replied "Finally you said it!".
Then we got the band together, and everything happened really fast! Janne's brother recorded our first band demo, we sent C-cassette copy of it to the record company. Within a week from that I got the call – on fixed line. There was a well-known record producer Tommi Liuhala saying bluntly after introducing himself "would you like to make a record with us?". Within a year from agreeing to form a band, we had made our first LP "What's All About". Tommi Liuhala and engineer Dan Tigerstedt are mostly responsible for the fact that even out of our first-time chaotic fooling around in studio came a proper LP that we could be proud of. Tommi and Dan are still very dear friends to all of us.
What were your influences starting out?
For me they come from many places. Because of my classical background there are influences from J.S Bach's chord sequences like in "Love Is Everything", "Child Of War" and few other songs I've written. I listen to quite a lot of classical music and still play cello quite a bit. Then there is the rich "soundtrack of 60's and 70's" I grew up with. Everything from Clapton Bluesbreakers, Jimi Hendrix, Stones, The Band, Dylan, bluegrass, Irish folk music like Dubliners and Fairport Convention, jazz, progressive stuff like Emerson, Lake and Palmer, Stevie Wonder, Tom Petty – the usual suspects!
What was the catalyst for putting the band together?
I guess the rich musical fabric and environment we were growing up in. And the influence our families and older brothers had on me and Janne. Janne was born and raised in an artistic family, his father being a well-known jazz musician, older brother the best stell guitarist in Finland, and sister who is an actress. My parents were musical, played piano and sung in a choir and gave all of their children an opportunity to learn to play an instrument. They were very supportive!
You have been around for 40 years what's been your favourite moment working together?
When we started and toured in schools there were some gigs close to Beatle-mania reactions with kids screaming and running after our car after the show. That's something to remember! But, in studio every time after a take you know that you've nailed it – that's something unique and special. On this record I experienced many such moments!
COVID has impacted the creative industry in a big way, what has kept you motivated?
Knowing that this will pass and concentrating on the future. Family, friends and music. The meaning and the power of music has been emphasized further during this period – and brought a sense of gratitude for being privileged to have the possibility to work with music.
What did you learn about yourselves in the last year?
I can't answer on behalf of the others, but gratitude and hope in the midst of this global and chaotic period have emerged strongly.
What are you listening to at the moment?
Stevie Wonder (Village Ghetto Land, Lately), J.S Bach (6th solo Series for Cello, Sarabande) and The Bablers "Psychadilly Circus" album! I know this sounds kind of silly, but once the record is released and you've run into reviews and comments, it starts to have a life of it's own. You don't "own" it anymore – and you can have more of an outsider look at it (if that's ever possible). You sort of have to have a final look at what you have accomplished, close the book and move on to the next one; as fast as possible!
You're from Finland what are your 3 favourite things about your country?
Equality, democracy and nature. 
What are you looking forward to next?
The releasing of "Psychadilly Circus" is keeping us busy at the moment – doing all the promotional work…like this interview! It's an important phase of making an album – making it possible for as many people as possible to find the songs they might like. But, as a songwriter I'm always working with new songs! Looking forward to record the first tracks of the next song!