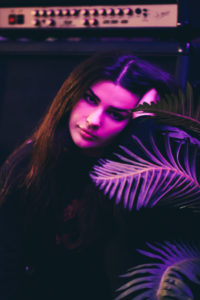 Greysha – Gold Glaze
This song has so many things pleasing to the ear… the pitch up at the beginning like the start up of an old tape.. literally lasts for a few seconds but it took me back in time.
Greysha's voice is lovely on this, sailing in synths and understated drums, I could imagine this being played on guitars and a cajon live just stripping it back.
The vulnerability of her voice shows, and that's what attracted me to this song, I'm a sucker for a singer not shy in bringing that through.
Overall, this track is great. The atmospheric feel of it, the harmonies, the electro synths lifting it, she describes herself as dark pop. I would add introspectively dark too, the production is really thoughtful on this….
Good job Greysha.
So.
Who is she?
Well, Greysha is a 19 year old singer songwriter based in Shropshire, UK. She first began to upload covers and demos at the age of 14 and quickly gained a following. She released her debut single "Life Goes Fluently" (Liking this title must check it out) in February 2020 and followed with her second in early 2021.
Greysha plays live at The Musician in Leicester on Sunday 31st October, in support of the first date of Alice Robbins' tour. Tickets are 
available here
.