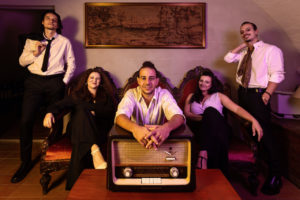 Hello Roby, how are you?
Hi Del. I'm very good, thanks. I hope you are as well.
I am well! Thankyou so much for asking.
Congratulations on the release of "Studio 54" how does it feel?
Oh, thank you! It's really a wonderful and exciting experience. I love the fact that our ideas have come to life in a such powerful way, and it feels like we did something very special, something that will last forever in our minds, hearts and the lives of the people that hear our music.
It's a tribute to the 1970's, New York City and in particularly famous nightclub, Studio 54. What inspired you to come up with this track?
We absolutely love the 70s: The sound…even the style and mystique of those years. We identify ourselves so well with that kind of music, So, when it was time to write the lyrics of this song, our imaginations drove us right there: To New York and Studio 54. The words came out so easily. We just wanted to bring people back to the days of Disco. 
You are part of the band SōMuch. How did the band come together?
Yes, I'm one of the two singers. Myself (Roby) and Vale. After the many years of playing together as a cover band, the need for us to write our own songs came about. We wanted a retro flavour but with a new sound. So, our producer came up with a new genre, Retrō NūVō. 
SōMuch was officially born in 2020 just before the pandemic, with the support and production of Ralph Rolle, drummer for Nile Rodgers and Chic. 
What were your influences starting out?
All of the Disco music of the 70s and early 80s: Chic, Kool and the Gang, Earth, Wind and Fire, Sister Sledge, KC and the Sunshine Band, Diana Ross, Gloria Gaynor and so many others.
You are connected to Ralph Rolle, drummer for Chic, how did that happen?
In November of 2017, I was scrolling through my Instagram feed and came across an advertisement: "Ralph Rolle, the drummer for Nile Rodgers and Chic, is giving one-to-one drum lessons in England." So, I decided to get a special Christmas gift for Francesco, our drummer.
On the 7th of December, we flew from Italy to Manchester, England where we met Ralph. We became instant friends. He said that Francesco was already a very good drummerand he took him under his wing to guide and mentor.
October 19, 2019, magic happens on our second visit to see Ralph. Francesco and I asked Ralph to listen to a demo of a song written by our guitarist Andrea Giovannini called, "You Gave me Love". Ralph was literally thrilled by what he'd heard and asked if he could produce the song. He offered to fly to Italy to produce the track! So, everything started by pure chance and then it became a beautiful reality.
He also helped with the production of two of your tracks. What was the best advice he gave you?
It began with two tracks. We now have five finished songs for our first EP and Ralph worked with us on all five tracks. He's known as a great drummer, but believe me, he's a great producer too. The best advice he gave us: "Always believe in what you do, what you love and work hard so you will make things happen!". I'm writing lyrics for a new song about this very concept. But Ralph doesn't know it yet 😂.
You all wrote music during the pandemic. What challenges and positives did you find during this process?
Suddenly we had a lot of free time being at home to do nothing. This turned out to be a very positive thing because we had a lot of time for writing and experimenting. The big challenge was doing all of this without being in the same room together. But we found the balance. The synergy. After almost two years of being locked away from each other, the pandemic brought very positive feelings and so much more motivation to bring our music out to the world.
What's your favourite song from the writing so far?
My favourite song out of the 5 is, "You Gave me Love". It's our very first track and I'm so proud of it. I think it is a very cool song and a very danceable song. It's a great song to roller-skate to, as well.  But you know, every one of us has a different preference about the songs. I think our new release "Studio 54" has got everyone on the same page.
COVID impacted the creative industry in a big way, what kept you motivated?
It was a terrible time for all of us. We couldn't play and create music together. However, we didn't stop nor did we give up. We became closer and more focused. Our musicians (Andrea Giovannini, Francesco Carli and Andrea Belloni) came up with new ideas every week which kept our motivation high. The only way to go forward was to always do something creative and so we did. We waited patiently until for 18 months to complete our first EP and our debut release, "Studio 54".
2020 was a time to reflect. What did you learn about yourselves?
This is a very good question, Del. After the last recording session, we all talked about and thought about how the pandemic changed our music and our writing style. Our sound is more defined, more intense and our listeners and fans will be able to really relate with the feelings of that uncertain period of our lives. We changed as people as well: after such an experience, which affected the whole world, we only want to make people happy and feel so much joy. That's why we are called, SōMuch. It's a little bit hard to explain, but we believe that our music will explain what we are feeling in the best way. We have a song called, "Glitter In My Pocket." It's all about finally being allowed to come and be amongst friends, family members and strangers after 18 months of lockdown. It's a really fun song to dance to and just feel free
What are you listening to at the moment?
At this moment, I'm personally on a roll with Dua Lipa and Bruno Mars but I listen very often to Chic and Disco Music Oh…and I love listening to the Italian band Måneskin. 
What are you looking forward to next?
We are looking forward to producing more songs. But, we really hope to get out and start playing live music again and very soon. I dream of big festivals and Disco-parties where people can really enjoy their lives and the freedom of going out again and the music and performance of SōMuch.