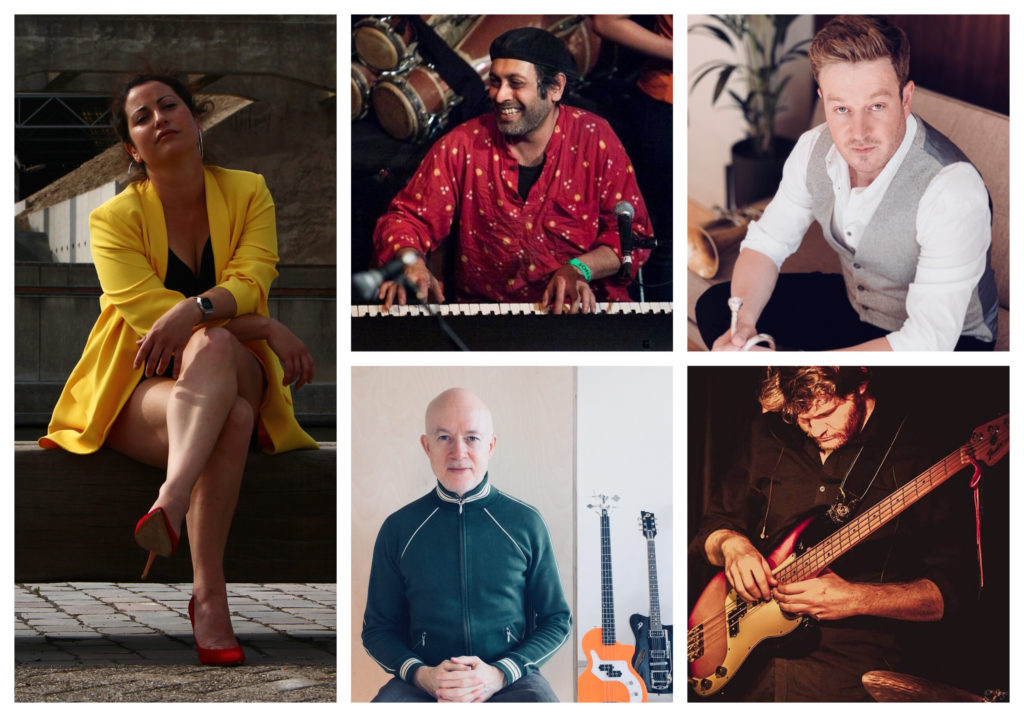 Hello Graeme and Chris. Thank you for agreeing to talk to us, how are you?
Chris: I'm good thanks, Del. Summer is just hanging on here in Helsinki, so I'm enjoying that!
Graeme: Hey Del! I'm good too thanks. Venues are opening up here in London, and I'm grateful to be out performing again!
Congratulations on the release of the Water And Light EP. How does it feel?
Chris: I'm delighted it's out and very happy about the good responses we've been getting to it. There are very few "Oh, I wish we'd done that differently" moments too, which is always a good thing!
Graeme: Yes, I agree with Chris. Very proud of this EP, and so nice to get positive responses. 
Describe it in three words.
Chris: You're not going to accept 'Water and Light' are you ☺ In that case, my three words would be "change", "hope" and "friendship".
Graeme: I think Chris' three words are perfect, and the EP title itself reflect my feelings about it exactly: a sense of light through the darkness, and the fluidity of transition.  
What's your favourite track from it?
Chris: I have a soft spot for 'Changing Places'. I love Nadia's singing on all of them, but on that one especially. 
Graeme: I love 'First Light'. I get emotional every time I hear it! 
It encompasses so many different vibes (Drum n Bass on "First Light", straight out neo soul on "Setting Out") what was the story in putting it together?
Chris: After our first release, which was purely instrumental, we talked about doing something with vocals. We'd just worked with Nadia Basurto, whom I know from The Hague, on a remix project for the band Duski, and asked her if she'd be up for singing on some tracks. Luckily, she was, so then we started thinking about rhythms and feels. We wanted to do some jazzy Drum n Bass, just because we love it, but thought 5 tracks in that style might be too much, so tried to change up the feel a bit on the others.
What were the easiest and most challenging parts in putting it together? 
Chris: The easy bits come from having a good musical relationship between the two of us and from working with such great musicians. We're all very open and communicative with each other, and respond well to feedback, so that side of it is a pleasure. It is a bit more challenging building the songs when we're in different countries and can't develop them through collective jams, but that perhaps means we spend more time on the production details, which I think is a good thing.
Graeme: Sometimes recording from different countries can be challenging with other projects. But this felt very easy and natural to me. Enough spontaneity and energy to be creative, but also some time to think, reflect and make considered choices. I have to say Chris did most of the hard work! I just did the fun stuff!
You're a duo who have an incredible CV, how did it all start out for you?
Chris: I started out by getting a guitar for Christmas when I was 9 years old, and then going through all the usual stages of learning pop songs, trying to play simple solos on blues and rock tunes, then moving into jazz and other improvised music, all the while writing songs. Graeme's CV is definitely a lot more impressive than mine, so I let him list everyone he's worked with, and then I just say I play with him and hope some of the glamour rubs off!
Graeme: I started playing the trumpet aged 10 and then started getting gigs around my home town of Northampton at a relatively young age. I was playing with a local Soul band, aged 15, and my parents would drop me off at local pubs around town! I moved to London aged 18, and started playing a lot of Salsa, Jazz and Funk music. Shortly after that, I began to do TV shows and tour with various pop artists. At one point, I was simultaneously doing a world tour with both Kylie Minogue and Kyle Eastwood! I would get off the Kylie tour bus from a European tour, and then have to get straight on a plane to Japan to meet Kyle! Crazy times!
What did you listen to growing up?
Chris: My parents didn't have a huge record collection, but they had some good stuff: Miles Davis, Joe Pass, Stan Getz, George Benson, Paul Simon, and Steve Wonder, and then when I was a bit older, I started buying Jimi Hendrix, Pink Floyd, The Velvet Underground, Cream, and that kind of thing. 
Graeme: There wasn't much jazz in my home town, so I used to beg, steal and borrow cassette tapes and CDs of American jazz music. That was my frame of reference. Miles Davis and Michael Brecker being particulate favourites. I was also messing around with the guitar, and learnt the intro to Money for Nothing!
How did the concept for Archie The Goldfish come about?
Chris: As a project, it started as something to do during the early stages of the pandemic when most other musical options were very limited.
Graeme: With our first EP 'Hidden Depths', we liked the idea of an almost dream-like state. As if we were underwater with thoughts and ideas floating around us. This idea developed into the concept of swimming in an aquarium like a Goldfish! 
Graeme, you've played with Quincy Jones. What was it like sharing a stage with him? 
Amazing! We played Soul Bossa Nova! I had a nickname at the time of 'Austin Flowers', so it was perfect for me! It was an early evening BBC concert in a theatre in London, and I was due to be headlining at Ronnie Scotts with Kyle Eastwood later that night. It was so great to hear Quincy's speech afterwards, but he spoke for so long, I totally missed the start of my gig at Ronnie's! But when someone is talking about working with Michael Jackson on Thriller, you can't really leave the stage! At least I had a valid excuse!
You're both seasoned professionals having played around the world. What's been a funny story from the road?
Chris: I'm not sure how suitable most of our road-stories would be for this blog! I did try and get out of doing a short tour of Finland, where I then ended up meeting the woman I'd marry, but I'm not laughing about that. (In all seriousness, that was an extremely happy accident!)
Graeme: The first time I met Clint Eastwood, we were playing at a charity concert in California. He walked up to me, and without saying anything, just took my trumpet out of my hands and walked up on to stage for his speech. He then lifted it to his lips as if to play, but then said he would leave it to the experts! If anyone else just took your instrument like that, you would probably have something to say about it! But you're never going to argue with Clint!! I worked with him quite a bit after that, and he's a lovely guy!
Chris: And Graeme ended up marrying him.
COVID impacted the creative industry in a big way. What kept you both motivated?
Chris: Mostly this project: it gave me something to focus on at a time when I'd just moved back to Finland after a few years in Kosovo and The Netherlands, and had very little else going on. It was a creative outlet that helped me retain at least a little sanity!
Graeme: Yes, what Chris said. Maintaining some kind playing and creative processes throughout a time where you couldn't play live. 
2020 was a time to reflect. What did you learn about yourselves?
Chris: Like everyone else, I suppose, I learned that human connections to friends and family, and just to other people in general, are more important to my sense of wellbeing than I had previously thought. On the musical side, I remembered that I really enjoy writing and making tracks, after a period when I'd mostly been playing live, fairly straight-ahead jazz.
Graeme: Yes, easy to get caught up in the trap of working and earning money, without making time for family, friends or anything creative. 
Did you pick up any new skills during that time?
Chris: I got a bit more comfortable with shameless self-promotion! As a musician, my first instinct is to half-apologetically edge the music out into the world and then retreat back to the comfort-zone of making some more, but that really doesn't work for a new project created during the pandemic with no live band and no existing fans: you have to hammer the message home far more than feels polite!
Graeme: I got my home-recording set up more sorted, and that helped me make a living with online/remote recording sessions for various adverts, TV themes and pop records. That is continuing now, and in some ways it was good to be forced to develop this side of things.
Graeme, being a trumpet player, what's your go to trumpet?
I have been playing a Yamaha. I'm trying out a Carolbrass at the moment. My favourite brand is Bach. 
Who are your favourite horn players?
Kenny Garrett, Nicholas Payton, Elliot Mason
Chris, being a guitarist what's in your live set up?
I have an Epiphone Joe Pass for more straight-ahead jazz stuff and a Duesenberg Caribou for everything else. Amp-wise, I have a DV Mark Little Jazz, a Fender Blues Junior, and a Fender Stage 1500, and a few pedals, but I'm not a pedal-board kind of player generally.
Who are your top 3 guitarists?
It varies all the time, but right now probably Julian Lage, Jim Campilongo and John Scofield. (I only like guitarists beginning with 'J'.)
What are you listening to at the moment?
Chris: Because we're in promo-phase for the EP, I'm mostly listening to the music on the radio shows we're on! Sounds a bit vain I know, but I feel I owe it to whoever is kind enough to include us in their programmes to check them all out. It means I get to hear most of the new releases in our musical niche. A couple that have stood out are the new Emma-Jean Thackray album, and the 'After Dark' album by Amanda Whiting, featuring our friend and Archie-collaborator Aidan Thorne on bass. Also the early releases from Scrimshire's upcoming album are really good.
Graeme: Venues are opening up here, and consequently I'm 'back to work'! I'm listening and learning the music for whoever I'm working with. 
What's next for you?
Chris: We're planning to make another EP, hopefully with the same personnel, so that we have enough tunes to start doing some live gigs, ideally in all of our respective countries! And then we'll do one final gig in Madison Square Gardens, if the money's right.