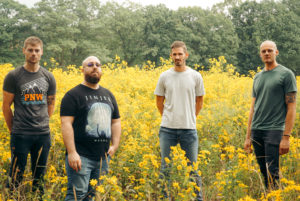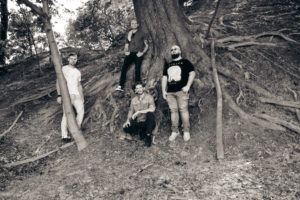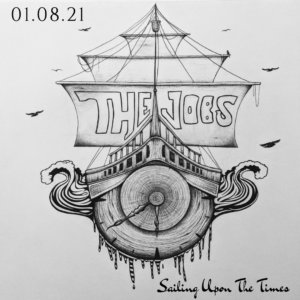 The Jobs, thank you for agreeing to talk to us, how are you?
Hi Del, thanks for taking some time for us and asking us some questions about our band and our story. We are doing well, hanging in there, navigating the pandemic like most. We hope that you and your family are doing well and that you have had a nice New Year thus far!
You are a quartet from Cleveland Ohio, how did it all begin for you? 
Thanks for asking Del – we actually started with just two of us. Tom (the other guitarist) and I (Trevor – vocals, guitar) played in rival bands in high school. Tom played in a ska band called The Ska-ker-Moms and I played in an alternative rock band called The New York Stock Exchange. In college, we started to collaborate musically, but it came with difficulty as Tom went to school in Valparaiso, IN and I went to school in Columbus, OH. We started writing all kinds of acoustic songs together and sending files back and forth and playing together whenever we could do so. Our early sound was more resemblant of songwriters like Elliott Smith and Death Cab for Cutie. Shortly after graduate school, I moved back to Ohio from California, bringing a new batch of influences with me and not long after; Tom and I started playing songs in a more purposeful manner.  My cousin Jon got behind the drums, joined us in the coming weeks and in this way, The Jobs became a living entity.  We started out as a 3-piece band and went through a year or two that way. For a few years, we had different bass players filling in here and there, but never quite found someone that was locked in so to speak. Eventually we met Marc Barone, Tom's cousin's husband, and our close friend. Marc plays in a metal band as well but has been kind enough to jump on the indie rock train and go full steam ahead with us. The four of us gelled immediately and started playing the local circuit until COVID-19 hit. From there, we set our sights on recording. We managed to complete our first EP as a full band titled 'Sailing Upon the Times' which is available everywhere January 8, 2021.
Congratulations on the pending release of your EP, how does it feel? 
After a long journey, we are absolutely thrilled for Sailing Upon the Times to plant its feet in the sand! The songs are bound by being one comprehensive voyage, despite each song having its own thematic element and challenge. Sailing Upon the Times is eclectic, metaphorical, and dynamic. There is something in there for everyone. Listeners can expect a commitment to pop melodies, atmospheric synthesizers, reverb drenched guitars and punchy drumming filled with ardor. We are more excited than anything, while also naturally nervous. We have made sure to temper expectations and realize that we are a merely a speck of sand in the indie sphere. Still, we are chuffed to share the EP. We have forged a lot of strong relationships on Twitter and Instagram, which has helped build confidence. For a while, our only audience was our friends, and it was hard to gauge if our songs were actually any good or not. Sharing music with the audiences on Twitter and Instagram has been more objective and has proven rewarding. Even if just one person genuinely feels that they can relate to one of the bands songs, it instills a sense of accomplishment.
What's the story behind it?
Each song is individually its own journey under the umbrella of a comprehensive voyage. Topics range and vary widely throughout the 5-song collection. 'The Sunrise Over the Hill' focuses on stinging critical self-reflection and how one internalizes their own role within the microsphere of 2020. 'Transmission Radio' focuses on pain rationalization and its necessity to grow as a human being. 'La Serena' meanders between wanderlust and oscillating emotional reflection on the current state of things. Two of the songs are actually more narrative based; 'On a Holiday' being very much a fictional, but relatable story of a woman trying to get back on her feet and 'If You Have No One' focused nonfictionally on Joan of Arc and The Hundred Years War. Each song is unique and leaves room for interpretation. Some are personal, and some are completely detached from myself. Overall, the EP is mostly about our journey as a band, finding our way, and moving beyond the perception as 'a friend's band.' It is a deeper gaze into the critical balance of achieving a more produced sound without sacrificing the creative integrity of any of the songs individually.
What are your favourite tracks from it?
For Jon, our drummer and myself, it is La Serena. To-date, it is the best song I've written. Tom's favorite is 'The Sunrise Over the Hill' and his 3 year old son, Will knows every lyric! There are 290 words in that song, so it is quite impressive that he can recite it! Marc, our bassist prefers 'On a Holiday.' I think he really appreciates the energy and dynamics in that one.
What were the challenges and positives behind putting it together?
During the peak of lockdown, I was fumbling around with analog pedals when I started uncovering a guitar tone that I had been hunting for quite a while. I knew that I wanted to write something that was a marriage of some of my favorite subgenres of surf rock, shoegaze and 90s alternative rock and began to carve out something expansive in space, yet still tightly knit around guitar hooks and pop sensibility. Lyrically, the song is in part about the wanderlust of feeling situated and settled that collides with a constant state of transience. Behind those layers, it is about pain rationalization, internalizing lockdown, and managing a continuous mental oscillation between cynicism and optimism. There were also challenges. Usually, I will bring an idea to practice and the guys will refine and help expand it. With lockdown being in full effect and our band taking the safe approach to the pandemic; it was difficult to gauge if the band liked the song because I couldn't play it live for them, I was only able to send clips. However, once we devised a safe way to get in the studio and rehearse it a few times, the band took to it. I was the most nervous releasing that song, because as a writer, you subconsciously think that people will receive the song the way you did the first time listening after it was just recorded. You think that they will be entranced by it. But, realistically, only the writer knows the actual journey of how the song began, it's modification, and it's finality; so you have to try and convey that message to fans as authentically as you can. If you can write a song with enough hooks, while giving listeners enough openness to interpret their own message, I think you have got a good recipe there.
COVID has affected the creative world in a big way, what has kept you motivated?
So, at the beginning of 2020, Tom and I decided that we were really going to give our band a go. We concluded that we would dedicate more time and effort to the band and push the envelope. Mark and Jon jumped on board, we found a studio in Cleveland, inked recording dates and focused on a more process-driven approach to keep ourselves on track. We even got out the spreadsheets, started constructing charts, and writing email templates/drafting pitches, etc. COVID-19 has helped our band focus. Surprisingly, being able to focus on recording and processes vs live shows has given us supplemental time to ask ourselves more of the fundamental questions required for the recording process. For the first time in 2020, we have direction and are sailing our own journey, rather than being a pinball so-to-speak. It feels as if we are becoming more than just a 'your friends' band' not that being 'your friends band' is a bad thing, it is just a hard distinction to move beyond. More polished recordings have definitely helped with that leap, but we are still working on tapping into that secret sauce to market/promote more effectively.
You're all from Cleveland what are your three favourite things about it?
What a great question, Del – thank you! I would have to say, one, the resilience of the city, the people here are resolute and its admirable. Just being able to survive the winters in Cleveland alone, one deserves a medal. We would also be remiss not to mention the fact that our city is home to The Rock and Roll Hall of Fame. So that is number two. Third, would have to be the people. A few of us, have been fortunate enough to meet our wives here and start families here. The friendliness and familiarity of midwestern culture is so easy to adapt to, as well as warm and inviting.
You have been influenced by British rock music, what are your favourite UK artists of all time?
Some of my favorite artists of all time are The Stone Roses, Ride, Oasis, New Order, The Smiths, Catherine Wheel, and The La's. I am in love with the 80s / 90s British music scene, but especially Brit rock, shoegaze, and new wave. Tom is a massive Beatles and Zombies fan. You can hear a lot of these artists in our sound as well as other artists such as Doves, Jimmy Eat World, U2, and British Sea Power. Guitar-wise, we pivot a lot from jangle pop rooted in chorus, delay, and phasers. We largely combine that with more modern dream pop and wet surfy, reverb drenched tones to give our songs a spacey, atmospheric feel even though they are almost always rooted in pop.
How does a typical Jobs writing session usually begin?
Such a great question! I am the main songwriter of the band and bring a lot of the introductory ideas. Tom, Marc and Jon help a ton with arrangement, refining and helping to get songs sounding as complete as possible. I draw a lot from British rock, shoegaze, new wave, punk, and alternative country. Sometimes an idea starts with a guitar progression, other times, a melody will enter my purview when I am on a run or driving home from work. It is rarely planned; it's just not how my brain works. So, when an idea comes, I quickly reach for my phone to try and record a piece of the melody before it leaves me. I probably end up chucking 90% of the ideas I have anyway. Part of why I love creating is because you can take audio influences and wind them together with personal reactions to art, travel, fantasy, history, and self-reflection. For example, I might use a seascape, how a painting made me feel, or how the sun went down on a particular day as the nerve center of a guitar part or lyrical inspiration. I am a highly sensory person, who is enamored by human behavior. As a writer, there's a lot to gain by tapping into a deeper consciousness shared among humans between the internal and external world. I exist largely in a state of transience and do my best to soak up the world's unique fixtures through different lenses. Coupled with that, there is usually a stinging, sense of critical self-reflection that exists in my writing. I try not to make every song about myself because frankly it's boring and there are far more enthralling things to write about. Still, there is a certain vulnerability in writing autobiographically that is relatable. This balance can be heard largely in 'The Sunrise Over the Hill' and 'Transmission Radio'. Sometimes I tie my personal experiences into a song that is actually largely about something else and other times, I do not. To me, there is a conscious artistry in seeing the world through the lens of another completely independent of yourself. This is exemplified in a fictional sense in 'On a Holiday' which is about the struggle of a young woman to get back on her feet. It can also be heard in a non-fictional sense in 'If You Have No One' which is actually about the turning point battle during the Hundred Years War as told from Joan of Arc's perspective.
What artists are getting you excited at the moment?
Currently, there are a ton of indie artists that we are listening to and have been fortunate enough to meet on Twitter.Byron Smithfrom Australia has a wonderfully warm guitar pop vibe. Sophie Dorsten out of Arizona is a phenomenal singer/songwriter who is likely to be a star. She has a powerful command of her voice that is rare.Leigh Thomas is another Australian songwriter that has infectious melodies and beautifully arranged pop rock tracks. OrangeG is a folk singer songwriter out of Pittsburgh, who plays just about every instrument and has an awesome, Conor Oberst/Josh Ritter vibe (He's a future blog interviewee – Del)The John Michie Collective is an amazing psychedelic solo act out of the north of England, who is an extremely talented and diverse writer. And lastly, we have to mention our friend from California, Fedbysound, who is another solo act. His recordings are jaw dropping, arrangements are intricate, and he has a command of technical skill and creativity that is almost impossible to find. I get a mix between Rush and Deftones from his music.
What are you looking forward to doing next?
We are finalizing preparations to promote our EP upon its arrival on January 8. We are discussing the idea of an album, or potentially releasing a series of new singles. I look forward to focusing on writing a bit more as I have been promoting our band for the last 5months on a steady basis. I also am working on a solo side project and have a few recordings in the works. We will continue to navigate the uncertainty of Covid-19 the best we can. Live shows are most likely on pause until at least summer 2021, so in the meantime, we will definitely be performing via live stream and finding additional ways to connect with music fans all over the world. We plan on continuing to be an active part of The Hambone's Open Mic as well. Check that out if you have not already done so. It is run by our friend, Liss Victory out of NYC. We also plan to continue supporting local venues through the save our stages initiative. We have been so fortunate to find such a warm, welcoming, and supportive community on Twitter. We plan to continue to network there and help build mutually beneficial relationships. There are so many talented artists we interact with and we wish them all good health, happiness and success.
Presave "Sailing Upon The Times" Here