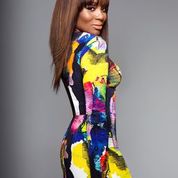 Hello Kimberly how are you?
I'm doing WONDERFUL thank you!
You are a singer. Songwriter. Vocal coach. Singer with Chic. How did it all begin for you?
Well it all began when the doctor smacked my bottom and I let out a yell in the key of A. Lol (The Doctor also mentioned how strong my lungs were). Actually I've been singing since I could talk. There was always some sort of music around me growing up so I've been exposed to all genres. I even sang commercials while watching TV.
What artists were your main influences?
I was heavily influenced by older artists who knew nothing of auto tune, disrespectful lyrics and watered down tracks. Like Aretha Franklin Patti Labelle Gladys Knight Whitney Houston….
You went to the School Of Performing Arts, aka the fame school in New York, what are your favourite memories of that time?
Yes. My mom took me to see the movie FAME and I knew right then that I would attend the school. Those were the BEST four years of my life. I learned almost everything I needed to know about singing at that time (because you never stop learning) and I met people who are still my friends to this day. The movie was very similar to our daily routine. Singing in the lunchroom, on the train, in the hallways and on stage with celebrities who appreciated our Gospel Chorus. I also started singing professionally in the school at 16 so that was the start of my career.
You sing with Chic, and kill it. What's it like being in such an incredible band?
Being in Chic is like God blessing me…and every once in a while feeling like I don't deserve it. I have worked with SO many bands I can't give you a number but none of them have given me the experience and exposure as Nile Rodgers and Chic. I get to express my self and share my talent with millions of ppl but I also get to fall back and enjoy watching tv with my dog on days off I call it BEING FIERCE BUT STAYING HUMBLE.
What are your favourite songs to sing live?
I love singing ANY Chaka Khan song. She gives me LIFE!! (I love me some Chaka Khan!!! Del)
You collaborated with Shapeshifters, how did that come about?
So I had an unfinished song I recorded with Tony Moran that I passed on to a friend of mine who then passed it on to the Shapeshifters. Literally a week later we had a remixed song "Life is a Dancefloor " that became an ultimate club hit. The relationship was built on the respect of each other's talent. We both brought what we do to the table and the outcome is the formula we've used to produce another single "Second Chance" and yet another song in the process as we speak.
What songs are guaranteed to get you grooving on the dancefloor?
I'm a House Music junkie. So anything with four to the floor will guarantee immediate body movement and absolute JOY. Music is healing and house music is tribal. It centers me.
You have toured the world and played some amazing venues, what's your favourite story from the road?
Yes I've been to every continent but I think our visit to the Sydney Opera House was one of the top 5!! During soundcheck I remember falling in love with the beautiful venue. But during showtime when the room was full of excited people waiting for us to do our thing I was overwhelmed. Once my voice hit the walls and bounced back they couldn't shut me up!! It was incredible to have every ones attention and to see how happy they were to be there sharing the moment.
You are about to open a vocal academy how's it going?
Yes!! SheSangz Acedemy is up and running. I'm receiving new students daily. I've been asked to give vocal lessons for years but never had the time. Now that things have changed in our world so much giving a lesson virtually has become a "thing" which makes it easy for me no matter what country I'm in. The main attraction for the Academy is the fact that I not only give vocal lessons but I give life experiences as well. I've applied everything I've learned through the years, every trick or hack, and now I can pass that info on to my students. I also prepare students for auditions, interviews and live performances. The intent is to mentor and mold students wether they are brand new at it or have been doing it for years. And turning their talent into brilliance. I also started giving One Time Tea Sipping Consultations because sometimes people just want to talk. I'm very excited about it and I plan on doing it from now on. I feel like it's my calling.
How do you like to prepare before you sing?
The only real way to prepare to sing is to have a moment to yourself.. to calm your mind and body. Vocal rest is the key before any performance. And not only vocal warmups but physical warmups as well. A cup of herbal tea with honey is a given.
What are your top techniques for warming up?
Breathing warmups are necessary for sustaining notes and improving stamina during a performance. Every lesson starts with several breathing exercises which have to be mastered before moving on.
COVID has affected the creative industry in a big way, what has kept you motivated?
My motivation is knowing that one day we will all get back to doing what we do in this industry. People are dying for live music to come back. And we are looking forward to doing just that… bringing back the music. SheSangz Academy has given me something to look forward to doing for the rest of my life and I feel that if we were not locked down in a pandemic I probably would not have been on this page until later in life. I always believed that something good comes out of certain life tragedies. Hence, SHESANGZ ACADEMY!!!
2020 has been a time to reflect, what have you learned most about yourself?
I've learned how to be alone without being lonely. I'm a pretty cool person to hang out with 😁
Which artists are getting you excited at the moment?
I'm musically excited by:
Kendrick Lamar
Anderson Paak
Demi Lovato
They have real stories to tell that are very relatable.
What's next for you?
Making the Academy prominent is my mission for the rest of this year and beyond. ❤️