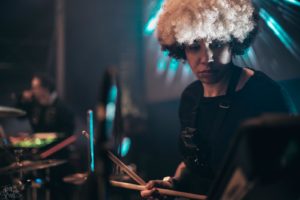 You are a percussionist and drummer, what made you start?
The drums found me aged fourteen. I didn't have many friends at school and nothing really engaged me until I uncovered a drum kit hidden under a dust sheet picked up the mismatched sticks and started to tap about.
You are currently on tour with the Pet Shop Boys, how did that come about?
I auditioned as most large gigs require. I'd say before that I was on the circuit doing other smaller gigs and networking. It all matters and has value if you want to go on to bigger and better things. I lost sight of that at some points and thought that perhaps I should stop pursuing a career in music. But then you have opportunities that put things into perspective and give you hope.
How's the tour going?
It's been life-changing, coming from a small town in Suffolk, having the opportunity to see the world was enlightening, that's where a lot of my personal growth developed.
What's your favourite part of the show?
That's a tough one, I think the top of the show is the most telling of the audience. Its where you see people's excitement and sense of nostalgia. In the three years, I've toured with the Pet Shop Boys that's never gotten old.
Being in an iconic 80s band what's your favourite 80s song?
The Whispers 'Keep On Lovin' Me' (1983) I'm heavily influenced by Funk and Soul.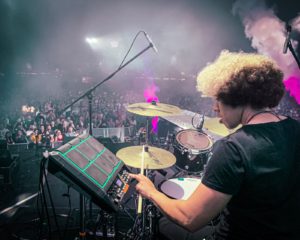 You are an author as well, you're working on your memoir. How's it shaping up?
It's going well thanks for asking. It came back from the editor so there's some work to do but I've been told I'm on the right track and it was an engaging read. My aim with my memoir is to be candid about life as a musician and the goals and aspirations I had growing up.
What are you listening to at the moment?
My DnB playlist is in heavy rotation at present. I'm working on writing some of my own tunes and DnB is an accessible genre for me.
What's your favourite Pet Shop Boys song to play?
"What Have I Done To Deserve This": I love how funky this tune is and Neil and Dusty's Vocals. When you have to sing backing vocals you appreciate more the musicianship and talent that goes into crafting a great song such as WHIDTDT.
What's in your set up?
I use a Roland setup which consists of an SPDSX sample pad and an additional six pads. We run that via midi through a laptop that has Mainstage and Native Instrument's Battery on it.
How do you like to warm up?
My warm-up starts way before stage time. I eat well, go to the gym and read or do something I enjoy. Then when I get to the venue I warm up with some rudiments and vocally with an app on my phone. I like to sit and be grounded before the show, be in the moment, be thankful for that opportunity and breath.
What are you most looking forward to in the next 12 months?
A rest at Christmas, a chance to work further on my memoir and to work on my areas of weakness, both personally and professionally.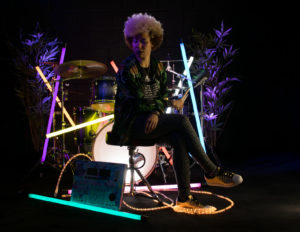 www.afrikagreen.com