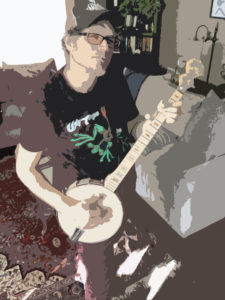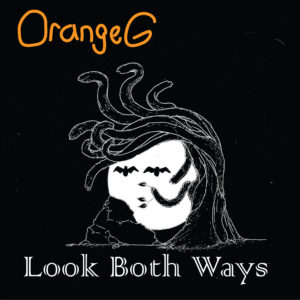 Orange G, thank you for agreeing to talk to us, how are you?
I am doing pretty well – thank you! The holiday season was quite relaxing, but the hustle and bustle of the new year has already picked up with a vengeance. I spent quite a bit of holiday time catching up on promotion, ordering merch, working on new collaborations, and setting up a recording space in my house. We found a corner of my basement that is out of the way and where my playing will not interfere with everyone else…this will let me get my ideas onto tape any time the spirit moves me, which is exciting. And yet, it is by no means professional…not soundproofed and I can hear my teenager yelling at his video game friends through the ductwork in our house. That is the DIY life though! Right now I am trying to juggle writing and recording towards an album with a new semester of teaching and research at the university.
 You are an artist from Pittsburgh, how did it all start for you?
I have been playing and learning music from when I was in grade school. My dad noticed how much I enjoyed watching people play live music at a party, and he decided I needed to take guitar lessons.
 However, I wasn't a child prodigy by any means… I was quite lackadaisical about practicing. In high school, I picked up harmonica, getting tips from the harp player in my guitar teacher's band. I was 16, and they let me come and collect the cover charge at the door for them as they played blues standards and Grateful Dead covers. It was quite the position of honor and prestige in my youth!
 I however, was never truly in a band, though I would sometimes cameo on harmonica for my friends' band in our hometown back in Illinois. One thing that always kept me from pursuing music more purposefully was the amount of equipment needed, and horrifying stage fright to perform in front of people. It was definitely something that held me back.
Ever since my youth I have always loved listening to music, from an early fascination with Billy Joel and the Beatles to more psychedelic stuff like Pink Floyd and King Crimson. In the mid 00's my eyes really turned from classic- and alternative rock towards the indie music movement with acts like the Postal Service, Wilco, Cake, and one of my long-time favorites, Bright Eyes. I have always loved the range that Conor Oberst and his posse have in their music – spanning from folk to country, rock and electronica. They remain one of my biggest influences.
 My musical interests stuck with me as I moved all over the United States for school and work: Midwest, West Coast, and East Coast. I moved to Pittsburgh about 10 years ago for my day job in the sciences. It is a pretty cool place to live with a nice arts scene. As I settled in here, I started to get more serious about writing and performing music. One of the game changers for me was that I bought a deluxe harmonica holder that opened up my ability to play harmonica and guitar at the same time. It really allowed me to showcase my harmonica abilities without needing a band to back me up. It is also what I felt I needed to be unique and bring something novel to the table.
About 2 years ago (2018), I started playing at open mics around town. I was starting to chip away at the stage fright that had haunted me for so long. In some of my first performances, I was barely in control of my limbs with nerves, but it slowly got better. And then of course, the pandemic hit. The open mic I had attended went virtual (hambonesopenmic.com), and on a whim, I went to check it out. It was great! As I started becoming a regular, the host (@lissvictory) would continually ask me how people can find me online. She'd encourage me to post songs to YouTube or anywhere (in fact our conversations about this are still on YouTube in the archives). Back in May, I started a Twitter account under my moniker, and uploaded my first track to BandCamp in July (2020). The act of overcoming my fears and seeing people react to my performances and recorded music is addictive to me. I love the way that it connects my humanity to theirs. I am so happy to have found a platform in social media through which to share my work with anyone across the globe.
Congratulations on the release of your single "Look Both Ways" how does it feel?
It feels great! This was my first track to expand beyond my more minimal acoustic sounds, as I used a full band's worth of instruments, including a dusty bass guitar that was sitting in my basement (a birthday present that went unused for several years). It was also my first crack at doing backing vocals. Everything I had done before had really been close to what I would perform at an open mic. It has been eye-opening to assemble more elaborate mixes of instruments and sounds into my music. All of this is way more possible than it would have been in my youth. By the same measure, I still like being able to share more minimal versions of my tracks, and have released some free acoustic demos on BandCamp (orangeg.bandcamp.com).
It has an interesting story behind it, what was the writing process?
I actually wrote the song shortly after I first started performing at open mic nights. I was really nervous about meeting strangers at these events, and in life in general. Musicians are a lot less approachable in person than they are on Twitter for example. Thinking about my initial stage fright and general wariness towards people, I wrote the song to remind myself that there is always another way to interpret situations and people's actions. The song really has helped me keep that concept in focus. I am reminded of it every time a work email arrives in my inbox, and whenever I find myself meeting new people for the first time – that my worst fears about what they think are probably not accurate. Hopefully the song will help others as well!
 It also is my first track to feature a minor-keyed harmonica. I was interested in expanding my harmonica sound, and tried these altered-key harmonicas out. I have really come to love and appreciate the variety that these harps bring to the table, and this one helped build the dark sound and vibe of the track. When writing songs, I often start with chords and melodies and once they are stuck in my head, words and phrases follow naturally. They tend to come out during long walks and bike rides as I process what it is the song is about. My songs definitely go through several stages of meaning and significance before I triangulate upon a concept.
You describe yourself as a one person DIY artist what are the positives and challenges that you face doing things this way?
I love the autonomy of shaping the artistic direction of my music on my own. I have played with others in the past, and there can often be tension associated with the process when strong personalities are involved. I think that part of it is that I am a people-pleaser, so I am really bad at asserting myself when I disagree. The downside of course is that others can really add a lot to the music to make it better when you collaborate. Getting feedback from outside perspectives is often really helpful for improving the art, especially when interacting with others who can hear things you didn't. Another downside of DIY of course is that I don't have a multi-talented support team backing my recording, mixing, mastering, marketing, and promotion. It's all me, and I do it when I am not at my day job. Every step of the way though, I feel like I am improving and getting better at what I do. It has been so great to tap into the DIY community on Twitter, exchanging tips and insights into recording, mixing, and distribution/promo. I feel like the DIY community is going places in generating music that has a unique perspective and feel. I am really honoured to be part of this community.
The creative world has been hit in a big way as a result of the pandemic, what's been keeping you motivated?
In many ways, the pandemic has inspired my creativity. The pandemic has been hard for so many people, affecting every corner of our society. There are a lot of emotions tangled up in it, and also perspective that is offered by the contrast in how our lives are lived now versus nine months ago. My song-writing has helped me make sense of complex emotions associated with the current state of the world. I find that expressing these sentiments into song helps me probe the experience and grow. For example, my song The Dustbin is about persistence, but it starts from a position of weakness – feeling like a speck of dust waiting to be cleaned away. That was definitely how I felt as the pandemic was setting in.
The act of creating and sharing my music itself has become a huge motivator as well. I have always wanted to share my music with others but was never quite in the right position to do so. I didn't have ideas that were mature enough, or the right equipment or platforms to transform those ideas into passable recordings. Yet, as my life went into pause-mode during the pandemic, many of these necessary ingredients came together. Inspiration, performance venue, and a community of DIY musicians sharing the comradery and joy of making and consuming music. It is really quite intoxicating to know that someone is listening and appreciating something I made.
 Your style is rooted in folk, what artists are you excited about at the moment?
Since the pandemic began, I have become entirely submerged into the fascinating new world of micro-indie acts through my new friends on Twitter. One of my favorite finds in this community was Highway State who released a beautiful ghost folk album in July, "Orange Grove Flour Mill". Their music makes me want to learn even more stringed instruments (I have not tackled the mandolin yet!). I have grown quite fond of the sparkling yet melancholic indie-pop sound of The Jobs. I would love to channel the je ne sais quois that makes their songs so catchy! AndThe John Michie Collective blows my mind with his psychedelic soundscapes. Listening to what he has done, and interacting with him on social media has really inspired me to explore synth sounds and loops and take my sound production skills to the next level. I am really digging so many acts from this entire online community – too many others to name!
Among more established bands, I have been listening to the new Bright Eyes album a lot. It's been 10 years since their last one, and I love how Mike Mogis and Nate Walcott bring so many instruments to the table in the band's music. Both are such impressive multi-instrumentalists. Another album that left a huge impression was "Half Country" from Supermoon, which brings together Whispertown's Morgan Nagler and Jake Bellows who was the front man for Neva Dinova. I have been a big fan of Jake's voice and introspective songs for a very long time. The album made me fall in love with Nagler's lyricism – so clever and skilled at piecing together disparate thoughts into intricate and infectiously catchy puzzles. Together, they make a powerful musical concoction!
You are active on the open mic scene, what's your favourite thing about playing live?
I love connecting with my audience in person – to see their reactions, and derive much joy from honing my skill and comfort at playing live. Open mic has been a game-changer for me in that respect. It is also a wonderful community – virtual open mics are a little different than what would happen at a bar or coffee shop in the past. I remember going to these in person and you always get cliques forming where people would only interact with folks they know. In the virtual world, everyone interacts with everyone else. And quite a few people hang out the entire time to see everyone play. It creates a platform that helps me stay motivated to write and share songs. To test them out, and build a second nature to their delivery. I highly recommend it! It is a great first step to livestreaming. When the pandemic ends, I dream of roadtrips across the US to go camping, visiting friends, and playing live shows. I would love to visit my newfound friends across the pond as well.
You love to play the harmonica, who are your favourite harmonica players?
I have always loved Neil Young and Bob Dylan, but more for the messages contained within their songs than for their harmonica playing. They both definitely inspired me to play harmonica and guitar simultaneously. I have always been in awe of some of the more intricate harmonica players, like John Mayall, Howard Levy (Béla Fleck and the Flecktones) and John Popper (Blues Traveler). All of them have inspired me to expand what I can do with the instrument. I am also extremely envious of the great chromatic players – Stevie Wonder and the late/great Larry Adler, true masters of an extremely difficult instrument! Finally, I definitely am partial to the blues harmonica players. Folks like James Cotton and Junior Wells. Hands down, my all-time favorite though is Little Walter. The blues circles I was circulating in during high school introduced me to his catalog. I still get goosebumps whenever I hear his version of Key to the Highway.
You have been taking part in the virtual Hambone Open Mic held weekly, what's been a challenge and a triumph from doing things this way?
One big challenge of playing virtually is getting used to the lack of an audience. There is no applause, and it is really hard to interact with virtual audience members – ask questions etc. It is something that performers are almost certainly developing better skills at, as there will be a while yet before live music is back on its feet. The biggest triumph is that it is happening in the first place, and from my perspective, it is way easier to get off the couch to turn on a webcam than it is to lug my gear across town. Also, I love that virtually, it is super-easy to do instrument changes between songs. I play a lot of different stringed instruments, so it allows me to introduce variety. I have developed fans who want to hear particular songs, so being able to fulfil requests is also quite fun. Our biggest triumph to date was a 16-hour long livestream to YouTube of our open mic on New Year's Eve. It was an epic global event with acts coming from the UK, US, Canada, New Zealand, the Netherlands, and Australia. We met over zoom and streamed to YouTube where you can watch the archive.
What are you looking forward doing next?
So many things! I am promoting my next single, "Orion's Arrow", which is a ukulele song that just dropped on Jan 8. The song is about time and processes the human struggles we have with judgement, especially as time slips away. I am working on new songs all the time, and am excited to incorporate more electronic elements into my musical recordings. I love how acoustic instruments mingle with electronic sounds. There is a backlog of tunes and collaborations that I am in the process of recording, and I am working on improving my mixing and mastering techniques.  I am really excited to see how the DIY community on Twitter and other socials continues to develop and evolve. We are really starting to become organized. Finally, I am so looking forward to when the world thaws and I can get together with friends old and new in person over drinks, music, and quite likely, some geeky board games.