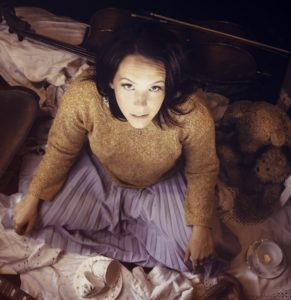 Hello Eydis how are you?
Hey, I'm as well as I can be, all things considered. It's been a tough year for everyone, but we made it through. Just got to keep going and try to be positive.
Congratulations on the release of Wonderland, how does it feel?
It feels so surreal. Not sure how it all happened really. It is amazing to have people tell me they have listened to my song and they like it. Feels very much like a dream.

You are a singer songwriter from East Anglia how did it all begin for you?
Well, I've always sang. I trained as a classical singer and would put on recitals. Do the whole standing next to the piano in a big dress. And I loved it and have been super lucky to have done it but I guess It never quite felt authentically me. I felt I was playing a part the whole time. Then Lockdown happened and suddenly no work. I hadn't written music since GSCE music (we're talking well over 10 years), but I suddenly had time and lots of emotions, so I sat at my piano one day and started writing. I haven't really stopped. I honestly did not think anything would come of it. Worked up the courage to send a voice note to a producer friend of mine (who is now my writing partner), a couple of months later I released Wonderland.
2020 has been a strange year to say the least. What one thing have you learned about yourself?
I am not someone who likes to spend time by myself but this year has given me a chance to slow down and appreciate much smaller things and the beauty of nature. So much awful news readily at our fingertips but we could also spend that time looking at leaves or clouds. Much better for the soul.
What did you listen to growing up?
So much! My mum was your typical 70's teenager of Bay city rollers, Dr Hook, Meat Loaf. Dad had a completely different taste of more soul and blues. There were lots of different sounds and rhythms in the house. I went through a phase of loving Squeeze, The specials, The Jam and then Blur and Oasis (never took a side) But truthfully I loved the woman fronted bands or solo acts So Kate Bush, Eurythmics, Blondie were always my go to gals. Mowtown has heavily featured over the last 10years too, it just makes the heart happy.
Your lyrics reference literature, what are your favourite books?
Alice in Wonderland, Jane Eyre, The Princess Bride, Jamaica Inn, The Hobbit. Any Shakespeare. Love a bit of escapism in a fantasy book such as the Green Rider books or a good history book. To be honest I have a different book every couple of weeks. Reading is such an underrated hobby
Your influences feature some strong female artists, if you were to pick a song from each of them, what would they be?
Annie Lennox it would be a tie between Walking on broken glass and There must be an angel. I loved the instrumentation and the classical tones throughout.  Kate Bush is no question Babushka. Florence and the Machine is actually Girl with one eye, it just was so scary and I loved the imagery created. Laura Mvula it's got to be Green Garden because how amazing is that song! <Laura Mvula – "Father Father"….. WHOAH! Del>
Covid has impacted the creative industry in a big way. What's kept you motivated?
The reaction from my friends has been inspiring. But truthfully it has brought me so much joy and distraction that I have wanted to get up and write. It helps when you take inspiration from stories that are already written.
What new artists are getting you excited at the moment ?
Zoe Wees. She is smashing it. I think the confidence she shows, especially for one so young is inspiring for young girls, plus her voice is gorgeous. Although not a new artist Jonsi's Shiver is just full gold.
You have a new EP coming out in February how's it going?
It's been a battle and It's been amazing! Timings of lockdowns meant getting musicians to come into studio has been a bit hit and miss. But I am so proud of it. Since this is all fairly new I haven't got a style/vibe and I personally don't want to be pigeon-holed to one genre. The songs are all different but we have managed to connect them in some way. I just love all the different Instruments used.
What's your favourite track from it?
Ah, it's like asking which child is my favourite! I'll have a soft spot for Wonderland as it was my first single. Love Drunk Romeo has a horn section though! But the song that brings out the most emotion in me would be Goodbye. Although I love the message in Join the Valkyire. I can't choose.
You like to use as many live instruments as possible when writing, where do you usually begin?
Well I come up with a pattern in my head and I'll suddenly think, this needs to be a really bright instrument, let's try a harp. Or I will record a section of the song making trumpet noises to see if it would work. I have a feel for how I want the song to sound so it is a case of matching it to the noise in my head. For me it's all about creating the mood of the song. My writing partner mixes the songs in his studio so will just come up with a horn section idea and then we go from there. Sometimes hate it but most of the time Steve and I are on the same page.
What are you looking forward to next?
Oh Performing my music! I cannot wait. I am petrified as I've always performed other people's music (Since it was classical and the occasional Aria, most of those people are dead as well!) so putting my own things that I've written and seeing peoples reactions will be amazing. Plus the buzz from performing is second to none. 
Eydis On Instagram Eydis On Twitter Eydis On Facebook