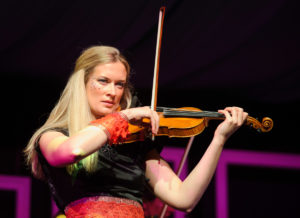 Photo credit: Ash Knoetek
Hi Lizzie thanks for agreeing to talk to us!
Delighted Del, thanks for having me 🙂
How are you?
I'm feeling so happy and positive about 2019. I've made some good work/life NY resolutions and have some interesting meetings and new connections forging slowly so I am hopeful for the fresh chapters that are beginning to emerge!
Congratulations on making the Femail Top 50 Most Remarkable Women. How does that feel? 
Thankyou so much. I was really humbled to be alongside a list of such incredible women-and also felt really happy that my achievements have been noted in this way, it gives me confidence to keep going forward with my mission!
What violin do you use?
I play a very nice Joseph Kantuscher violin made in 1964 in Germany. Its a great work horse, I've had it for almost 20 years and its taken me from solos in big stadiums and concert halls with the likes of Jeff Beck, Nigel Kennedy and so on to the intimacy of jazz clubs such as Ronnie Scott's where I ran my residency for Classical Kicks, and smaller theatres/venues. I have also been lucky to have been able to borrow rare and fine violins, more recently from Ingles and Hayday who have kindly loaned me a beautiful Guadagnini recently. I also love my collection of Bridge Electric Violins which have served me well for over 15 years now, my most favourite is the electro-acoustic model and also the Octove Violin which sounds at cello pitch-I have been having a lot of fun with this one whilst composing music for my latest production "Corrido: A Ballad for the Brave."
Playing violin has taken you around the world with different acts and different styles, what's been your favourite moment from this year?
2018 has been an incredibly packed and rather relentless year of travel but in all the best ways. My favourite 2 moments (if I may??!!)
1. The Premiere of my brand new show "Corrido A Ballad for the Brave" at the V and A museum alongside their own Making Her Self Up Exhibition of Frida's own personal clothes and items. Corrido  a musical and visual journey through the life and times of Mexican artist, Frida Kahlo. This show took 2 years to create with the most exceptional team of talented artists and musicians. My co-creator Emily Blacksell ( who is an exceptional Writer, Producer and Director) and I worked tirelessly and to have a standing ovation for our premiere was a relief and a joy, and onwards we go!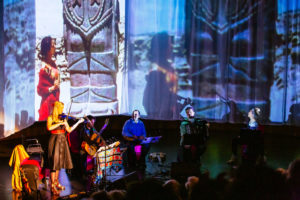 <Premiere performance of "Corrido"> Photo credit: Cesare di Giglio 
2. Working with incredibly inspiring children who come from very humble background in Mexico in February for my colleague guitarist Morgan Szymanksi's amazing charity Prisma, and in India for the outstanding NGO Muktangen in one of their schools in Mumbai. These workshop experiences for me are some of the most important you can have as a musician and are vital for us all to do! 
You have played with an impressive array of artists, including Kanye West, and Brian Wilson of the Beach Boys. If you could share the stage with anyone in particular who would it be? 
It's a hard question to answer. Probably my answer these days would be more in the humanitarian speaker style sector, someone like Malala who I find so inspiring (as do we all!) and in music likely to be someone like Imogen Heap who is constantly ahead of her time as a brilliant innovator in music.
You worked on Judith Owen's album "redisCOVERed" as well as touring with her, what's your favourite song from the album?
I love working with Judith-her talent is off the scale and her songs are just so emotionally satisfying and deep. I am thankful to my wonderful colleague fellow string sister and original band member Gabi Swallow for introducing me to Judith in the first place-it began a wonderful journey for us all. We enjoyed also when our fellow string pal Meghan Cassidy joined on viola. And it's been such a pleasure also to work with Leland Sklar as a result of all this, who is just beyond words in terms of his musicality and musical achievements. And of course Pedro Segundo who I have been playing with since 2012 -he was the first drummer to perform in my Classical Kicks series at Ronnie Scott's.
I am very grateful to Judith for all these great experiences with such a great team that she assembled 🙂
On the album I really love "Hotline Bling"- It's such a clever clever reworking of a hit from this genre. I also loved playing on "Black Hole Sun" with Gabi and the team.
You also sing, as well as play violin. What is your favourite piece to play and sing?
I love to do both since they both bring out entirely different part of my heart and soul and also its great to connect with the audience on multiple levels. Violin has been part of me since I was a child, but I also have always loved to sing, just that it came a little later in my career. I think singing with Brian Wilson and his band (which included Al Jardine) on his U.S Tour in 2013 was a massive moment for me. I also combined this with playing violin on the beautiful lines of his original arrangements. To actually stand alongside such a musical giant as one of the featured band members and sing/play those incredible harmonies from Pet Sounds-its hard to put into words what that meant, especially in venues such as the Greek Theatre in LA, where his home crowd were out in full force! 
Tell us about your mentoring work.
I am a super proud Ambassador for Prisma -A wonderful venture set up by my dear and brilliant colleague guitarist Morgan Szymanski to give workshops across the arts to children in need in rural Mexico. We have had some absolutely amazing experiences which have left me deeply moved in schools where sometimes the seven year old children were brining their baby siblings into school such was the hardship of both parents having to work long days and absolutely no provision for childcare available. Of course in the UK so many of us live in a total bubble and in this current climate is possible to lose perspective easily. The work that Prisma does is not just invaluable for the children, but in many ways it's almost more valuable for us the ambassadors (there is a team of around 10 of us, brilliantly chosen by Morgan), you learn so much doing this. One of the team of the Ambassadors , Chula the Clown, (an incredibly successful clown) took her car and what she could to help the children affected by the recent earthquake, and Morgan took a whole team to the worst affected part of Mexcio where everything had been destroyed and the kids had make shift classrooms, and the joy and positivity shared through the music was not only helpful, but vital to aid the mental recovery of these traumatised children and their families.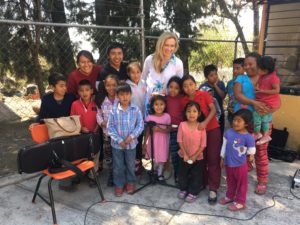 <Lizzie with children from Prisma Workshop, February 2018 in Tepozlan, Mexico>
What are you listening to at the moment?
Currently really loving listening to Ed Harcourt's stunning new instrumental album, ˜Beyond the End". It's so perfect for this time of year somehow. I have been an admirer of Ed's music for a while and his brilliant wife Gita, (who has a fantastic band called Lock with her sister Edie) is a dear childhood friend. The world of music is so small-it never fails to surprise!
What's next for 2019? 
Currently working on some lovely show offers for Corrido with my co-creator Emily Blacksell, whilst juggling busy freelance film and pop recording work, as well as further conversations with Derby University about how we might further our working relationship. I am enjoying knowing I will be touring a bit less in 2019 in order to focus on being more in the UK, for personal life reasons as well as finishing the rest of my compositions-its seems I wrote 6 original pieces of music for Corrido last year without fully realising it as so much else was being done simultaneously to get the show done !! So I am going to be writing a further few with a view to making an album. I have some exciting collaborators onboard so watch this space!
Twitter: @lizzieballvivo Instagram: @lizzieballmusic Facebook: Lizzie Ball