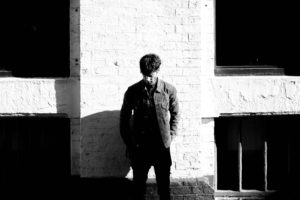 Congratulations on the release of "In The Mire", your debut solo single. How does it feel?

It feels good, I have to say the build up to it was a little nerve-racking but now it's out I feel really good about it. I've been recording for years so it's great to finally release something.

You're a bass player, what was the catalyst for you taking up the bass?

I became a bass player a little by accident; I originally played guitar. When myself and friends formed a band in school in Cornwall, we had too many guitarists! That led me to try the bass. I really enjoyed it and never looked back.

You play bass for guitar virtuoso Johnny Marr, how did that come about?
I've known Johnny for 20 years so it happened very naturally. I used to be in a band called Haven which was managed by Smiths manager Joe Moss. Johnny also produced a number of our records.
What's in your bass rig?
My bass rig is a Fender Super Bassman 300 head and 810 NEO cabinet. I love this rig! It sounds great; it's very direct and punchy. It suits the way I play and suits Johnny's sound.
What artists and bands are you listening to at the moment?
I listen to a mix of music really. At the moment I'm really liking Black Midi, Anna Calvi, Idles, Squid, Charlotte Adigery, Fontaines DC.
What's your favourite Smiths song?
My favourite Smiths song is probably "what difference does it make".
Which bass players are you enjoying at the moment?
I really like Rhys Webb's bass playing in The Horrors also Jenny Lee Lindberg from Warpaint she has an interesting style.
Classic bass players I like Ken Forssi (love), James Jamerson and Carol Kaye
You live in Manchester, do you get to see any local bands when home?
I've not really had that much time to go to Manchester recently as i've been away touring so much. When I've been home a lot of time has been dedicated to recording. I actually live in Stockport which has a great emerging music scene. I do like what I heard from Blinders.

What's the plan for the next 18 months?
We have a little bit of down time at the moment so I plan to continue writing and recording. Everything music wise goes in cycles so I think we will be starting another cycle soon, which I'm looking forward to.
"In The Mire" is available on platforms.
https://iwangronow.co.uk