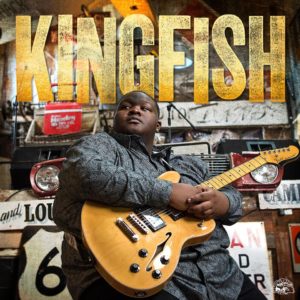 Hello Kingfish, how are you?
I'm good man, how about you?
I'm great! Thanks for asking!
You're known for playing blues guitar, what got you interested in this style?
Well I'm from Clarksdale, MS (Mississippi Delta), it's like the "Blues Holy Land" know what I mean? A Blues band stayed next to me when I was younger and I learned how to play at the Delta Blues Museum in town. It was bound to happen haha
Who are your influences?
Son House, Lightnin' Hopkins, Little Milton, Albert King. I love those guys. Along with Jimi, Gary Moore, Eddie Hazel and a whole lot more haha.
Your debut single "Fresh Out" features blues legend Buddy Guy, congratulations. What was it like playing alongside him?
Thanks! He recorded his parts separately but I've jammed with him on a number of occasions. All have been wonderful experiences.
What's in your current set up?
I use a Peavey Delta Blues 210, with a Chertoff Les Paul and a Fender Strat. Boss Tuner, Crybaby Mini Wah, and a Keeley El Dorado or an MXR Sugar Drive.
Your playing has made you a star on social media, and around the world, how does that feel?
Honestly man I don't know haha. It's cool, I'm blessed man. I've gotten to meet a lot of different people because of it.
Now that you've played with Buddy Guy, who else is on your wishlist to play with?
Ah man George Clinton, Santana, Snoop Dogg haha. A whole lot more too.
Who are you listening to at the moment?
Ah man, my dudes Marquise Knox and Jontavious Willis, both are two young guys who are doing they're thing in the Blues. I listen to stuff outside of the Blues as well. Anderson Paak, HER, Thundercat etc. I'm a die hard Nate Dogg fan too.
What's next for you in 2019?
My debut album, "KINGFISH", comes out May 17th. We're also opening for Mr. Buddy Guy on a few dates and Vampire Weekend for fourteen dates.
Insta: @theycallmekingfish