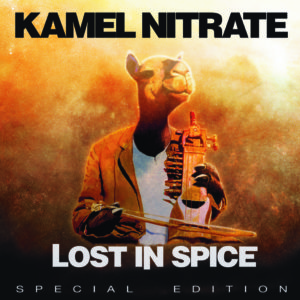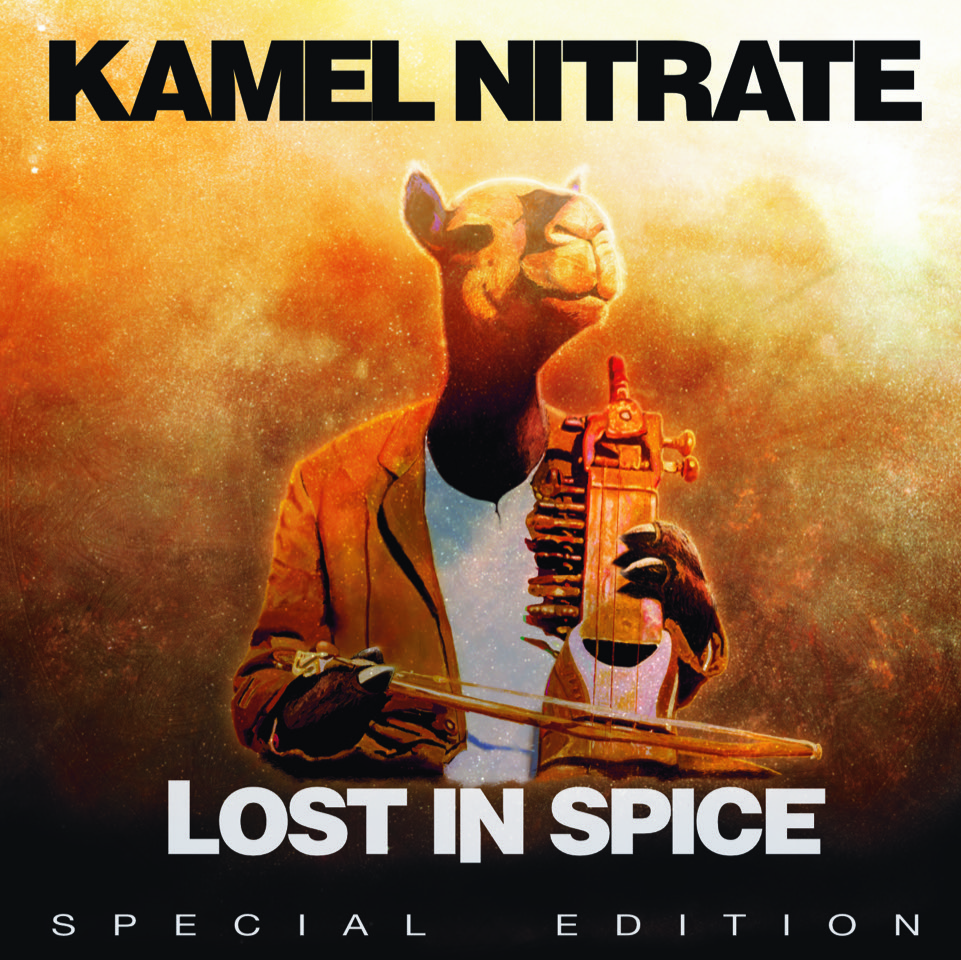 Hello Tony how are you?
Hi Del I'm great thanks, very honoured to be included in your interview series!
You are a musician, producer and songwriter. Was there a particular song or album that was the catalyst for this?
If I had to strip it down to one it it would be "Remain In Light" by Talking Heads. I can't remember what made me buy this – I was about 13 and it was back in the days when you walked in the record shop and chose albums with cool covers – but it blew my tiny mind! Fantastic songs, really unusual subject matter ("Seen And Not Seen" is about a guy trying to change his face by force of will), legendary production from Brian Eno, left field sounds and a shed load of Afrobeat influences, which became a big influence for me later.
Tell us about your band Kamel Nitrate.
We make a pretty unique flavour of sci-fi funk world music! Back in 2000 I met a world music DJ called Nelson Dilation, we hit it off and did some remixes together. They were well received and had a musical identity, so we put a band together and started writing original material. The result was our first album, "Lost In Spice". The original band was a great line-up: we had Maria Joao, a Portuguese fado-style singer; Matt Tweed who played psychedelic sitar, guitar and bazouki; Laurent Rastello, the epitome of 60s French rock and roll who played organ and used an ironing board as his keyboard stand; Samsam our percussionist who is now a world famous bubbleologist and holds 14 Guinness world records for various bubble feats; our dancer Scarlett Sahara (aka Dianne Everitt) who did a great bellydance/bollywood mashup; me on bass and Nelson twiddling non-specific knobs at the back. We had a blast touring the first album all over Europe.
Nelson parted from the band after a couple of years and that period of Kamel Nitrate ended. A decade later I was asked to do some more remixes as Kamel Nitrate, decided to give it a go without Nelson and they came out well. That raised the idea of making a second album but I was thinking, what is the point of making a full album in this day and age? To me it only made sense if all the songs were connected somehow. Also I wondered, what is the point of Kamel Nitrate? What is unique about it? For me it was the sci-fi component, so I decided to really double down on it. The result was "Lebanon Elevator" – a sci-fi funk world music extravaganza about (hu)mankind's exodus from the earth across the ultimate desert, the universe. Every song is related and feeds into each other – basically a good old-fashioned concept album! It was two years in the making, featuring 18 musicians from all over the world, including the original Kamels. That came out last year.
Your band's second album "Lost In Spice" has just been released, congratulations. How does it feel?
Thanks! The one we just released is "Lost In Spice: Special Edition", which is a complete reworking and remastering of the first album including a bonus track. The original album never got a proper digital release – we used to just sell home-made CDs from the back of the van at gigs – so I wanted to do a definitive version that was up to the same production standards as "Lebanon Elevator". Of course it wasn't that simple. All the original mixes had got lost over the years, so I spent the last year reconstructing the songs from old sessions and improving them where I could. Finally we had it mastered by Mike Marsh, of Chemical Brothers/Prodigy fame, who also did Lebanon Elevator. It was well worth it – the new version sounds as rich and epic as I always wanted and I'm really thrilled with the results.
It is very eclectic in its instrumental use, what's your favourite track?
They're all special for different reasons, but maybe my favourite is "Lost In Spice" itself. There's a weird string sound in the middle breakdown called "Vulcan Berimbau" from a synth called Absynth. It sounds awesome and I love the idea of alien instruments! Also I love Maria's crazy space operatics on that. Special mention also goes to "Ghost Town", just because of the vocal track. I was staying at an elephant sanctuary in Sri Lanka when I heard this unearthly wailing drifting through the forest. I grabbed my minidisc recorder (remember those!) and ran out to capture it. It was a Pirith – a wake for the dead – where someone sings through a tannoy for days extolling the virtues and life of the departed person. I was a mile into the forest recording that, trying not to get lost and getting eaten alive by mosquitoes!
You've used both conventional digital/analogue synths and more modern VSTs in the past, what's in your current set up?
My current keyboard setup is a Moog Sub 37 which I use for all the main synth lead lines and some basses, it's just so rich and juicy. I also love Omnisphere, which is endless – if I ever want some inspiration I just flip through sounds randomly and within 10 minutes I'm off. I recently bought a Seaboard Rise so I'm getting more and more into MPE synths like Equator and Cypher 2. Kontakt libraries and EZ Drummer 2 are also a big part of my work flow.

Both the current album and the previous have a heavy 90s and Eastern influence, what made you head in that direction?
I never really thought about Kamel having a 90's influence – we were more 70's influenced but then I guess a lot of other bands were at that time so it is a signature of the 90's! For me I love funk and breakbeat and I was always drawn to exotic/alien sounding rhythms, instruments and scales. World music is used as a shorthand for the alien all the time in sci-fi movies and video games and as a big sci-fi buff I'm sure that has influenced me over the years. My all time hero Vangelis was a master of synthesizing world influences into the musical backdrop of movies like Bladerunner. It's pure Xenophilia basically!

Having been a producer for a considerable amount of time, what piece of technology has changed what you do dramatically?
I started production on an Atari ST and 8 track Roland VS880 + DAT, which worked but was super-clunky, so moving into Logic was the most dramatic productivity boost for me. I've used the UAD platform since it launched and for years there was nothing to touch it for plugin quality, although that's really changing now – I use a lot of the Slate plugins for example, and love DMG Equilibrium as my workhorse EQ. Simple things like an Alphatrack motorised fader really improved my work flow. For the next album I'll probably get the Softube Console control surface for mixing – anything that saves me squinting at a screen is a godsend. I built up a huge stack of analogue summing gear for mixing the last 2 albums but have boiled it down now to just a Louder Than Liftoff Silver Bullet – basically a 2 buss console with stereo Neve and API preamps and a gorgeous EQ to record and mix through. Digital modelling of analogue gear is getting closer and closer to perfect so I'm really excited about what comes after that. For example I'm using a plugin called Zynaptiq Intensity which uses facial recognition algorithms to bring out detail in sound, with amazing results. Musically the Seaboard Rise (and Blocks) have given me a big shot in the arm creatively – they're incredibly expressive MPE midi controllers that give an unprecedented amount of control to synths. They're gonna be all over the next album!


What are you listening to at the moment?
Hah, funnily enough Del that drum cam footage you sent me of Johnathon Moffat on the HiStory tour has set me off on a massive Michael Jackson jag! So I'm basically starting every day with "Wannabe Starting Something" at the moment… Have you ever spotted all the stuff about vegetables in that song? All these years I never noticed it, check the lyrics!


What's next for you in 2019?
I'm taking a break after the album and want to work on other things for a while. I love doing photorealistic painting in Procreate on the iPad and have a few timelapse videos on my YouTube channel, so I'd like to develop that. Also I'm learning about game engines like Unity and Unreal and have some ideas about combining music with games. I like to always be exploring and learning in different creative fields as they all feed into and improve each other.
My plan with Kamel is to release a trilogy of 3 albums: 1. Lost In Spice, humankind crawling around in the mud of the earth, the babel of different languages; 2. Lebanon Elevator, our exodus from the earth, the universe as the ultimate desert; 3 Untitled, the tribes of man adrift in the stars. I love the idea of world music mutating with new environments. North African drum rhythms on planets with heavier gravity, sitars with strings made from nano materials, Chinese flutes in freefall – the new instruments and rhythms that would evolve… So I'm going to give myself a year or two to dream and let these ideas gestate, then start work on the next album. It's gonna be fun! 🙂