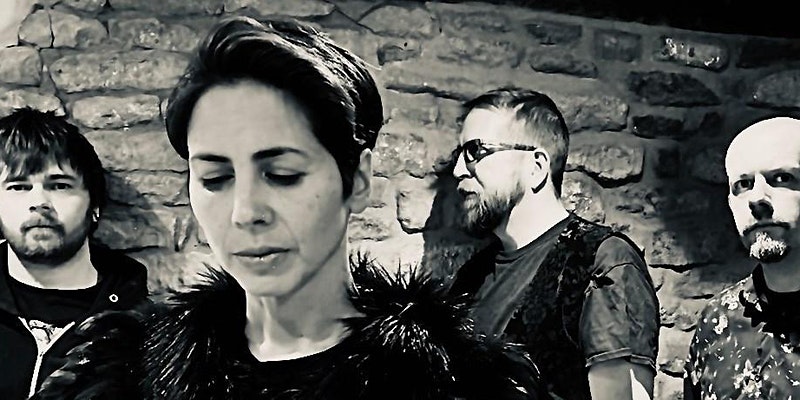 Hello Ming and Jon how are you?
Grateful for your patience in waiting for these responses! xx
You are a part of Project Blackbird, how did that come about?
Ming: Jon had studied music composition and performance in college but hadn't written music per se until we started songwriting and recording together in 2000. I'd dabbled in lyric-writing previously. The first song we worked on was a wedding present for my brother and sister-in-law…we found it was a nice balance of our respective abilities. We have had several different incarnations over the years – Project Blackbird indicated a darker and more electronic direction for our previous seven-piece band, Bluebird Parade. It was also supposed to be a more portable version for live shows, although it seems we are always gaining more equipment, not less!
Our line-up with Jamie Varley on bass guitar, keyboards, and backing vocals and Alan Roberts on guitar has been going since 2019 and feels like a very good fit in all respects.
What were your influences?
Jon: I suppose anything from Steve Reich through to Bob Marley. My college days studying under Gavin Bryars were influential on my love of minimalism and playing with intertwining rhythms and melodies. Most of my professional work as a trumpet player has been with ska and reggae artists who have definitely left their mark on me!
Ming: A lot of my influences are probably literary. A song can be a short story – I pilfer from writers like Sarah Hall and the Brothers Grimm. Vocally, what I like is not necessarily what I can emulate! I grew up listening to all kinds of music, but I owe a lot to my older brother, Shen, who introduced me to what we called "college music" in the States. Within that genre, I was mainly drawn to darker/angsty material and artists from the British Isles – Sinéad O'Connor, New Order, The Cure, The Smiths, et al and then began to seek out lesser-known acts by reading reviews and listening to college radio. I played full albums much more in those days; one that I was obsessed with at age 17 was The The's "Mind Bomb"; I used to listen to the cassette every night on a reversible Walkman until the batteries ran out.
Post lockdown you've made a return to the stage for live performances, what's it felt like being back?
Ming: Being able to play the new songs live after the recording and album release processes was a real joy. Gigging in general feels great, but it's also tinged with anxiety. The spectre of COVID looms over everything.
Jon: I've had to be selective about what other session gigs I do and the atmosphere is not as sociable as before. It's less time spent with the audience and more time hanging around in the dressing room wearing a mask. Taking LFTs before going out just seems part of the process now. Finally getting the Project Blackbird European tour underway was a huge relief, and a good antidote to the isolation of lockdown.
For some time now you've both been running the Monday Night Ride Out for Exile FM, how did you come up with the concept of the show?
Ming: Our friend Dave Gurman (Whispering DG, co-founder of ExileFM) knew of our interest in motorbikes and music and in 2015 asked if we would cover his weekly show on an internet radio station while he was on holiday. We ended up getting our own gig on that station, which was biker-themed – hence the "ride out" concept. The three of us had a dispute with the management in 2017, so left and quickly realised we'd have the most freedom and flexibility if we set up our own station. The aim has always been to have a fun and informal vibe and to share music that excites and intrigues us with an open-minded audience.
Jon: ExileFM is also an ideal platform for others to share their passions for music of all styles and genres. For example, Wil Walker's fantastic Take on Tradition is all things folk, Kirsty Green's RPM Show draws largely from rock, punk, and metal, and Neil March's Trust the Doc and Trust the Doc Extra showcase new and emerging artists.
Ming: And we are able to keep the flame of Zero's eclectic 7" vinyl show, Surface Noise, burning with his weekly feature on the MNRO.
It's very popular judging by my twitter feed, what's been a highlight for you?
Jon: I enjoy having a regular group of listeners who contribute by getting in touch and commenting on the show and music whenever they can. It's a nice way for me of using social media and having contact with the outside world, especially over the past couple of years when actual contact has been limited.
Ming: A highlight for me in respect of the whole station has definitely been arranging the podcast feature so that all the presenters can make their shows available for streaming or downloading. Overall, facilitating the station and presenting a show have given me a really special way of connecting regularly to overseas family and friends. But I love that it's created an ExileFM/MNRO family, too – presenters, musicians, and listeners. Our small and far-flung community has been so lovely and supportive. (And the occasional "like" or retweet from someone like Ane Brun is pretty special!) Anyway, I have fantasized about being a radio DJ with my own station from a young age, so ExileFM is actually something of a dream come true, if that doesn't sound too cheesy.
Jon you're a trumpet player who's played with some great bands including The Specials, what has been a pinch me moment for you?
Jon: The mainstage performance at Glastonbury with The Specials in 2009. And playing to 100,000 people at Hyde Park when The Specials, Blur, and New Order were part of the 2012 Olympics closing celebrations.
Who are your favourite trumpet players?
Jon: Ibrahim Maalouf and Hugh Masekela.
Ming, you have a voice that I love, what are your favourite songs to sing?
Ming: Thank you so much! (My go-to home karaoke numbers, well before I ever imagined singing in a band, were "Don't You Want Me" by The Human League – both parts – and "True" by Spandau Ballet, but I don't think that's what you mean.) Now that I use in-ear monitors on stage, I feel much more confident about singing songs that take me out of my comfort zone, like "Let Love". And in general, I try to consider that what I've previously viewed as the weaknesses or limitations of my voice, are also qualities that help to make it distinctive. But my favourite song of ours to sing live is probably still "The House That You Blew Down". It usually signifies the end of a show, has a lot of space, and always feels comfortable to slip into.
You're about to head out on a European tour, how are preparations going for it?
Ming: Oh Del, I wish I could say that we didn't want to jinx the tour by leaving this question until afterwards, and that's why the response is so overdue! Sorry! Preparations were exciting, but also very stressful – Jon had already twice arranged and twice postponed the dates due to the pandemic, and it was touch and go as to whether or not we'd be able to travel this time. Also, it was a lot more work, and more expensive, than when we first went abroad in 2019 because of Brexit. I think we weren't able to take a collective sigh of relief until we were through customs at Hook of Holland and on the road to the first venue.
What cities are you looking forward to playing?
Ming: We didn't really play in any cities, bar Aarhus in Denmark. I was really looking forward to returning to some of the small, outskirts-y venues we'd performed at previously, like the Muziekpodium Engelstede in Holland, SmUX and The Shakespeare Pub in Germany, and Galleri da Winti in Denmark, because the hosts and audiences were so warm and welcoming. It was wonderful to return to those people and places.
Jon: A really lovely surprise was playing at B3 in Sint Pancras, the Netherlands. It is a centre for young adults and is run by attendees and volunteers. They were really supportive of us and got together a good turn-out. They had a brilliant stage, lighting and PA set-up that would not be out of place in a professional venue.
COVID has had an impact on the creative industry what has kept you both motivated?
Jon: Recording the album kept me motivated and sane, just about!
Ming: Yes, I'm also very thankful that we were able to write and record much of If This Is the End during the lockdowns. Focusing on the album, artwork, and promotion helped us all tolerate tough times and feel like something really positive could come out of it. Towards the end of 2020, Alan, Jon, and I also set up an independent guitar shop in Oakham, Rutland – Moonflower Guitars, which opened in April 2021. Unsurprisingly, it was a more immersive venture than I anticipated, and though daunting at times, it was also an incredibly valuable landmark to head towards while feeling uncertain and set adrift.
2020 was a time to reflect what did you learn about yourselves?
Jon: That even those with seemingly "strong" mental health can struggle.
Ming: Ha, for me it's pretty much all in the title track!
You both have a wide ranging taste in music as evidenced in your show, what artists have you discovered in the last 18 months?
Ming: I actually don't listen to music radio too much anymore in my spare time (it doesn't help that I don't have DAB in the car), so my primary sources of introduction to new or lesser-known artists are Bandcamp and Fresh on the Net. We are very lucky to have a number of regular listeners to the MNRO who are musicians as well; it would feel unfair to single any of them out here, but our playlists and chat will give you an idea! A recent, unaffiliated highlight though is Snowy Band from Melbourne, Australia – so tender and melancholic, right up my street.
Jon: I've been listening to a lot of Sarah McQuaid over the past 18 months. Her music is soulful, and as a kindred musical spirit she is incredibly approachable and generous. Chronixx is a spiritual roots reggae artist with a modern twist who is new to me who I've also been listening to a lot.
What are you looking forward to next?
Ming: I'm really looking forward to (hopefully) seeing some of my Stateside family this year. It's been close to three years since I've been over there. And musically, as painful as I sometimes find my part of the process, I'm looking forward to working on new Project Blackbird material, including this year's contribution to the Specialized Project, another collaboration with paulfcook, and tracks for the next album.
Jon: Writing new material, developing the sound of the band, and gigging – hopefully with less anxiety.