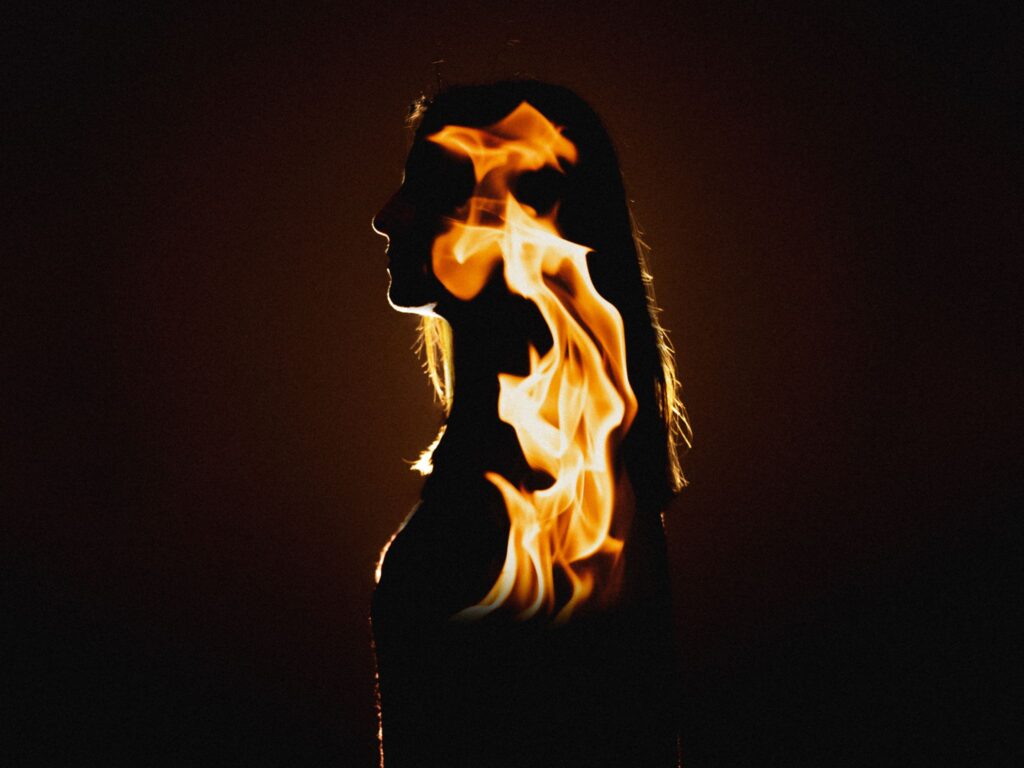 Emma Johnson's Gravy Boat comprises Emma Johnson on tenor saxophone, Fergus Vickers on electric guitar, Richard Jones on piano, Angus Milne on double bass, and Steve Hanley on drums.
This collective is fast achieving recognition as one of the most innovative and diverse collectives around. I discovered Johnson relatively recently, and somehow feel I missed out. Not anymore. I received their second album, 'Northern Flame' with high expectations – sometimes a difficult thing because you can find yourself let down when those expectations do not materialize. However, 'Northern Flame' is a beautifully put-together album with tracks that offer diverse atmospheres, sensual engagement, and the occasional shocking delight.
The recording is inspired by the strength and resilience of Northern women past and present and was developed from a commission for the Lancaster Jazz Festival in 2022. 'Northern Flame' ties together tales of women of note, from Lancastrian lighthouse keeper Janet Raby in the first track, 'Force of Light', local hospice founder Sister Aine Cox in 'Sister', and broader themes of light and the sense of home. 
The launch will be celebrated with a debut performance at the London Jazz Festival on the 12th of November, and performances at the Marsden, festival with tour dates at The Howard Assembly Rooms in Leeds, NQ Jazz in Manchester, and more. 
The opening track is a glorious exposition of collective dynamism with a strong theme and atmospheric opening, under which horns enter, creating a haunting, foghorn-like sound. Knowing this track is dedicated to Janet Raby, a lighthouse keeper, you can almost sense the fog and the light coming around regularly as the repeated theme motif develops. This is contrasted by the quieter middle section with a beautiful, thoughtful bass solo, over which the sax re-enters and the sounds become bolder, almost stormy in delivery. A great opening track
 'Home' is softer, and gentler, with a melodic top line, under which the ensemble enters and supports, with the Vicker's guitar emerging to render a gorgeous, well-worked solo. The swinging melody continues with the band developing the lilting theme over the next three minutes or so, and there is indeed a sense of warmth and comfort. 
'Sister' begins with a sax solo, then the number becomes a duet, then a trio creating the sense of union between the instruments – then it becomes a full ensemble number, which evolves into a stand-out performance from Johnson's sax over stellar support. The second half is a rhythmically challenging exploration around the theme. 'Now I Can Tell' is a waltzy, lilting piece while 'Northern Flame Intro' is a musical poem and speaks volumes in a short piece. Atmospheres flit across the musical pathways along which the listener may take their imagination, from light flits to gentle melodies and heavier piano lines.
'Northern Flame' is rich, full, and oozing with colourful changes. Johnson and her Gravy Boat deliver the music with enthusiasm, perfectly checked, and timed, and a profound warmth and understanding of the emotive response music can bring about. 'Northern' flame' is an immense number and the entire ensemble delivers one hundred and ten percent. Even the near pull-out, drop, and re-start just after the 4.30 mark is perfectly timed. The standout track of the album.
'Embers' is everything you want to close out a rich, colourful album. Warm, a little heavy, and just slightly smoochy. Gloriously relaxing yet not soporific. 
Whilst listening to the album I couldn't help but consider how much the music 'contains' Johnson. Her communications are enthusiastic and warm, and her newsletters are packed with detail and information – which anyone lucky enough to be on her mailing list will agree with. All just like this music. I mentioned this to Del, my editor, who has heard the collective's first album and he completely agreed.   
About the album, Johnson has said, "I'm really happy with the process and feel of the album as a whole. It was an incredible experience to be commissioned for the first time and have time to research and write from different stories and perspectives, to go on from there to turn those songs into a full-length album has been a new and invigorating way of working for me, and I feel like that comes across. The theme of light ties together all the tracks on the album, from Janet Raby's lighthouse beam shining in the darkness to the more figurative idea of the light shared between Sister Aine Cox MBE and hospice patient Anne Charlesworth when all hope was lost, to the light you find left on for you when coming home late. In these dark times, I think we all need a little more light."
Listening to this, one can't help but feel Emma Johnson and her Gravy Boat are determined to deliver some of that light into the world.