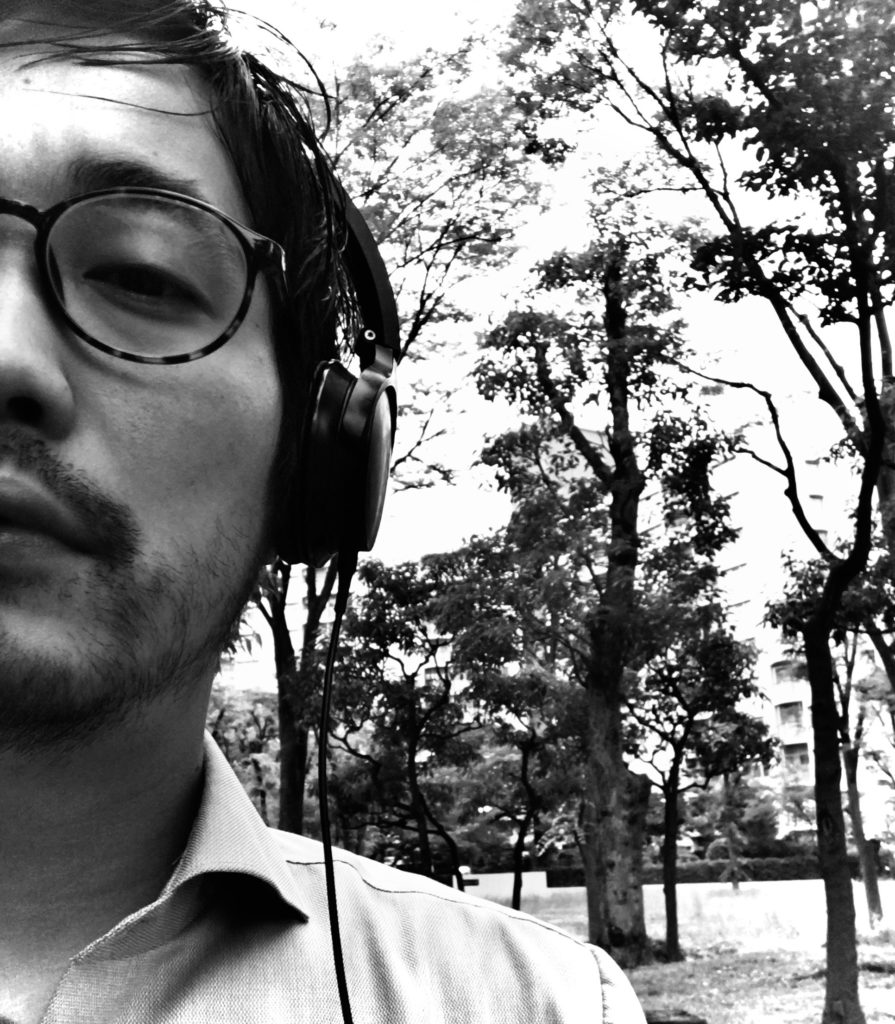 Hello, Mr. Kiji.  how are you?
Hey there! I'm fine. I am in perfect physical condition.
Congratulations on the release of ■Yin! How does it feel?
I am very happy and fulfilled to have found my own style, which I have been searching for a long time.
I'm also grateful to Jon, the owner of Solar, who has helped me find my own unique style.
I'm very interested in what kind of scene and who will be listening to this EP.
If I could, I would ask everyone who has heard it what they think of it.
What is your favorite song?
The Endpoint of Elegance is the first track. It is the track on the EP that best expresses my personal style.
The others, of course, I like as well, and I think they are the best compositions of the songs, each with its own personality and role. I think they are the best compositions, because they are the seven tracks that won out over a huge number of bad ones.
What was the easiest and most difficult part of the recording process?
It took about a year to record. Recording itself is always smooth and fun.
But sometimes I think it's difficult because there are so many intriguing things in today's society.
I want to watch a lot of movies, and I want to watch silly web pages.
There are so many temptations now. But I have to turn it all down and focus on the music, because that's the most important thing.
Once I start recording, I have no other interests than music.
OPN, an artist I admire, once said that making music feels like a gift every day, and I think that's so true.
I am so happy to be able to make music.
You are an artist from Japan, how did it all start?
I originally played guitar in a band. At the time, I loved the tight, good feeling sounds of bands like The new master sounds and gilscott heron. I still love them.
It was the French electro movement around EDbanger records that started my electronic music career. I was only 17 or 18 at the time, but artists like Justice and boysnoize were very popular in Japan, and I was incredibly attracted to them. They were real stars for me. I also loved fashion.
After that, I listened to all kinds of electronic music.
I think Theo Parrish and OPN in particular have a direct influence on my music.
There are many artists I respect, but I still especially look forward to listening to Theo and Daniel's new albums.
What did you listen to growing up?
When I was a child, I had a Carpenters CD at home, so I listened to it a lot. After that, I was listening to the same things that were popular in Japan with all my classmates at school. But when I was in junior high school, a girl friend of mine lent me the best of suga shikao (a Japanese funk-rock artist), and I remember the first time I listened to music by myself.
From there, I listened to every great disc I could get my hands on at the local rental store.
At the time, I still didn't know what was good about Prince, Pink Floyd, etc.
I listened to as much music as I could get my hands on every month.
Your sound is based on electronica. What synthesizers do you use for recording?
I use a software synthesizer, ARP Odyssey, to produce most of the sounds.
I don't really understand the difference in sound between hardware and software.
I feel that software is better suited for me because I can instantly produce the sounds I want to produce. I can save my settings.
How do you start a composition session?
I have a clear goal in mind, and I don't just work on it.
It is a process of trial and error, day after day, until I get a texture that I think is good.
Sessions can start with a rhythm, a vocal sample, or anything else.
My music is somewhere in between ambient, outsider house, and many other styles. So there are tons of tracks that I have completed but rejected. I reject any track that I feel I could have made without me.
It's not music where a good bass drum and a good hi-hat are all you need. It's really difficult.
COVID has had a huge impact on the creative industry, what kept you motivated?
I've always made music at home and I'm not the type to go to parties often.
So, making music itself was not affected before and after COVID.
But I stopped eating out and traveling to avoid infection.
So when I'm not making music, I'm taking more walks with my girlfriend. We walk in the park and eat take-out bread. After COVID, I've become more familiar with the species of birds that live in Japan.
What have you learned about yourself over the past couple of years?
I'm turning 30 next year, and more and more things don't work out if I don't make plans.
When I was in my early twenties, I could devote hours to something just on impulse, but now I realize that I often waste time if I don't plan well.
So I have to plan and stick to a time schedule.
I eat dinner from 7pm to 7:45pm.
Make music from 8pm to 11pm.
Go to bed at 01:30.
And so on.
Have you learned any new skills?
I'm learning a lot of things in order to meet the label's requests for releases on Solar Phenomena, and the same can be said for the projects I'm working on now.
It's a constant process of trial and error, trying to figure out how to reflect my own style in a sound that not only fits the left field sound, but also fits the label.
I am very thankful to my bosses for their accurate feedback. They give me the opportunity to grow.
What music are you listening to now?
I've been listening to ambient tracks a lot lately. I don't listen to ambient music to soothe myself, but to get excited musically. I've been listening to Jana Irmert's The Soft Bit a lot lately.
Her detail is amazing. It's really beautiful.
I'm listening to new music every day, but there's just too much to say about it all.
What are you looking forward to doing next?
I'm working on finishing the project I'm working on for the next release.
After that I will work on some ambient tracks.
After I finish that project, I'll work on the album. I only have 2 songs done yet.
It will be the first album that will be a collection of all my styles up to this point.