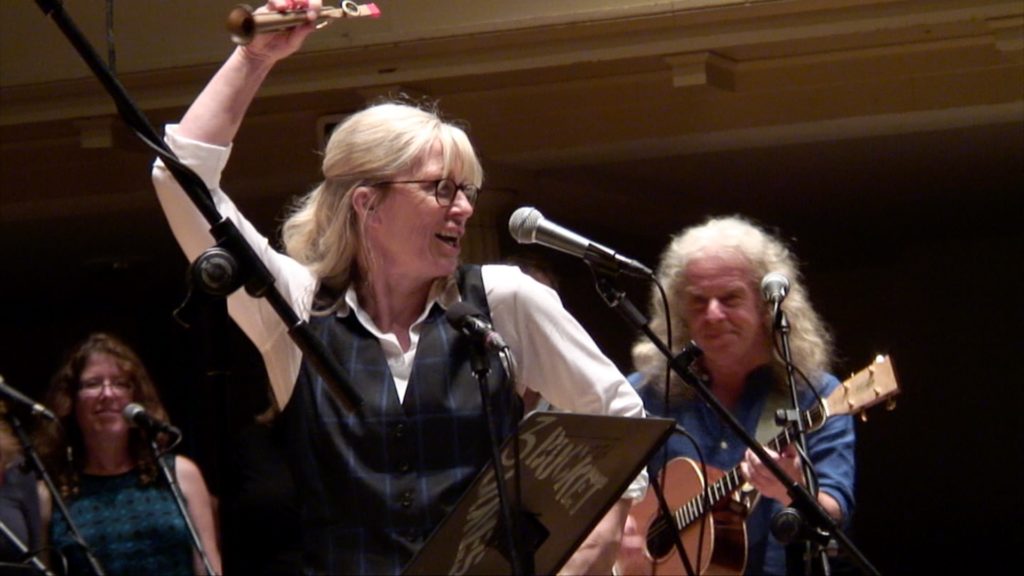 Congratulations on the release of "Catch My Breath", how does it feel? 
It is lovely, as the success of finishing it is the best! I find releases a bit like Christmases as a child.  The build-up is tantalising, then the actual day can be a bit of a let-down. I am easily disappointed and used to, and still do leave unwrapping presents until the last possible moment as I prefer the anticipation and the way a present looks all wrapped up. My dad was a curate when we were kids and there was very little to go round, and if there was anything extra at all he gave it to the even less well-off. We got things like the cheap version of the Sound of Music soundtrack that did not have Julie Andrews singing and I spotted it straight away. Nasty chocolate eggs from Woolworths – no idea what they put in them to taste so bad. As a creative child I really noticed that I was somehow being hard done by.
What are your three favourite tracks from it? 
Yikes! That changes every day, and I am so fond of them all. Probably 'I Remember', 'Not Yet' and 'Shiny Boots'. Andy loves the last track 'Everything's Better with Love' which we wrote and recorded on a warm Sunday morning  – I left the bird song track.
What was the easiest and most challenging part of the recording process for it?
Easiest was writing the tracks, most challenging was finishing them!
It's your fifth album, is there anything that you have learned since recording the first? 
To be more open and relaxed and take more time. This is the first one we didn't go into a studio and as much as we love being in a studio, we really enjoyed recording all of this at home.
You undertook production duties on this what were your favourite moments?
I love producing! I love that moment when you suddenly have a brainwave that seems to come from no-where. When we did our second 3 Bucket Jones album, I suddenly had a yearning to hear a brass band in a track that you played on one of your podcasts called 'Amazing Grace'. Andy sourced members of a wonderful world Champion Brass Band the Tredegar Town Band and we went to listen to them rehearse. Wow! I come from a coal mining family. I had a Great-Uncle who arranged for a pit band so it may be in my blood. I arranged and conducted for 8 members and the first side of that album featured them on every track. On the latest album "Catch my Breath" I wanted my community choir to sing on the chorus of a song called "Not Yet". 32 of them sung the chorus into their phones, some at work under their desks. Sometimes producing is very subtle and you can't really put your finger on why you made a particular choice. You must go with your feeling and then wait. I feel like I usually know if something works or does not. No idea why!
You released the album via SWND, how did that come about?
I met Mike Kennedy at a Welsh PRS event and we hit it off. He is a real Welsh mover and a shaker. A Director, Producer & Presenter of Welsh Connections Music and TV in Swansea – A brand new internet radio TV channel providing a platform for Wales' musicians, artists, poets, actors, writers and documentary makers of the next generation ! Andy lives in Wales and I spend a lot of time there so it felt perfect when Mike offered to release our new album on the independent Welsh label SWND ( SWN is Welsh for noise – so a little play on words there). SWND also produce a quarterly music arts and culture magazine available independent music and bookshops in Wales and online SWND Records.
You are a duo, how did it all begin for you? 
We used to be 3. We first met at Monnow Valley Studios near Monmouth, South Wales in August 2013.  We were on a 5-day songwriting retreat hosted by BASCA (British Academy of Songwriters, Composers and Authors) Strangely none of us really wanted to go, so it felt like the cosmos was trying hard to put us together.
Writers were put into groups of 3 per day and sure enough we 3 Buckets ended up together on day 3 and wrote what was to become track 1 "Goodbye to Forever" on our first album. It was Garry Hughes, who left after album 2 for other incredible projects, who suggested we should become a band and do some recording together, felt a bit like getting married on your first date, but we were all so excited -we did it. We seemed to have so much in common yet had a lot of different musical influences which just seemed to mesh.
What were your influences starting out? 
We have been around a bit and have very differing influences. We have got all sorts of influences. We have been in a few bands in our time panning styles as varied as Prog Rock, Reggae, Rock, Indie Art Pop, Jazz Acapella, 60's Folk, 80's synth pop and on it goes.
What were your early writing sessions like?
When we first got together, we wrote a lot in the same room or in the studio but the longer we work together,  curiously the more time we spend working separately and shooting ideas to each other online and via email. We listen together in the same room as pieces progress and then go away and try other stuff separately.
You performed a gorgeous song "All At Sea" with a choir, how did that come together?
So glad you like it! I was running a choir at the same time as the first album came out and arranged the song for 4-part harmony for the choir trying to find a way of bridging my choirs and my song writing. A wonderous moment came together when Ali Orbaum, a great musician, singer and choir leader from Bristol, who joined 3 Bucket Jones for a period and did some live gigs and recording with us had heard the song and asked us if we would let her use it for a charity event called Sing For Water West in 2016. 1000 community singers learned it and sung it together, outdoors 'en mass' for the event raising funds. We invited any of those singers to come to St Georges in Bristol to a gig we had organised to sing with us. So there had been no practise. They all joined us on the stage. In retrospect I wish we had had more mics on them as it was one of those incredible moments of the year when the hairs on the back of my neck stood up.
COVID has impacted the creative industry in a big way, what kept you motivated?
As a musician bobbing under the horizon my whole life and as I had I lost my mum and my choirs which were my main source of income – I was in deep grief, so not going anywhere was a bit of a blessing. We just adapted. We wrote and recorded and did a lot of incredible collaborations with musician all over the world on-line. With a wonderful bunch of creatives including Bob Karper (choir member and film maker) We created 9 online choir videos which were a riot!
I joined an Online Australian Song Writing club called Iheartsongwriting club and wrote and recorded a song a week (I am on week 85 Andy on week 24) and we both did loads of courses. When the going gets tough we both go on a course! I did lots of 'how to get your music into tv and film', which meant getting my filing and songs in semblance of order (I am the worst filer ever, if I had a superpower, it would be filing) and Andy did loads of songwriting-circles and we both wrote and recorded a lot. It kept us mildly sane.
I met Kirsty McGee on a facebook forum,  a very prolific and talented songwriter from Manchester and gently cajoled her into trying some co-writing  online and we nearly have an album! This music I also mixed and produced.
Andy composed a soundtrack for a micro (that means no) budget feature film written and directed by Brett Gregory called 'Nobody Loves You and You Don't Deserve to Exist' which I had the pleasure of co-writing a track and I ran an online choir for some of the time.
The last couple of years have been a time to reflect what did you learn about yourselves?
I like my introvert more than I ever knew. I have not had much time to spend with her as I was always leading music either fronting bands, choirs or music workshops. Andy learned about being vulnerable as he had a nasty health scare during the lockdown. Andy has always been good at working on his own with a deadline I learned  a lot from watching  and mirroring his discipline.
Did you pick up any new skills?
I did so much recording on Logic. Producing for other people has been great as I always knew how to do it but never allowed myself to know I could. It has been brought to my attention that for some reason the 2% of women producers in music in the world are probably often much more qualified – I know I have often had to work twice as hard to be recognised to be equal to men, often with half the skills. There are of course lots of amazing men who don't behave like that and treat me as an equal (like Andy) but still you would be amazed at how it is so often assumed I am just the singer and Andy does everything else.
What are you listening to at the moment?
The sound of the central heating and the cars racing down the street, the clock that belonged to my grandma that I just got back from my dear old musician friend I recorded masses of material in past decades Mickey – who died. On the back it had a sticker dated 1987 in her handwriting which was the year she died and the last time she changed the batteries (they have been changed since). But seriously. We are both members of Iheartsongwritingclub so every week we listen to 10 new songs by 10 songwriters in our group and give them feedback and they do the same for us. It's a few dollars a week and the best money we spend as it keeps us writing and if you are a songwriter – like an athlete, you need to keep your song writing muscles in peak condition, the only way to do that is to keep writing.
What are you looking forward to next?
Another album, more songs, making more connectionsand collaborating with more fantastic musicians!