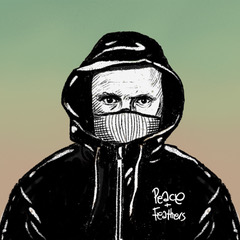 Hello Daniel, how are you?

ATP – Hi Del, I am really good thank you. I am glad that we are seeing the back of Winter and have warmer and lighter days ahead.

Congratulations on the pending release of "Silence Will Be Assumed As Acceptance", describe it in three words. 

ATP – Blimey. That is actually a really hard question to start with. I'll go for : Imaginative – Surprising – Poignant.

You are a producer from Sussex how did it all begin for you?

ATP – I've been making music since I was a kid. I got my first guitar when I was thirteen and had a 4-track recorder that I used to record demos.

Through out my early 20s I was a 'singer songwriter' and used to play a lot of gigs and open mic nights but I got fed up with people talking in the crowd and thought 'wouldn't it be great to make music that people can't talk over'.

I initially started Amongst The Pigeons as a joke and made some cool little tunes. I sent one of them off to Radio One and it was played by Rob Da Bank and Steve Lamacq. It was only then that I realised I was onto something and started work on my first album.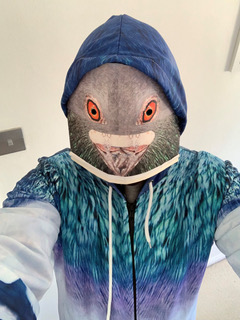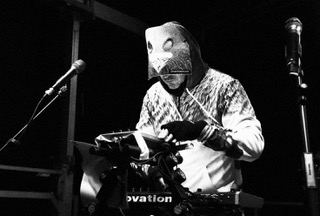 What did you listen to growing up?

ATP – I have always had a very varied taste in music and when I was younger I used to balance listening to rock, pop and dance music.

I recently looked back at some of my old ticket stubs and I am always amazed how lucky I was to see so many great bands whilst I was a teenager. I went to 100s of gigs and festivals.

I was very much into 'indie rock' and saw bands like Blur, Pulp, Suede and Radiohead all the time but I also balanced that with the electronic and dance side with bands like Orbital, The Prodigy, Leftfield and The Chemical Brothers.
I have also always had a soft spot for female singers and listened to a lot of artists like Bjork, PJ Harvey, Belly and Beth Orton.

You've collaborated on this project, your fourth album with a bevvy of singers, what was the process that you went through in finding them?

ATP – When I am making the tracks I usually have an idea about what kind of voice I want to be singing on the track and then reach out to people to see who is interested. A lot of the vocalists on this album are either friends or I knew them in some capacity, even if that was just being contacts on social media.
This time round I largely reached out to specific people to see if they would be interested in working on the songs and pretty much everyone I asked wanted to get involved which was brilliant.
I will add that I am ALWAYS on the look out for other singers to work with so if you are reading this and are interested in collaborating please do get in touch.

What was the biggest challenge and biggest triumph you went through in recording this project?

ATP – I'll start with the biggest challenge which for me was finding time to work on the album. I work full time and have a young family so time is precious. I had a first draft of the album complete by August 2020 where it was around 80% complete but finding the time, motivation and belief to finish it took a lot of effort.
I think that also links into the biggest triumph which was actually getting to a stage where I was able to finish the album by the end of 2020. I had to keep reminding myself not to get overwhelmed at trying to finish the album as a whole and break it down into manageable chunks. I have a little spread sheet system which gives each track a '% completion level' and it was great seeing that go from red to green.

What's your favourite track from it?

ATP – Ha, I imagine you get artists saying this a lot but it changes depending on my mood. At the moment I have a renewed love of 'Colour Blind' which is the current single. I love that it is just 1 minute and 45 seconds long but packs a punch in that time.

This was partly recorded during the events of 2020, which meant you had to record the tracks separately, did you usr any new recording techniques?

ATP – For most of the tracks I recorded a guide track and the vocalists all recorded their parts in their own homes and studios before sending back to me where I then carried on working and modifying the tracks.
N.V.O.D was the only one I actually recorded live in the shedio with Richard. Prior to him coming down we actually used screen and audio sharing software to remotely work on the track together. I trialled LANDR Sessions which worked really well. Richard could see all the changes I was making to the track and he could hear the audio just as well as I could. It really helped shape the song before he came down to record the vocals.

2020 was a time to reflect what was one thing you learned about yourself?

ATP – I have always been a reflective person and like to constantly question things.
I am not sure if this really answers the question but I really did appreciate the extra time at home with my family. I saw my kids more in 2020 than their entire lives up to that point as I was not commuting from the South Coast to London everyday.
I also learnt how to SUP (Stand Up Paddle board) and enjoy swimming in the sea. Despite living opposite the beach I was never one for swimming in the sea but loved being able to do that. I am not brave enough to do winter swimming yet though.

COVID has impacted the creative industry in a big way, what has kept you motivated?

ATP – In many ways the challenges of the last year are what kept me going with this record. I wanted to be able to channel my frustrations about the world around us into songs. N.V.O.D. for example is all about the UK government and their disdain of musicians and the creative industry.
Outside of making music I think Twitter has helped motivate me. I have always had a love / hate relationship with social media but the last year has been brilliant for engaging people, building up a network of people all into the same things, offering encouragement and helping each other through dark times.

What artists are getting you excited at the moment?

ATP – First up, I want to shout out the incredible artists I got to work with on this album. They are ALL fantastic and you need to check each of them out in their own right.
Alongside that I have been very much enjoying all of the releases from the new Cue Dot Records. They started putting out records last year. There have been five releases so far and they just keep getting better and better. The latest release by Veryan called 'Here' is highly recommended.
I also have the new Hannah Peel album on repeat a lot and am excited to hear the new Snapped Ankles record.
Lastly I would also like to mention Fable. She released a new single called 'Orbiting' recently and it is incredible. I am very excited to hear her new album when that comes out.

Pre COVID, you've played festivals, what's a funny story from a festival you've played?

ATP – Hmmmm. I have a few stories but not sure I can share them all.
One thing that will always make me laugh is when I played at Glastonbury in 2019. I was doing a 1am live show in one of the smaller stages and when I do a show I hand out 'pigeon masks' to the audience so that they can become the pigeons that I am amongst. Anyway, I finished my set and there was a DJ on after me but people were still wearing their masks. As I was leaving the tent with my gear two guys stopped me and said 'man … I don't know what is going on but there is a tent full of pigeon people!'.
I am not 100% sure what they had been taking but they were properly freaked out. I realise that might make me sound bad for taking joy from them being freaked out which wasn't my intention. It really was a very funny moment though and one of the things I miss at the moment in terms of those random interactions you have with people.

If you could remix an artist and put your own twist on it who would it be?

ATP – Very good question. I can't think of anyone I would want to remix as such but there definitely are artists I would love to work with in a production capacity. I have always wanted to do something with Damon Albarn and Thom Yorke so they'd be at the top of my list.
Actually … I have just thought of someone I would want to remix; Lionel Ritchie! Yes, I would happy have a go at Dancing on the Ceiling.

What's next for you?

ATP – The album is out in May so up until then I am largely in promo mode and also working on my live set. I am desperate to get out and play to audiences again. I miss that so much. I had over 20 festivals booked up for 2020 and they all got cancelled.
There will be another single released from the album in the summer and I am also working on a 'different versions' release of the album. Some of the vocalists have recorded acoustic versions of their songs and they sound incredible and I am also looking for artists to do remixes of the tracks so I can add those to the mix as well.
Again, going to use the opportunity to do a shout out and say if anyone does want to do a remix – please give me a shout.
Beyond that – I have already started work on my next release. I am making a record based on the concept of sleep, dreams, night terrors and it is going to be called 'Why does it matter if we hear each other?' which is a phrase my wife said to me during one of her night terrors she had recently.
I am not sure it it will be an EP or a full album but musically thats where I am heading.
And before I head off I also just wanted to say thank you so much for the questions and having me on your blog!
Pre order "Silence Will Be Assumed As Acceptance On Bandcamp