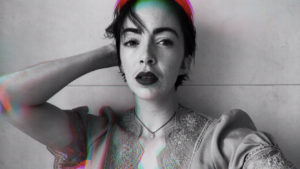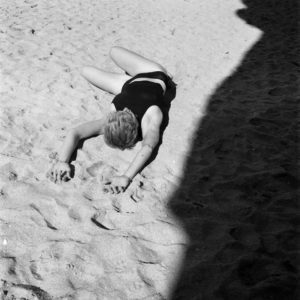 Hello YVA, how are you? 
I'm doing alright, as it goes! How are you?
I'm great thankyou very much for asking!
Congratulations on the release of your upcoming EP, how does it feel?
Like a weight off, actually! It's taken me about a decade to actually record something and get it out, something that spoke to how I felt and represented who I am as an artist, so I feel really proud to have gotten here, finally! It's also really important to me that people hear this record and it makes an impression, so there's definitely a sense of something foreboding. In a good way.

You're a singer songwriter, how did it all begin for you? 
I started singing pretty young, not so much at school, but there'd be family get-togethers at caravans where the guitars would inevitably come out. I watched from a very young age everyone singing and harmonising, so I was able to practise without really being listened to (I was horribly shy). In my teens I was doing corporate gigs singing covers but I honestly can't remember why, they were the worst. Although I did sing at Ayr Races and sat next to Alex Salmond at a dinner. Quite frankly one of the weirdest experiences I had was him squeezing a lime over my fish.
I started writing around the same time but didn't get into it properly until I was about seventeen, and even then all I wrote about was boys. My writing style was quite insular until I got to my mid twenties, but I started off busking in pubs and doing open mic nights so I was learning all the time. I started getting some supports locally and then when I moved to London I supported James Bay and George Ezra right at the start of their careers (the latter I toured with in Europe), then Paolo Nutini, and then I met Nitin and my whole musical landscape changed.
What did you listen to growing up?
I will always be jealous of young artists who grew up listening to Nick Cave or PJ Harvey or Radiohead from an early age because I came to all of that, really late. When I was a kid I loved TLC and Steps, my first concert was Westlife. I was not cool. At all. But there were no boundaries as to what I enjoyed…I loved Evanescence. As I got bit older I discovered Johnny Cash and BB King alongside singer-songwriters like John Mayer, and then I fell in love with blues quite a bit. That influenced a lot of my writing in my early twenties, but I was keen to develop my sound away from that because I had no right to it. I listened to Massive Attack and Bon Iver (Justin Vernon is a huge inspiration for me, 22 A Million changed my life) pretty religiously, but I didn't have the tools to really describe the audio landscape I wanted to create until I started listening to Radiohead and Bjork, and then the picture became a little clearer. From then on I've been strictly alternative, but I have no limitations. One of my favourite albums is Night Song by Michael Brook and Nusrat Fateh Ali Kahn, but I think Dua Lipa is great too!
You worked extensively with Nitin Sawhney, what were the most valuable lessons you've learned from him? 
Working with Nitin has and will always be a privilege. Not just because he's this incredible musician, but because it would have been so easy to have given in. I started working with Nitin at a time in my life where I was becoming increasingly unhappy and it was all connected to my music. I even went so far as to take time off for a while; no writing, no searching, no reaching. I just lived my life and got therapy 'cos I discovered I had pretty bad anxiety, but as this all went on, I was getting to work with Nitin more and more, and it was like a lifeline back to music again. I've worked with him for six years I think now, and it was only about two years ago when I was sitting in rehearsal with some of the most incredible musicians in the world that I realised I belonged, I had something to offer that was equal to them all. The most valuable lesson I've learned working with Nitin is how important self-believe and self-worth is in an industry that could easily have crumbled me.

What have you learned about yourself in the last year? 
To listen to my ideas more and give them credence, to know my instinct is never wrong, fear is a liar and playing the PS4 instead of writing is perfectly fine.
Also, pixie cuts are cool and everything but not worth the self-esteem issues that comes with growing it back out again…
You should see the bad afro and beard I'm sporting right now, I feel you!
Covid had a major impact on the creative industry in the last year, what has kept you motivated? 
Even though I lost a job and a years worth of work with Nitin among other opportunities, Covid gave me the chance to knuckle down tracking the EP with my partner Jonathan. I'm an introvert at heart, so I actually didn't mind being stuck in doors and focusing on that at first, as well as writing my book which was always an ambition of mine. It was a dream really, I read about 45 books.
Although I'm totally done now. I want to hug my friends and get drunk in a pub.
Staying creative has been hard, but just getting to record and expand our home set-up has been a real motivator.
Tell us about your new EP. What's the story behind it?
The EP evolved from a frustration I was having and still have with social media; how much it's impacting the way we communicate and empathise. The Social Dilemma documentary detailed it perfectly for everyone, but I think there's still a big problem that needs discussing, which is we're all suffering from an addiction. We are totally beholden to these platforms as a means of communicating, but the only reason we feel that way is because they know how to keep us engaged and needing it. The whole EP is fighting with the idea of this false engagement. Even the music industry has suffered at the hands of a streaming platform that is convenient and addictive to use, and now every artist is expected to show engagement stats as a way of proving their worth, even though we know those numbers don't translate into reality. It doesn't feel like there's enough risks being taken. Social media makes even the bravest of admissions seem self-serving, or performative. It's a big problem for me. I question the sincerity of everything I see online. There's a line from Bound (the third single to be released) that kind of sums it up: 'The picture's false but taken/Nothing is true or sacred any more.'
I really dislike being taken for a mug, and I just feel social media, compounded by pre-existing societal pressures, insecurities and mental health issues, is repeatedly taking us all for mugs, one like and insta-story at a time.

What are your favourite tracks from it?
It's really hard to choose but I think it has to be Hype Machine. This was the lynchpin of the entire project, we worked everything around those two words. I wrote the lyrics to be deliberately satirical, from the point of view of a person so addicted to social media that they see the apps as sacred, god-like, and so the whole thing is them talking about what they'll do for it, the sacrifices they'll make, and observing what everyone around them is doing for it too. When we wrote the music all I could imagine was this church full of people with their necks bent and gazing into their phones, hypnotised, salivating and clamouring for answers. It's mad but I love it. We asked Martyn (Kaine) to go balls to the wall after the drop and loved it so much we didn't put anything else over it. Lyrics seemed kind of redundant at that point, the music just spoke to the madness all by itself.

What was the main challenge that you faced when putting it together? 
I had my laptop upgraded so we could run more software through it but the CPU was checking out the more tracks we recorded, so it got a bit frustrating when we weren't getting the polished studio quality recording we wanted, but considering we recorded it at home with single glazing and the noisiest neighbours you could ever wish for, we did okay!

What artists are currently getting you excited?
I'm obsessed with Chartreuse at the moment having discovered them over Christmas, and Anna B Savage has just put out her debut album which I love. I'm also diving into Joan As Police Woman's back catalogue, what a woman.
What are you looking forward to next?
We're getting back into recording the next EP, so that's exciting. About 60% is already tracked and needs mixing, but getting new string and drum tracks through is like dozens of birthdays rolled into one moment. I can't wait.
I'm also looking forward to everyone getting vaccinated so we can go to the pub quiz again. 
Did I mention I miss the pub?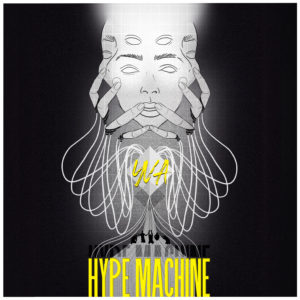 YVA on Instagram  YVA On Twitter  YVA On Facebook