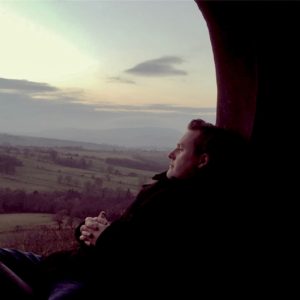 Hello Steve how are you?
I'm good thanks! A little dazed after last night's Lockdown Part III announcement but grateful to be healthy and with a roof over my head.
Congratulations on the release of "New Year Blessings" how does it feel?
You know, I've had New Year Blessings and some of the other songs on my album in my life for quite a few years now. I enjoyed the process of continually tinkering with them – it was like doing up an old car, so I was a bit down when I finally finished them. However, once the new single was put out there it's been really gratifying to get so much positive feedback!
What's the story behind the song?
The original idea for the song came from an instrumental piece I wrote for a promo film. I sampled harmonics on my guitar for the intro after being inspired by a Matmos show I saw years before. I decided to revisit it about two years ago and the sound evoked icicles and frost, which then informed the lyrics.
I created a basic demo and Rick Kershaw added some great live drums to it. I asked my old friend Ruth Angell from the Surge Orchestra to assemble a string quartet and I recorded them down at the mac in Birmingham. Two days later I was up in Glasgow recording the amazing jazz pianist Euan Stevenson. About a year later I had a recording session with harpist Rachael Gladwin who added a few flourishes to the song.
It was originally going to have a choir on the track but when Covid arrived it wasn't feasible, so I asked my 7 year-old daughter to sing on the outro. When I used to put on house gigs in the past she always wanted the mic, so she jumped at the chance to be on the song. When we made the music video for New Year Blessings she totally stole the show! It's like a cuteness overload.
You are a singer songwriter how did it all begin for you?
I started music as a classical guitarist but have picked up lots of instruments along the way. I was part of the Oxford music scene way back when I was a teenager and was the clichéd indie frontman. It was such an exciting time and I got the bug. It wasn't just the gigging, I got addicted to that moment of creating something out of nothing.
From there I went on to study classical composition and along the way got into samba drumming by accident. The styles I've written in have been fairly eclectic but I've always returned to the singer songwriter idiom – it just speaks to me the most I suppose.
What did you listen to growing up?
Coming from Oxford in the 90's I would be lying if I said Radiohead weren't a big early influence. My mates and I would go to loads of Unbelievable Truth gigs (Thom Yorke's brother's band).
My dad used to take me to folk gigs at that time and thanks to him I got hugely into Martin Simpson's guitar playing – it's like listening to polished glass. After moving to Birmingham I got into Bjork, Bobby McFerrin, DJ Shadow and a load of the old Ninja Tune artists.
2020 was a pretty difficult year what did you learn about yourself during this time?
An old dog can still learn new tricks! Rather than being a time for soul searching, it's been a really creative period for me. Since there were no gigs I got into making films. I posted them as Making Music – they were really silly, fun films for kids to get engaged in making and learning about music when schools weren't open to the majority. They've been a really positive step forward for me and so much fun!
In addition to that I managed to get my album finished (The Wild Frontier – This Is Progress which will be released later this year), which I'm very excited about.
COVID has affected the creative industry in a big way, what's kept you motivated?
Having goals has certainly helped – Making Music films and finishing the new album has been important but most of all getting up to spend time with my children has been the biggest motivator. I also work in a number of schools as a freelance musician in residence and they have been great in supporting me during this challenging time.
The biggest high point for me was the recording session with Rachael Gladwin just after the first lockdown. Listening to her play the harp parts I had written for songs like Darkest Night and Fag Butts & Dreams was spine-tingling. I was buzzing for days afterwards. Her Rachael and the Red Socks albums are definitely worth a listen
You've also dabbled in Afrobeat, what was your favourite thing about playing in that style? 
The pure energy of playing those cross rhythms is just the best! You can't beat it. Back in my Birmingham days I played conga for a storming Afrobeat band called The Fela-ship doing Fela Kuti covers and some of our own songs. We used to play these mad gigs in the cellar of this huge mansion that I think was owned by one of the UB40 guys. There were tonnes of people down there going crazy and the energy was electric.
Before that I arranged some Yoruban inspired chants for an Afrobeat big band led by top percussionist Lekan Babalola. A few of the tracks ended up on his Songs of Icons album and got remixed by Men at Work.
What artists are getting you excited at the moment? 
I've been listening a lot to Phoebe Bridgers first album Stranger in the Alps – the lyrics are so naked. I'm looking forward to the new album from The Staves after listening to loads of their previous albums and the stuff they did with Bon Iver.
Back in the days when musicians did gigs (remember that?) I was hugely impressed with Jacob Collier. He's possibly the most talented musician I've every seen.
Other than that I like to wallow in a bit of Bruno Major, Richard Walters, Jacob Banks but always come back to Stevie Wonder, Bill Withers and Nina Simone.
What are you looking forward to doing next?
Well I was planning to make some music videos for the next releases from the album but what with the restrictions I'm going to have to have a rethink about what I can do. Homeschooling the kids is the next big thing on my horizon and world domination will have to wait!