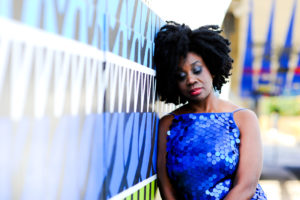 Photo credit: Katherine Peachey
You're a singer, songwriter, model and actress. How did it all begin for you?
It all started when I went to Drama school – The Royal Central School of Speech and Drama. I got a real taste for performing while I was there.
I used to sing with an acapella group at the Central cabarets and got asked to join a band and after that I got involved in lots of different bands.
What did you listen to growing up?
Growing up I listened to a lot of dub sand reggae, people like Dillinger, Big Youth and, of course, Bob Marley. My dad was a bit of an urban cowboy so I listened to Jim Reeves and Marty Robbins as well!! My mum liked a bit of reggae and Motown. 
When I got my first radio it was Radio Luxembourg and Radio London and I was a dedicated listener to the Top 40 on Radio 1.
Your songs are deeply rooted in positive vibes what inspires you every morning?
Well, I have a belief in a Higher Power but it's not some bearded dude in the sky. My HP is the natural world. I see God in the moon, the sun, the stars and the ocean, on the beach and in trees…
I believe that it's a blessing to wake up every morning. I have food in my fridge, a roof over my head and all my senses and limbs. I have a lot of gratitude for all these things and I think that is what keeps me buoyant. Although 2020 has been a challenging year it has to be said.
Congratulations on the pending release of your new single, what's the story behind it?
My new single is called "do You Feel It Too?? and is released on January 25th. It's about a couple of beautiful people meeting on the dancefloor and there is chemistry between them…"Will this be the great romance?? A one-night-stand?? Or could it be love??"
I suppose many people will be able to relate to a night like this one. LOL
Your tracks are dance tinged what's the one song guaranteed to get you on the dance floor?
The one track that I love to dance to whether it's in my front room or in the club is Lokate Feat Doctor & Bay C – Flow (Nightshift Remix).  It's a banger!!
COVID has affected the creative industry in a big way in 2020. What has kept you motivated?
Well, I can't help but be creative whatever is happening around me. I've spent many hours in the studio, throughout the pandemic, singing my little heart out because I love hearing the finished product. I listen to music more or less every day. I find that listening to dance music really puts me in a positive mood.
You have also created a theatrical piece called "Voices of The Motherland" with your daughter Zakia. How did that come about?
"Voices Of The Motherland" came about when my daughter was asked to create a piece of work for the "Get Up Stand Up" exhibition at Somerset House a couple of years ago. My daughter asked me if I'd like to work on a piece with her and we ended up writing a piece about our relationship, mental health, identity and intergenerational trauma.
My daughter also produced a Radio 4 documentary about our creative process called "My Amey and Me" which you can listen to on BBC Sounds.
| | |
| --- | --- |
| | A daughter and her mother seek to reconnect by working on a theatre piece together. |
What artists are getting you going at the moment?
Before Covid-19 kicked in I saw a gig by an artist called Crakazat at a Makin Moves label party. He was just brilliant. Proper euphoric house music!!
And i enjoy DJ's like Shiloh and Simeon on House FM .Net.
What are you looking forward doing next?
I hope to do some gigs with my new material in the New Year. I've got a gig lined up on January 20th at The Amersham Arms if all goes according to plan. I also hope to do some more TV work and possibly put on a production of "Voices of The Motherland".