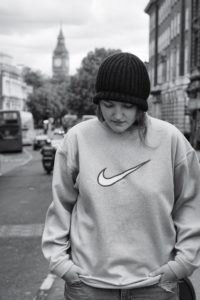 Photo Credit: Faye Fearon
Meg, thanks for agreeing to talk to us! How are you?
Hey, thanks so much for having me! I'm really good, keeping busy and well in to the festive spirit now.
You live in Liverpool, do you think it's something in the Mersey water that makes Liverpudlians come out with annoyingly amazing songs?
Ha! It must be, mustn't it? I definitely think Liverpool is a bit of a music powerhouse and being at home is often where I feel most inspired to write. Perhaps it's the same for fellow Scouse songwriters. There's a lot of music history here and of course, the Fab Four are huge inspirations to so many…
What's your favourite Beatles song?
I should have guessed this question would come up! It's a tough one to answer because they churned out so many great tunes in so many different styles! I've been listening to the early stuff recently from Please Please Me and Beatles for Sale which I love because they remind me of my childhood but if I have to pick a favourite, I'd go for "Lady Madonna". Or "Don't Let Me Down"… It'll be something different
tomorrow!
Tell us about "Ana".
Yes! So 'Ana' is the new single from my upcoming album which is due out early next year. It's the first song I wrote for the album and I knew it was a single from the start. It was one of those songs which wrote itself, I didn't have to think too much about the music and the narrative is based on true experiences. The album is a break up album (a well-used concept, I know) and this song is about the feeling of not wanting to let go of a relationship even though you know it's toxic. Ana is actually
a dear friend, featured on the album artwork. Isn't she beautiful?! Haha, she's very wise, which you can hear about in verse one.
What is your writing process?
I get asked this a lot and it's not something you think about as you're songwriting but I've finally figured what I actually do!  I tend to write lyrics down whenever I feel inspired, be it on the street, in work or in the bath. I keep various random lyrics on my phone and in notebooks; when I actually sit down to write I tend to start
with a musical idea and then go back to my
lyric list and see if any fit in with the chords. It usually works out nicely!
Who have been your biggest influences for writing?
There are so many! Alan Doyle (Great Big Sea) has been a huge influence for years. He has a great Celtic rock sound in his songs and these radiate so much energy on stage; that's inspired me to write songs with a similar feel that people would enjoy singing and clapping along to during gigs. Kate Bush is also a huge influence- the songwriting queen. Her lyrics are so emotive and she writes such unusual narratives which you don't tend to hear much of in the charts or on the radio these days. I try to paint a picture in listeners' minds with metaphors in lyrics the way Kate does, rather than use blunt, predictable language.
Another huge influence, particularly for songs in my upcoming album, has been LP. If you've not heard of her, I definitely recommend getting your ears around her songs. Her trademark whistle inspired me to include some of my own whistling in my songs! I listened to her album 'Lost On You' a lot when writing for my new album. The mood of her song 'Other People' was a great inspiration for lyrics
throughout the writing process.
You just graduated from BIMM, along with Nick Lofthouse, what was the one thing you've learned about yourself while studying?
Yeah, those three years flew by! I learned so much through different experiences during my time as a student. Being away from home, being in a relationship and living in the capital all provided valuable lessons for me. I think the most important thing I learned was that it's ok to take time for myself when I need to and that I can't always be there for everyone else. Giving myself this time meant that I could achieve more than I realised. I've stopped doubting myself now!
You studied in London how did that affect your song writing?
Indeed, the hustle and bustle of London definitely showed in the songs I wrote whilst I lived there. During my first year, I missed everyone back home and that's very evident in the lyrics of songs like 'I've Done Nothing Today' and 'Coffee' (Northern Girl). Because London is so huge, you spend a lot time travelling from A to B and you learn to appreciate people watching. I used that to my advantage – it's surprising how many lyrics and song ideas I've come up with thanks to Londoners on the 72 bus to Roehampton!
Your "Northern Girl" EP is a year old. The title could be considered autobiographical. What song of the tracks included is your favourite?
Wow yes, so much has happened since the release of that EP, it feels like ages ago! I actually asked around for opinions on that title before release; my mum thought it was too bold a statement for my debut release but it was sort of a nickname I took on when I moved to London. The north/south divide was something we joked about at uni and I was happy to be referred to as Meg the Scouser! The name 'Northern Girl' also reflected how I felt at the time of release; I didn't feel like I belonged in London even though I love the city.
My favourite thing about the songs in that EP is the percussion; I got to work with some great people putting 'Northern Girl' together including Mr Preston Heyman on drums and percussion. I think my favourite from the EP is 'Sundown'. It's the most streamed song from that release and it's the one people always mention when they tell me they've listened to the EP. I like to include it at the end of a set when I play live because it's light and easy for an audience to clap along to.
What's your plan for 2019?
First things first, I'm releasing my new album 'Wrong Medicine' early in the year, which is exciting. I've been working on it for a long time and I can't wait for people to hear my new material! I'll be performing a lot more in Liverpool too and hopefully I'll do a couple of gigs in London and possibly Brighton. I have a friend who's lucky enough to be studying in Abbey Road Institute so I've told him I'll be back there in the new year to work on new songs! I'm also just finishing music for a small film project which should be available for people to watch in the new year too. I've known the writer/director for a long time and it's been a pleasure to be involved musically in his latest production. All in all, a busy year planned!