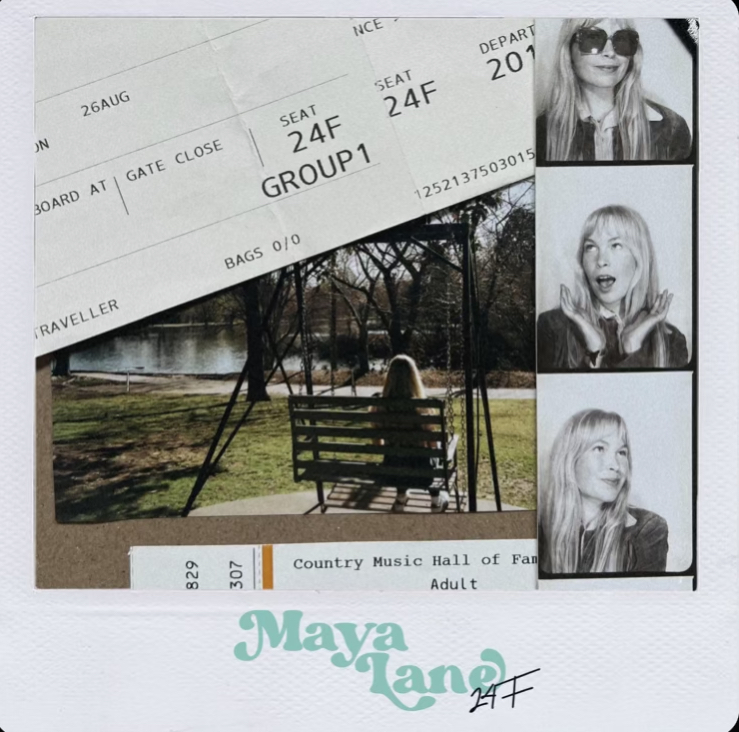 This song is a thing of beauty, it's acoustic, and has Maya's signature vocal…
She sings strongly over an acoustic guitar that has percussion underneath. For me it's the harmonies that are doing the job, especially where they are adding more and more in the chorus – there are harmonies throughout the song, but the chorus is where it grows. 
The little middle 8 at 2:08 caught me off guard, and gives the song a whole different dimension letting Maya sing off the last lines with just her lead vocal and guitar.. 
Stunning! 
So what's this song about? 
Well let me hand it over to Maya to say in her own words: 
"I wrote '24F' about experiencing a moment or being in a place that takes you right back to a phase in your life that holds uncomfortable memories, but with hindsight you are able to look back and heal. When writing the song I wanted to use the plane analogy to represent looking at my past trauma and how once you zoom out and step away from the moment you can see it from a different perspective."
This song was written with Jonny Lattimer (Ellie Goulding, Becky Hill), and produced by Rich Cooper (Rina  Sawayama, Birdy). 
Maya adds, "'24F' is such a personal song for me, opening up about my experiences with bullying and how it's affected my self worth, so I wanted the video to also feel super personal. In February I went on a writing trip to Nashville, which has always been a dream of mine. As soon as I booked the trip I knew I wanted to document it and use the footage to create a video diary. It feels really special to be able to look back at my Nashville memories, paired with this song and see how far I've come and how proud younger me would be."
Check out my interview with Maya Lane https://platinummind.net/index.php/2022/03/04/blog-interview-maya-lane/