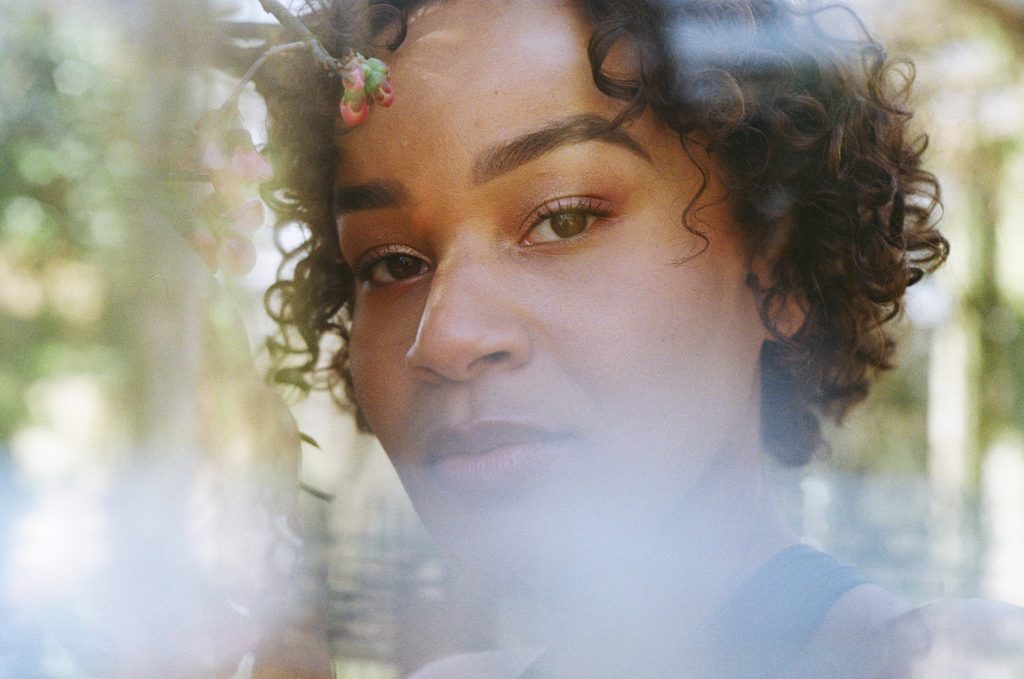 Last month I had the pleasure of hearing Frida Touray for the first time. Her debut EP, 'Mending' (E2 Music, Edition 22/2/22), proved an exciting and revealing listen. Touray brings with her a depth of experience and understanding of music, honed while working with Lianne La Havas, Liam Gallagher, Ed Sheeran, Ellie Goulding, NAO, Cinematic Orchestra, Laura Marling, Jordan Rakei, and Goldie, to name just a few.
I have heard many vocalists. However, none have struck me with the warmth and control they exhibit, like Touray. Her ability to push out powerful, controlled notes and contrast them with the sweetest, lightest touches of equally controlled diminished sound is beautiful. After singing with others for so long, Touray is now taking the step of stepping out as a solo artist. Her EP, produced by Chris Hyson with co-production from Yves Fernandez, proved just the vehicle with which to do that. 
'Mending' is personal, profound, and classy. With fellow musicians Chris Hyson on synthesiser and piano, Joe Webb on piano, Daniel See on drums, Alex Haines on guitar, Yves Fernandez on bass, Tatjana Lljasova on piano, Samuel Crowe on Wurlitzer, and Russell Smith on lap steel guitar, Touray has made something unique. 
Touray is Swedish but now London-based. She studied at BIMM ( British and Irish Institute of Modern Music) and, since graduating in 2014, has worked across the globe as a vocalist and as part of the band, Native Dancer. Their label, Psychological Banana Records, released a studio album, and they have performed at Afropunk in Paris and New York, WOMAD, and Love Supreme. She has co-written music for Lianne La Havas and supported Coldplay on the Head Full of Dreams World tour and Lianne's NPR Tiny Desk performance, which now has just over 15 million views on YouTube. She has worked with many of music's notable performers, so it is little wonder her voice might sound familiar. 
Yet on this album, she also brings her own touches and proves she is as much an individual as a team player. In my review of Touray's EP, I said, 'Touray is a discovery, and the reasons behind the time it has taken for her to decide to take her spot in the limelight remain hers alone,' but I was curious – not just about that, but about this singer, so I asked some questions. Here is the resulting interview
SS- Sammy Stain
FT – Frida Touray
SS: In your own words, can you give us a brief insight into your musical history?
FT: I sang in choirs a lot as a kid but didn't start writing or performing until I was around 16, when I met a spoken word rap collective called STICS back around my hometown in Sweden. They're incredible artists and lyricists who inspired and pushed me to start writing and performing with them. They also made me fall in love with words and poetry. 
I have always had quite bad stage fright, and I still struggle with nerves when it comes to performing my own material, so when I moved to London to study music, I knew I had to overcome that challenge.
I studied music at BIMM in West London for four years. After that, I started working as a function singer and eventually started doing sessions and touring as a backing vocalist. In my last year of university, I joined the band Native Dancer with Sam Crowe, Josh Arcoleo, Jonathan Harvey, and Al Nunez, and that was my first time playing and writing with jazz musicians. I learned so much as a singer and performer over the years we were active! 
SS: Who influenced your music style, and who do you listen to now?
FT: I was brought up by my Mom, who loves Blues and American Rock music, so that was played a lot growing up. I remember sitting for hours in front of my Mom's CD collection and going through album after album from start to finish – something that is a rare occasion these days, which is a shame.
I fell in love with R'n'B when I was 7. The first record I ever bought was Aaliyah's 'Age Ain't Nothing But A Number,' so my Mom's records and my newfound love for 90s R'n'B were my foundation growing up. 
Artists that really inspired me as a teenager and still do are Beyonce, Eva Cassidy, Paul Simon, Joni Mitchell, Ella Fitzgerald, Lauryn Hill, and Aretha Franklin. They all have a way of delivering a story and the words of a song that is so special.
Right now, I'm listening to a lot of Yebba. I think she's incredible. 
Another band I have fallen in love with is a Swedish group called Dina Ogon. Their eponymous album is so, so good!
The top 5 tracks that I'm wearing out at the moment are these:
Dina Ogon- 'Tombola'
Dijon- 'Alley-oop'
Yebba- 'The Age of Worry' (Live at |Electric Lady)
Beyonce-' Heated'
Bonnie Raitt- 'Any Day Woman'
SS: You have previously worked with Lianne la Havas, and because you have sung on so many recordings, you may already be familiar to listeners. What made you decide to create your own EP and take the step into individual recording?
FT: I had come from having my band for years, where the music blended all the members' creativity and input. I became curious about what it would sound like if I were at the creative steering wheel. The intention from the start wasn't to create an EP and put it out. I try to stay quite floaty when it comes to planning and it just happened naturally when I felt like I had something I wanted to say in this music.  
SS: Your genre selection is broad, and you have worked on jazz, pop, and many famous artists. What was it like working with Ed Sheeran and Liam Gallagher?
FT: My experience working with Ed Sheeran was that he was super sweet and very down-to-earth. The same goes for Liam Gallagher and the whole crew that works for him. We have a lot of fun! Couldn't ask for a nicer group of people to work with. 
SS: How did you gather the musicians you chose for this EP?
I played with Yves Fernandez in Lianne's band for years, and we started writing together through the pandemic. It's a special feeling when you're in collaboration with someone creatively, and you understand quite quickly that you speak the same language. It makes it easy to be vulnerable when you feel like you have chemistry and trust each other.
London is filled with so much talent and incredible musicians, and all the people involved are close friends of mine; some are friends of Yves and Chris Hyson (producer), both of whom I trusted. The whole process felt very intimate because of the songs' subject matters, so it was important to have the right people involved at every turn. 
SS: 'Mending' is quite personal in content. Do the numbers reflect your own experiences? How do you feel sharing these and showing vulnerability?
They do. I really needed to be honest to process some of the things I was dealing with at the time. It felt like I was writing in a diary. 
I'm grateful that I have music and writing as an outlet for whatever it is that I am working through internally, and at the time, I just wanted to make something beautiful out of something that felt painful.
SS: As a female artist, have there been any experiences relating to your gender in the music industry? How do you see things currently for female musicians, and do you think change is on the way?
FT: I know the feeling of being in a room full of men and being spoken over for sure. That goes beyond the music industry. I think, as women, we're not taught to assert ourselves in the same way as men, so I have had to be aware of that. The process of leading a project forward on my own was so helpful for me in that way. 
SS: Going solo for the EP. Good decision?
FT: Yeah, I think it was a good call. I'm proud and happy with the music.
SS Two years from now, what would you like to be doing musically/otherwise?
FT: I love writing and being in the studio, so I hope I'll be doing a lot more of that. I hope my album will be finished by then as well as writing for other people. I would love to be still touring and working for artists that I respect and love singing with. I would love to travel and meet new artists and musicians to connect and write with—just more of what I already have, which I feel really grateful to say. 
I hope we hear more from Friday Touray – a lot more.