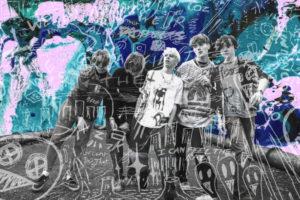 Congratulations on making the Fresh Faves Batch 415 with "Alone For A While". How does it feel?
Hello. Thank you, We are very grateful for being on the fresh faves! It means a lot to us as it has been a long and quite stagnant year so far. So it is nice that the song is out there and people enjoy it.
What's the story behind this song?
This song was initially written by Patric in Notcutts garden centre while he was working at the till. He made some initial demos and brought it to the band to be played. From there Benski wrote the lyrics and the melody and together myself (Mil,bass), Wol(rhythm guitar) and Jaim(drums) all worked on playing the music in a live setting which is where it evolved into what it is today. It's always a fun experience when the written song is evolved from a demo into a live individual entity.
The lyrics Ben wrote were adapted slightly into what they currently are today with the challenge of isolation causing difficulties within his relationships during the 2020 lockdown.
What were the challenges you faced in recording it?
The major difficulty was the lockdown. There was a large buffer time from when the song was written to when we were able to work on recording. When we got to the studio we weren't super experienced in recording as it is one of our first songs we have recorded in a long time, so it took a while to get back into the flow of things.
What was your favourite experience in writing it?
The best part was when Patric came up with the idea for the click and the beginning into the drop. He said it was really satisfying to come up with and we all shared that excitement when we heard it for the first time.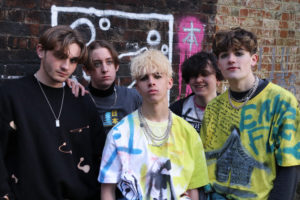 You're a five piece from around London what was the catalyst for putting the band together?
Patric started playing guitar with his friend Tom in an effort to explore music and see what they could create. They eventually decided to form a band and recruit more members. When they were looking for a front man they came across Benski whom Patrick bonded with over music very quickly becoming a strong creative pairing. Shortly after, they made and wrote the demo EP and started playing their material live. So I guess that original spark of creativity and Patric and Ben meeting was the catalyst for the band. From that point on the other members joined with Tom leaving early 2019  to go to uni. He is still a large part of the band and helps us out where he can but is no longer one of the acting five members.
What were your influences?
We are influenced by acts such as A Beacon School, King Krule and Jaden. We really are all into Pixies right now as most of us seem to bond over the album doolittle. That album is definitely an inspiration in some shape or form. In terms of writing "Alone for a While", inspiration came from artists like Chic and The Farm when approaching the guitar part and Far Caspian in the way that the structure is composed.
Your sound is quite a mix, how does a writing session begin for you all?
I guess "Alone For A While" is a prime example of how the songs are written. Often Patric and Ben will write together or separately before getting input from the other members. They would send us demos and then we would arrange a date to bring all the parts together from the demos and workshop it for a while. Although we do sometimes disagree on which parts we like or what tweeks can be made, it is often a very rewarding experience when the song comes together and we can play it live effectively.
You have a passion for art which is reflected in your covers, who are your favourite artists?
One of Patric's favourite artists is Piet Mondrian. He really loves his abstract style. Benski and Patric are both into J.G. Marshall and Stanley Donwood. I am more of a Bob Ross guy myself.
You played the legendary Dingwall's venue, what was it like being on stage there?
Dingwalls was quite an overwhelming experience. Obviously a venue like that has a lot of weight to it so it is quite nerve racking as it was only our 15th gig or so. It was also in the early days of the pandemic, before the lockdown so we were unsure if anyone would want to come and see us. However the turnout was pretty good and all the other bands there put on excellent shows as well.
You have played gigs around the south east of England, what's a funny story from the road?
Recently we played at the Reigate New Music festival and camped there overnight. I felt like having a tent to myself so I was using my brother's tent he took to boomtown so it was quite sentimental to him as it had a sprayed on logo. This meant it was important I took care of it. I went to go to the toilet and came back to the tent only to find someone had dragged vomit in there. I was livid and it was apparently very funny to watch. It was a very strange moment for the guys because they sat in their other tents listening to me rave at Patric about how dare anyone violate my privacy like that. One of the funniest things for sure. I kinda find it funny now. I guess it is right what they say about time healing all wounds. I hope my brother doesn't read this!
COVID has affected affected the creative industry in a big way, what kept you motivated?
Well to a large extent the band has only kept going because we have all encouraged each other and worked on things together like getting our website up and running and many other things that needed doing other than playing the music as a band. I think during the pandemic we definitely bonded more because when we did get to meet up we were more grateful for being together and we have all got closer. Patric and Benski have also been taking the time to try and develop the Aqualine sound so that we could exit restrictions with more fresh material ready to play live.
2020 was a time to reflect, what did you learn about yourselves?
I think we all learnt a lot more about how important music is to us and expanding our music taste and knowledge. For instance: it got up to the point where I would listen to at least 5 albums a day. I've definitely found that music is definitely really important as it allows me to take a step back.
What are you all listening to at the moment?
We are all listening to a large variety of things. Patric and Ben are at the moment listening to quite a bit of Travis Scott, Lil Peep, Ricewine, Pixies, Miles Davis and of course, Jeff Buckley. Wol and Jaim are into easy life and I heard Jaim listening to a Katy Perry song in order to get the tempo of "Alone for a While" which was quite a peculiar occurrence as he is normally listening to hard rock most of the time. I am currently exploring more instrumental music myself such as Haydn symphony 101 because I remember studying it in school so I am having a bit of a reunion with it now as I am no longer sick of it. I am also invested in a psych band called Ozric tentacles and ther live album: live underslunky. Patric got me listening to an album called Apollo by Brian Eno which I have been listening to whilst answering this interview.
What's next for you?
We are working on releasing more music. We are considering doing a demo album just to give people more content for them to listen to, but definitely we are getting ready for another official release.