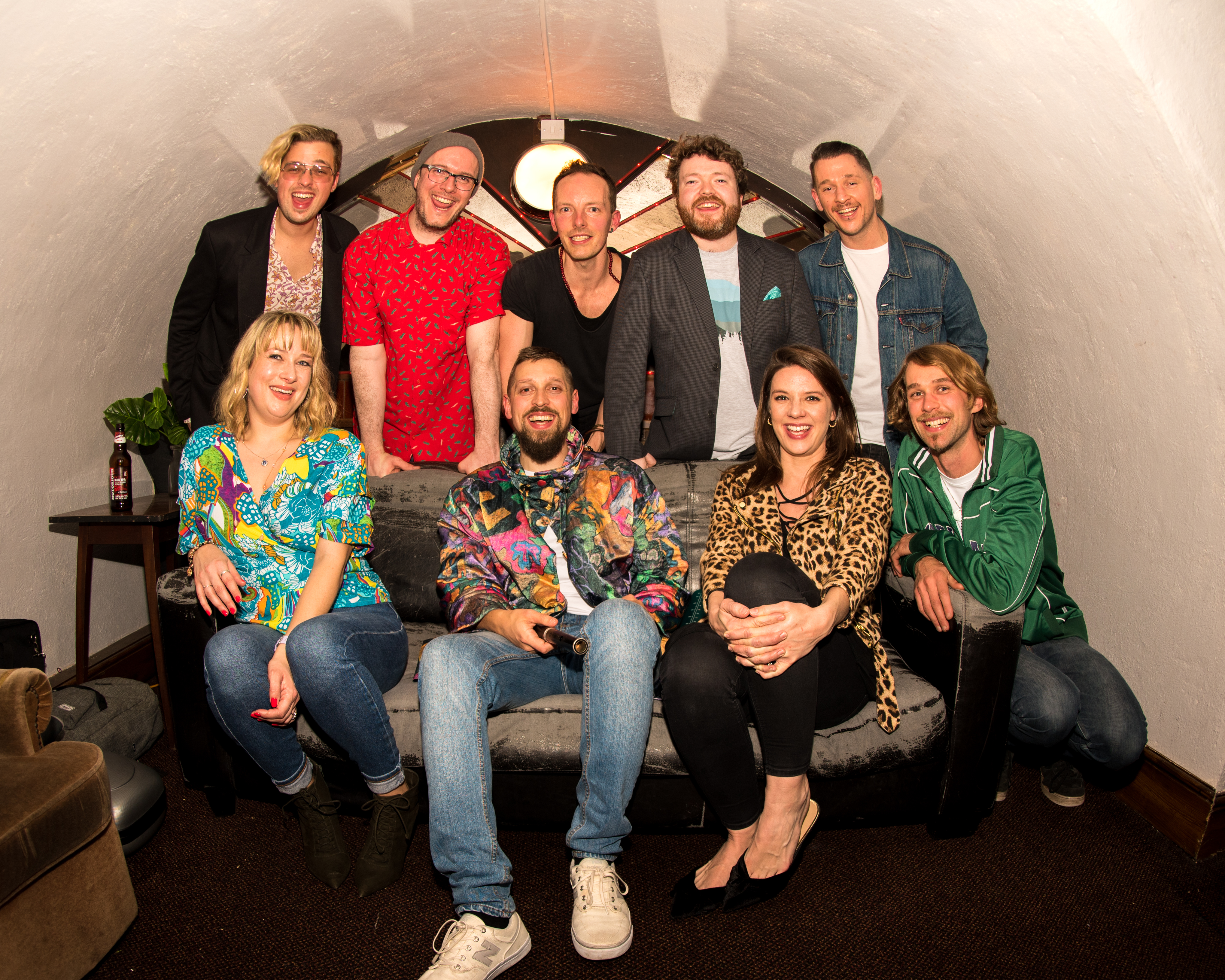 Hello Danny, how are you?
I'm good! I appreciate you taking the time to interview me.
Congratulations on the release of "Make Me Feel (Believing)" how does it feel?
It feels amazing to be able to release something again! I released my album in January 2021 but it seems like years ago now. We've all been through so much this past year and a half that it just feels like an achievement already to put something out there, no matter how well it does or not.
It's a commentary on life in 2020/2021, what was the catalyst in putting it together?
That's down to the featured rappers. When they asked me what the vibe of the song should be, I suggested 'belief' and what it means to them. So Breezy talks about struggle, refocus. Koko talks about all the mad things happening in the world. And 0phelia's verse is about connection and being open to receive love. It's amazing to me that these 3 people combined remotely to make a cohesive story and concept that works. We've never been in a room together! Everything was done online.
It's a complete reworking on the original from the album version, including rappers taking verses, what made you want to do it this way?
I originally wanted to make a remix using the instrumental of our song Believing, but 0phelia convinced me to get in touch with a beatmaker JusMe and he flipped the riff, added samples, scratches, he turned it into a completely new song. I wasn't going to feature myself at all either, I liked the idea of just having rappers trade verses, but in the end she convinced me to use some of the original vocal and flute stems. I like the way there's no real repeating chorus, it's like a flow or train of thought. 0phelia had a major influence on this track, I don't think I would have finished it without her expertise and encouragement. King Koko and Breezy too. All 3 verses have such vibrant energy and love. There is such a high level in Irish hip-hop right now and this track helps showcase the diversity of style and talent.
Tell us about Danny G and The Major 7ths, how did it all begin, who's in the line up?
About 8 years ago, I was a nobody on the scene basically, and in my youthful arrogance I headhunted a bunch of brilliant musicians who amazingly all agreed to play music with me. It was a bit like a scene from Oceans 11 or something where the dude assembles his squad, except instead of Clooney it was this guy with a flute still learning how to sing. I had all of these songs and needed a vehicle to play them. And at that time in Dublin there weren't too many people doing neosoul stuff. It was really important to have 3 backing vocalists from the very beginning too, to recreate the harmonies I was recording. The core musicians are Dennis Cassidy (drums), Graham Heaney (bass) and Johnny Taylor (keys) who just blend like good coffee.
What did you listen to growing up?
A complete mixed bag! I grew up playing traditional Irish music on the flute, so I was immersed in that world, learning instrumental tunes by ear at sessions. And then raiding my dad's tape collection which was The Beatles, Elton John & Gloria Estefan. And of course his own songs, my dad (Jack Groenland) is a singer from the Netherlands with several albums out and he used to sing for my brothers and I as children. Through him I discovered 60s pop which in turn led me to Motown.
Your sound is very soulful, what was the one song that changed your life?
There were two albums maybe rather than songs that changed my life. Talking Book by Stevie Wonder and What's Going On by Marvin Gaye. Stevie showed me you could do pop but make it funky and harmonically interesting. And so joyous! The warmth of his music touched me more than anything. The infectious bounce of Tuesday Heartbreak. And then Marvin woke me up to the power of social commentary through song. You could make protest music but it didn't have to be angry, it could sound beautiful, both optimistic and sad simultaneously. The pain in his voice stays with you.
You released the album "The Lookout" this year, what are your favourite tracks from it?
That's like asking which of my daughters do I love more! I cannot say for legal reasons. No, but the tracks I enjoy the most right now are the ones with guest vocals. There comes a point when you can't be objective about your own music any more, but I love listening to the other singers and musicians featured on The Lookout. Say When, Time the Healer and Believing feature 3 different female vocalists. I love that male-female duet vibe, it reminds of the classic Motown Marvin and Tammi songs. I'm really lucky to have such great artists lend their talents to the record.
You recorded a tribute to D'Angelo on it, what's your favourite song by him?
I went very deep into D'Angelo's world. My musician friends and I put on several tribute shows, playing the entire Voodoo album live. I was notating the harmony lines, rerecording them to make sure they were correct. At one point I was dreaming about him regularly. We'd be hanging out, cruising around talking about music. Obsession is too weak a word to describe it. He's influenced me more than any living artist. My favourite tracks are probably the downtempo ballads, like Send It On and One Mo 'Gin. But I love everything he does. He's a modern day musical prophet. I've seen him play in London twice and his shows are pure funk odysseys. My song on The Lookout comes out of a jam I heard him play live actually. I tried to reach out to him to credit him but he's impossible to contact! So I ended up just naming it after him.
What were the challenges and triumphs that you faced while recording it?
Honestly the biggest challenge was just finishing the album. I've two kids and a full time job so it took a few years longer than anticipated. The triumph was in the recording process itself, discovering my sound. The joy of creating something from scratch. Whenever we did get a studio day I'd spend hours and hours layering harmonies. We triple tracked every single vocal on the album, to get that depth and warmth in the mix. Studio recording is a craft in itself. I was working with a brilliant producer, Ken McCabe (Wolfhound Sound) who encouraged me to try new things, and more importantly told me when something wasn't working.
2020 was a year to reflect, what did you learn about yourself?
I learned to just take things one day at a time. It's pretty bad in Ireland especially, they handled the situation awfully and we had 3 consecutive Lockdowns. I changed my job, started running every day, and I feel like I'm closer to my wife and daughters (literally, they don't let me work from home, lol). I'm trying to look at the positives. It feels like we all went through a major learning process after the killing of George Floyd. Acknowledging racism and inequality not just in the States but worldwide. We have a real opportunity as a society to reflect on what isn't working and what we can change, with many aspects of our money-obsessed society proving non-essential during covid too. I hope it wasn't just a 2020 phase and that we can keep these lessons going forward.
COVID has impacted the creative industry in a big way, what kept you motivated?
What kept me sane was having a long term project that I could focus on, even if only for a few minutes a day. I brought out a track last summer (D.A.R.L.I.N.G.) and have been working on this release. The process is more important than the result, for me anyway. The work gives meaning to what is otherwise Groundhog day/life. I'm still waiting for things to open up in Ireland so I can give my album a proper release gig too so that's a real light at the end of the tunnel to look forward to.
What are you listening to at the moment?
I'm in a phase where I'm listening to records. I love the album Excursions by Irish beatmaker The Expert. Lynda Dawn's EP is amazing, I'm still spinning that. I'm listening to a lot of latin stuff. The album Quantic made with Nidia Gongora is so good. Oh I also got lost in Brandy's latest album recently, the beats are so unconventional and her vocals are lush. There's so much music right now, it's hard to stay on top of it. When I'm recording I often don't go in search of new music as a sort of detox, I find it distracting.
What's next for you?
I've been working on a few things that are almost finished. There'll be a Song Exploder style podcast where I talk about making The Lookout, track by track. And I'm recording a covers EP of Irish songs I love (from Paul Brady, Samantha Mumba, The Bothy Band), reworking them in a neosoul style. It's been a lot of fun, it's liberating recording other people's music! Hopefully I can share that before the end of the year.
https://open.spotify.com/track/3kXGokUqYvxRCP6YTPoJH3?si=7e38f0f9d5914906