You're currently working on your new album how's it going?

It's a long process! My first Kid Kasio album was a compilation of songs I'd written between 2006-2011. The 2nd album was 2011-2015, but this next album has defied even my levels of procrastination! Almost 5 years in the making! It's ridiculous really. I don't want anyone to think I've been slaving away at it for constantly for 5 years because I really haven't!
I'm so busy with my work as a producer in my studio now that I have so little time for my own music. I have to grab the odd afternoon here and there. Plus I got married a couple of weeks ago so that took over for a bit!
I have 17 songs which I finally whittled down to 12 this week (Which will eventually become 10 once I've mixed it).
Some are collaborations, some with people I've never even met! Which is actually a method of working I really enjoy.
A producer from France called Juno Crisis sent me some instrumental midi files and the arrangements really sparked my imagination. We ended up writing 5 songs together which will be on the album. It's a great way to work for me A selection of the other songs were written with a long term collaborator of mine, a friend called Benjamin Todd. Some were written as pitches for films. Some for a film called "Kill Your Friends". They never made it into the film, but they were too good to chuck out!
I'm currently bouncing all the stems down getting ready for mixing with a great mixing engineer called Adrian Hall who's worked with some of my favourites (Depeche Mode, Goldfrapp, Erasure)
Then it'll be mastering, then artwork then release!
What I won't then do is spend 2 years animating a video by hand which I did before the release of my 2nd album. It set the release date back by 2 years!
I literally spent 2 years animating a video frame by frame! It was the most arduous process of my life! Never again!

You have your own studio from which you're working from, how did that come about?

My studio is Fiction Studios. It came about after a strange situation where I was composing some music for a film starring my brother Dominic Cooper. The film was called "Miss you already" and I had to invite the stars of the film Drew Barrymore and Toni Collette to my studio to record vocals for the theme song.. The problem was the studio was in my bedroom!! So I had Drew Barrymore clambering inside my wardrobe where my makeshift vocal booth was, while Toni Colette perched on the edge of my bed. It just wasn't right.
My brother said he'd help me set somewhere up in central London. We came across the space by chance . It was the store room for an old accountancy firm but they'd dressed it like a set from Harry Potter. It was like walking into a film. Six thousand old books line the walls, and there's stairs that don't go anywhere, old brass boilers and pipe work and old chesterfield armchairs, it's magical, it really has to be seen to be believed!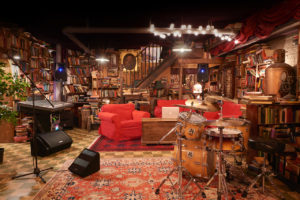 I've been there 3 years now and have worked with Paloma Faith, Idris Elba, Jude Law, Will Young, Snow Patrol, Gary Kemp, Madness, Mcfly. It's been such an amazing experience.
https://www.fictionstudioslondon.com/
https://www.instagram.com/fictionstudios/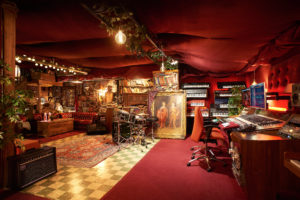 You have a love for vintage 70s and 80s synths what's your personal favourite and why?
I've built up the collection since I got my Roland Juno 60 for my 15th birthday present in 1990. No one wanted them then. Everyone wanted a Korg M1 ( which I've just acquired this week funnily enough!)
The next purchase was a Roland SH101 from the back pages of Loot in 1991. I travelled from Blackheath to a place called Thornton Heath, with £90 cash in my pocket. The problem was I got hungry on the way and had to buy some chips so could only give the guy £89 .. he wasn't happy! I now also have a Prophet 5, and a Prophet T8 which is very rare, and an Oberheim OBXa which were loaned to me by a very lovely guy caked Ian Merrylees. I met him at a party and he said he had a couple of synths lying around in his attic. I expected it to be a Casio or a Bontempi organ. When he said the words Oberheim and Sequential Circuits Prophet I was round there in my car, engine revving, boot open, before he'd even finished his sentence! I've also have something called a Crumar Performer which was got solely for the fact that Nick Rhodes used it extensively on the first two Duran Duran albums. I actually chatted to Mark Ronson about it at a Duran after show party and he's actually named a song on one of his albums after it! It's a great synth, it only does one sound, a kind of synthetic string sound but there's nothing like it! I use it on everything!
I'm also getting into the later FM synths so have a Yamaha DX7 and have just purchased a Roland D-50 and been lent a Korg M1 which are all over my next album.
Your music is heavily influenced by 80s pop culture and bands what's your favourite piece of 80s tech?
Well the Juno 60 is perhaps my favorite synth . It is so easy to edit the sounds and the Roland chorus just makes it always sound amazing, it always just fits right into the mix.
I have a load of old drum machines too I think the DMX is my favourite, I use the clap sound a lot on that, it immediately transforms the mix into something Nile Rodgers might have produced in 1983!
The Simmons kit is great too with the SD-9 brain , great for those classic Simmons Tom sounds (Like Eastenders!)
And the SH101 is my go to bass sound. Also recently discovering the Roland D-50 has been a real treat. There's so many incredible sounds in there and you can just go through the patches and they're on so many classic late 80s hits. You end up flicking through the patches and going "that's Enya" "that's Paula Abdul" "that's Tina Turner " it's insane!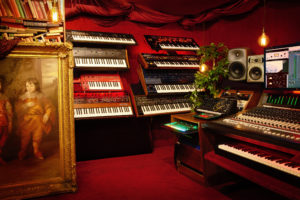 What bands are you listening to at the moment?
I'm terrible at keeping up with current music. All my influences are rooted in the 80s bands like Duran Duran, Spandau Ballet, Japan, Pet Shop Boys (My personal favourite 80's band of all time- Del). In fact I'm watching the Top Of The pops re runs on BBC4 and they're up to 1988 now, which I never thought was a vintage year really, but looking back now it's actually great!
Pet shop boys are absolutely at the top of their game, Erasure are fantastic and even those Stock Aitken and Waterman songs sound great now.
In terms of current music I like Years and Years and the last Hot Chip single was great. I love what I've heard of keane's new stuff too. I'm a big sucker for big melody and huge chorus's !! I do love a good key change too!!
It's lacking in a lot of current music unfortunately I'm not sure why.
On your current project what song is really standing out for you?
It's incredibly hard to know, being so involved in them, which are the really good ones! I won't know that until I've played them to a few people! There's one that uses a very famous saxophone sample from an 80s Dire Straits song which people get very excited about when I play it to them.

If you could collaborate with any artist from the 80s who would it be?
I would actively avoid working with my real heroes out of fear it would end in crushing disappointment and disaster! Although I'm sure if Nick Rhodes or Vince Clarke came knocking at Fiction Studios door I wouldn't turn them away!
I recorded a cover of a Nik Kershaw B-Side which I put on my first album. I was leaving one of his shows a couple of years ago when his wife came up to me and tapped me on the shoulder and said "Nik loves the cover you did of Dark Glasses, he listens to it all the time in the kitchen while he's cooking" That was a great moment because I'm a massive fan of his music.
I'd love to support a great 80s act at some shows next year, maybe Nik or Howard Jones or Human League. That would be a dream.
What's next for you?
Get the next Kid Kasio album out and keep producing great up and coming bands and artists at Fiction Studios
http://www.kidkasio.com/