Hello Rabih, how are you?
I'm currently talking to you from the dramatically collapsing Beirut so I'm raging. But I'm also grateful to still be here and be able to make music, share it with the world, and talk about it with music enthusiasts such as yourself.
Congratulations on the release of Smithereens. How does it feel?
Thank you. Smithereens is only the first single off the upcoming album Heartrage Hotel, and I haven't released a full album since my previous project Slutterhouse 10 years ago. Honestly I'm so happy with the overwhelmingly positive response the single has been getting. It's extremely rewarding, after having spent so much time away from the music industry, and it gives me a lot of confidence in the next single which you'll be able to listen to in just a few weeks.
Describe it in three words:
Pain. Rage. Melody.
It's the lead single from your album out in January 2022, how did it come about?
Toward the end of last winter, I started browsing through all the material that I had recorded during the past year or so. I chose 9 tracks that seemed to fit really well together. Smithereens hadn't been written yet. It all started off with the guitar riff. I love playing around with octaves on my guitar and it just came out and stuck with me. Everything else followed naturally. I always write the lyrics last, and I put a lot of attention into them on this song specifically. Smithereens was the last surprising addition to the list of songs on the record, and maybe that's why I felt it worked so well as a first single: it was the perfect summary of everything that Grave Jones is about in the sound, in the words, in the melodies, and in the feel.
What were the challenges and triumphs you faced in recording it?
I went through an extremely creative and productive phase toward the end of 2019, and because I'm fortunate enough to have my own recording studio, doing the record was actually pretty easy. When you have access to a space where everything is always set up properly for you, and all you have to do is press a button and record, it makes a huge difference creatively, because you don't have to worry about any of the technicalities. I had a lot of fun playing all the guitars, drums and synthesizers. Musician Jawad Nawfal would later come in and throw in the bass. Then I'd record a final vocal take before sending the whole thing to Etyen for mixing, then to Lopazz for mastering. If anything, the biggest challenge was in recording the vocals. It's a record on which I insisted to push myself beyond any limits I'd faced before, vocally. But practice, practice and practice combined with honesty always delivers, and I hope this will resonate with listeners.
What are your three favourite tracks from it?
Do parents have favorites among their children? (Of course they do.) No but seriously, each one of the songs means something different to me, and usually I find myself really liking very specific parts in each one of them. Could be the verse in this one, the chorus in that one, the vocal harmonies in another one, or the guitar solo, etc. Obviously, singles are picked based on what is expected to represent Grave Jones the most, combined with what will most likely resonate with listeners fairly quickly. So for now I'll just mention the upcoming single Heaven Only Knows, which is more uptempo than Smithereens, it should be a nice change. Also expect to hear Satellite in the Sky – a song I love to perform, Babylon Street featuring one of my favorite guitar players Rama from Rama's Whisper, and a song called Lies – by far one of the rawest on the record.
You are an artist from Lebanon. How did it all begin for you?
I bought my first guitar when I was 13, and by the age of 16 I was playing with a few local bands. Mostly American rock covers. At 19 I moved to Paris and this is when things started to get serious. I started playing with rock bands who played their own music, and after a quick stop by Playground – a band that was quite popular in France and Europe in the mid-2000s, I found myself working with an electronic producer in Beirut, which is also when I started to flirt with singing. The project was called Slutterhouse, it was so different from my usual rock world, it wasn't like anything I'd tried before, and that's the band that ended up being signed to a record label in the UK. We had a really good run with Slutterhouse, touring Europe twice, exporting our songs to various radios in the USA, playing a lot of festivals, landing sync deals and releasing two full albums (Made in Dance, 2009. Another Lie, 2011) and a Remix EP (Inside the Station, 2010). After the band broke up in 2012 I was a quite bitter toward the whole thing and the music industry and decided to take some time off. A few years later I very timidly released a few songs as a solo artist, before finally picking up the guitar again and finding the sound I've always wanted to sport. And here I am now, with Grave Jones, ready for a proper round two in the music world.
What did you listen to growing up?
An older cousin of mine turned me on to rock music in the early 1990s. Prior to that I'd of course heard plenty of music on the radio and on TV, but when I first heard Guns N' Roses that day with my cousin I instantly knew that my life had changed. I was 9 years old and I became addicted. Some of the bands that never left my childhood and teenage years were Guns N' Roses, Aerosmith, Black Sabbath, Hanoi Rocks, Motley Crue, T-Rex, the New York Dolls, Alice Cooper, the Black Crowes, Slash's Snakepit, the Rolling Stones, Tom Petty and the Heartbreakers, and Lenny Kravitz to name a few.
You have traveled around the world. What has been your favourite place to visit?
I don't think there is such a thing as a good or a bad city. It's always about your personal experience in that particular place, the people you hang out with, the activities you end up doing. I was fortunate to have a fantastic time pretty much everywhere, really. But I guess a few cities did stand out: Paris for example became a second home to me, and it still is. I also have a thing for Stockholm. I've always been attracted to the north and I felt great there. I also loved performing in the UK, where I encountered some of the coolest crowd and music fans in the world. And finally there's New York, of course, because no matter how cliché it is, there's an undeniable magic to that place, a visceral feeling of endless possibilities that's just irresistible.
Covid impacted the creative industry in a big way. What kept you motivated?
The knowledge that it was going to end, eventually. The timing was annoying, of course, because I had just put together my live lineup and the rehearsals were going really well. Then we had to put a halt to it all. But if anything, it allowed me to focus on getting back in shape musically, challenge myself in my guitar playing, take my singing to a different level, and write and record a lot of songs. I spent most of the pandemic in the studio working a lot. I have enough material now to release things for the next two years without having to write anything new. But now I'm just eager to resume regular rehearsals and eventually go back on the road. Playing live is the main reason why I went back to music in the first place. I've really missed it a lot and I can't wait to be on stage again.
2020 was a time to reflect. What did you learn about yourself?
I learned that I could get better. Up until 2020 my health – physical and mental – had seriously been on the decline. I suffered from chronic fatigue, chronic depression, and my immunity was so low I would spend half of the year sick. During the first few weeks of the pandemic, however, when the virus was still quite unknown, when we thought there was a possibility it could be much more lethal than it turned out to be, I got very scared and decided to do everything in my power to protect myself. I changed a lot of my habits, followed new routines religiously and found myself increasingly getting better and stronger. It was a blessing in disguise, really. I feel like a totally different person today, and feel more in control of my life and health than I had been in years.
What are you listening to at the moment?
Greta Van Fleet's "The Battle at Garden's Gate."
What's next for you?
The next single "Heaven Only Knows" sometime in the second half of October. Then a couple more singles until the release of the full album Heartrage Hotel sometime in late January. After that the only thing I'm looking forward to is being able to gig and tour again. In the UK, in Europe, in the US and in the Middle East. Any place where people got excited about the record and want to us live, the band and I will be there. And I can't wait.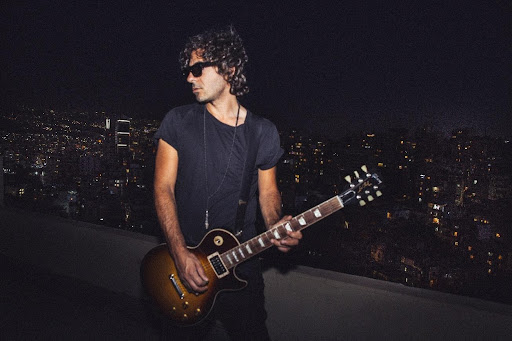 Special thanks to Sophie-May Williams Freelance Journalist at Quite Great PR.