Tell us about the R2 Builder's Club.
The R2 Builders Club is a worldwide group for people interested in building their own Astromech type droid. The majority of people build R2-D2, but there is a growing number of unique droids being built. The group is always happy to help and encourage new potential builders as the build can put people off. There is no right and wrong with droid building and you can use materials you are happy working with, such as styrene, wood, aluminium and more recently 3D printing. The community aspect of the group allows people to pick up skills such as electronics and programming and is a good way to learn.

What was it like being on set for "The Force Awakens"?
At first it was very daunting and almost right into the deep end. However in the past my R2 was used in a Currys advert so this prepped me for some of what to expect, although filming for TV is a lot quicker and less takes than in movies which involves a lot more filming and a lot more takes. The first set I was filming on was the Star Destroyer hangar and I got to build and drive the Imperial Sentry Droids and also drive the mouse droids which was great fun, the Imperial hangar turned out to be my favourite set to film in. The Falcon was a great set and I managed to look round it a few times, however we never filmed R2 on the full Falcon for TFA which was a shame; although we did shoot R2 just outside the cockpit in a cut down set, but this wasn't in the film.
What got you interested in building Artoo?
In the distant past I did a degree in Electromechanical Engineering and during my 3rd and 4th years I was involved with Robot Wars which was a great experience that also introduced me to TV work. After Uni I went into IT which involved no hands on work or getting dirty so I needed a project, and after looking on the internet I found the R2 Builder Group, which at the time was a EGroups mailing list. From reading up on building an R2 I decided to try and build my own, and now 20 years later I have a few Astromechs and have been involved in building R2 for the new Star Wars films.
What's your favourite Star Wars film?
The Empire Strikes Back will always be my favourite Star Wars film, the whole dark nature of the film makes it one of my top 5 films ever. While I'm a massive Star Wars fan I'm also a big film buff in general and films such as Blade Runner and The Shawshank Redemption pip ESB to 3rd place.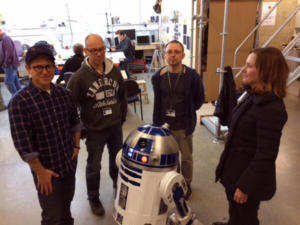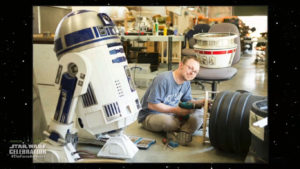 What was the most challenging part of the process?
When you build a droid for your own use and taking to conventions people try to make R2 do as much as possible such as opening arms, sounds and having lots of gadgets. For the film we had to look back at R2 from the original films and work out which one to duplicate as R2 differs from film to film and even shot to shot with panels changing and colour differences. We picked the ESB R2 as it has a more even blue and the feet are slightly different. From there we looked at what we needed, i.e. an inside droid, and outside droid and a 2 legged Kenny droid. We started with the same base for all 3 droids and the inside droid is the closest to the droids we build in the R2 Builders Club. The 3 legged outside droid has 3WD and a clever mechanism programmed by Matt Denton of BB-8 fame and built by Giles Hannagan. The 2 legged 'Kenny' droid used pneumatics in order to get him to wobble from side to side which worked really well. For the 3 legged droid and 'Kenny' droid they would never be made by the builders as they are completely impractical for taking to conventions and far too engineered.
However saying that the film droids are a lot simpler to the fan droids and don't even have sounds as these were put in post filming, occasionally we would beep onset if noises were needed. One part of filming is that we always had a spare droid to hand that could be rolled in if we had a failure, or electronics modules swapped over as everything was modular.
Near the end of filming we had enough spares to make a 4th droid and this had opening doors and panels which was great fun, however it was used in 1 scene which was cut from the movie. For the domes we made several and these had different jobs such as a movable holo projector with lights and another dome with panels. The domes were swapped onto different bodies depending on the scene being filmed.
What was it like being asked to be part of Star Wars history?
It was an amazing time and great to have my name on the credits. Before the film premiere there was a crew screening and everyone was looking for their name on the credits, there are so many people who work on the films it's amazing and unfortunately not everyone is listed in the credits which is a great shame considering all the work they have done.
You get to attend Star Wars Celebration what's your favourite story from the ones you've attended?
I've been to a lot of Celebrations now, C3 in Indianapolis was my first and since then I've only missed C6 in Orlando due to having to work over the Olympics period. I even did Celebration Japan and Essen and organised the R2 Droid Builders for the two London events. Celebration is always a great time to meet up with fellow R2 Builders from around the World and compare notes about various builds.
My favourite will still be my first Celebration for a multitude of reasons. The first reason is that apart from a few displays I'd never seen original props from Star Wars and at C3 they had a small room of various items including the 5′ Falcon, Sandcrawler and AT-TE and was amazing to see them. Secondly I had planned to see the ILM talk and this started great with Lorne Peterson talking about filming stop motion AT-ATs, to be interrupted by Rick McCallum who came in and showed the EP3 trailer the day before it was supposed to be shown so another amazing opportunity. Lastly Mary Franklin and Don Bies (droid Operator for EP2/3) managed to get George Lucas to look around the droid room so I managed to meet him and get a photo which was another amazing thing to do.
Other than Artoo who's your favourite character and why?
I tend to like the droids, and two of my highlights are the Pit Droids and Battle droids. Both are funny in their own ways, the Pit Droids are menial servants who help at the pod races and there is even a scene copied from the 3 Three Stooges. The Battle Droids on the other hand are serious and have strength in numbers. Strangely 14 years later from EP3 I have a fibreglass Pit Droid and 3D printing a Battle Droid, so by Christmas I'll have copies of my 3 Favourite droids.
What's next?
Apart from the Battle Droid? I'm always looking at ways to improve R2 so I'm always tinkering with things and trying to design new ways to do stuff. And with everything some work and some don't but I enjoy the building and testing.
Currently I'm building another Astromech (or 3) and thinking about expanding from Star Wars with A Wall-E and Johnny 5, however they are both long term projects and I need to finish off what I have already.