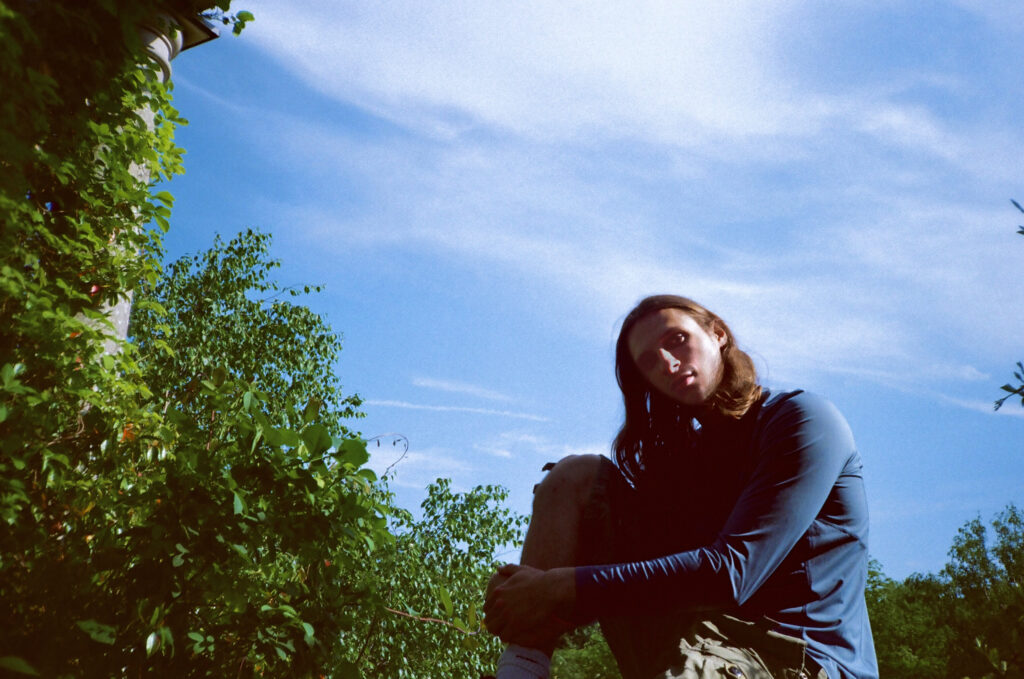 Hello ION how are you?
I've been great! Really pressing on with releasing music, making the accompanying visuals, and ensuring that it is all conceptually cohesive. The visual content that I've put out this year to go with my new songs Vega and Xeno has been received really well. So it's a small nod for me to keep applying my methods in this way!
Congratulations on the release of "Xeno" how does it feel?
Happy to finally be able to speak about this song! It's one that I planned for release months ago and it's amazing that I can now have insightful conversations with people about the thoughts/feelings that went into it. I really enjoy talking to people about the concepts I build because it always leads to having fulfilling interactions and strengthening the connection I have with those around me.
What's the story behind the song?
Xeno elaborates upon the idea that we each have our own 'out of this world' ways of perceiving, behaving, and living. And whilst people may question (as I sometimes do) whether the way they are is normal or not, I believe that everyone should be proud of their peculiarities because they are YOUR ways of doing! They make YOU who YOU are and there is no right or wrong in that! The song expands upon this sentiment, where I talk about my own gradual acceptance of my ways.
The title has a specific meaning, tell us about how you came to that?
I use the word 'Xeno' in this song as a metaphorical expression for our individual quirks. 'Xeno' being short for 'Xenomorph'. I saw it as a bit of a satirical way to describe peoples' unique dispositions, by essentially calling them 'out of this world', or 'alien-like' in an attempt to emphasise that we should all be ok with being different!
You are a London born artist with origins from Kosovo, how did it all begin for you?
Kosovo is where all of my family come from, and how beautiful a place it is! I spent a large amount of my upbringing surrounded by nature. Specifically in the mountainous regions of Kosovo known as Brezovica, where I would spend my time exploring the bold terrain of the Sharr mountains. It is this pure environment that I believe nurtured my abstract way of thinking and which now informs the explorations I make through sound.
With music now my means for communication, it allows me to embrace these facets of myself and express them in my own unique way. My efforts involve me building my thoughts into themes and organising them into music that from the ground up I aim to make sonically cohesive. I produce and write everything myself, which also includes the making of music videos, conceptualising and playing a part in directing.
Mountain trekking has still remained one of my favourite things to do to this day, along with climbing which I began learning relatively recently. It makes me happy that I'm able to combine the outdoor expressions that influenced my upbringing with musical ones, because it allows me to be my own true self in the process, and it is something I look forward to continue doing! Not only this, It's also a way for me to honour my heritage and where I come from, and that makes me very proud.
The video for "Vega" was pretty out there, how did that come together?
I'm glad you ask this! As I've already mentioned before for me cohesion is an important aspect when it comes to expressing the concepts I've built. I believe that a music video should be the visual extension to the sonical themes explored in the song. So before getting started on creating a video I'll first make sure I have a vivid idea on its' creative direction, being certain on the kinds of textures, colours, themes (and so on) that I think will augment the music.
It's then a case of sourcing the right references so that me and whoever I'm working with on the video can make the plan to get the shots we need. In the context of Vega, I wanted to further explore the theme of accepting individuality. Two main references were the source of inspiration for the scenes.
One of them was a movement reference from a 3D animated short film known as 'Jibaro'. The distinct dancing performed by the golden woman in this animation inspired my performance seen throughout the music video. The second reference was one that inspired the way space was used and manipulated within scenes and when transitioning from scene to scene. This came from a very well-known sketch made by Leonardo Da Vinci known as the 'Vitruvian Man'. In short this is how the videos' style was developed!
You do your own artwork as well, do you have a rough idea of where you're going with it when you start?
The artwork for Xeno is really one of the only few that I made myself, this one consisted of a collage of photos and textures that I put together. For my previous releases however It's actually my Grandmother who is behind the artwork! She was the one who painted the beautiful cover art for Vega as example, she also drew the expressive sketches seen in The Blizzard Awaits EP artwork. 
It make me so happy that I can utilise cover art as an opportunity to showcase her talents! And just like with music videos, I have a vivid idea of the kinds of textures and colours I would like to see. The difference here is that I communicate the vision to my Grandmother and then allow her to make her own interpretation of my ideas. The process is fascinating because from the discussions we have regarding the concepts in the music the resulting artwork develops into this fusing of two alternate perspectives and interpretations. And I am so grateful that I get to share this special experience and devotion to expression with her!
Post pandemic, what have you learned about yourself in the last three years?
In the last three years I've learnt just how valuable self-confidence is to me, and this is something that sound exploration has helped me to develop. With releasing more and more music as the years go by, It's clear to me that my creative output is gradually becoming more and more transparent and truly reflective of me as a person. And I think this comes from me slowly gaining the self-confidence to communicate my thoughts and feelings as they really are.
Did you pick up any new skills?
Of course! One skill that I've picked up is the art of rock climbing. I feel very lucky to have stumbled across an activity that coincides so closely with how I am as a person, and I think it's something that has definitely helped with my self-confidence as I mentioned in the previous answer. Rock climbing is a continuous part of my life now and that makes me happy.
What are you listening to at the moment?
I'm currently listening to a newly released album by Salami Rose Joe Louis called 'Akousmatikous'. The production along with Louis' style make it a cool listen!
What are you looking forward to doing next?
Exactly what I said I was doing in the first question! I'm deeply driven to continue my methods of expression to find new and inspiring ways to portray my thoughts and concepts. I'm starting to feel that people are beginning to become more interested in my creative output, so I'm looking forward to pressing on with this and to keep showcasing to people what we are capable of when we stay true to ourselves.
Special thanks to Danielle Holian Liberty Music PR