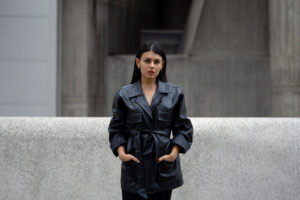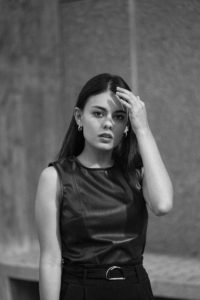 Hello Noé Solange, how are you doing?
I'm doing well thank you! Although we're all going through such a strange time at the moment, I'm staying positive.
You're a singer, producer, songwriter from London. How did it all begin for you?
Oh where do I begin! I was born in Holland and raised in eight different countries before moving to London to pursue the arts – as I am also a freelance photographer.
I started singing and playing piano, guitar and violin at an early age and started experimenting with the production side of music around the age of fifteen. It was after moving to London that I really started focusing on releasing my own music. Before that, I mainly featured in other artist's tracks as a vocalist and lyricist. I have now finally released my debut EP 'Bound', with my international upbringing having been a huge inspiration in my music.
Congratulations on the release of 'Bound' – How does it feel?
It feels great! The response to my EP has been very positive and I am so grateful for all the love it has received. I feel very lucky that I've been able to connect with others through my art.
What's the story behind this EP?
'Bound' consists of four songs and a radio edit. The first single 'Nocturnal Lady' was released earlier this year as a teaser for the EP. It was written last year and describes my struggles with insomnia. Although very personal, I also tried to link societal aspects to it, conveying that we have started to disregard our need for sleep and have, as a society become"nocturnal". We live in a non-stop world programmed to never turn off.
It was this track that inspired me to create 'Bound', an EP that takes you on a journey based around vulnerability, love, loss and struggle – both personal and reflective of society.
What's your favourite track on it?
All the tracks have their own unique story and sound, so it is hard to pick a favourite.
I am quite proud of 'Invisible Handcuffs', as it shows a more experimental side of my production. Also, the lyrics are more direct than the rest of the EP and are inspired by my interest in sociology. It describes how some powerful individuals purposely avoid societal problems for their own benefits, so they can live their life through rose-tinted glasses. It starts off with sampled news reports referencing events such as Corona Virus, the Jakarta flooding (Which is especially poignant as I was there at that time), BLM and more. I use them to signify the chaos happening around the world.
Your sound is based in electronica but draws on so many different influences, what did you listen to growing up?
Having grown up in different countries gave me the opportunity to immerse myself in music from various cultures. It made my music taste super diverse, going from classical to traditional Japanese and Indonesian music to electronica, jazz and so on!
It inspired me to incorporate Asian instruments such as the gamelan and koto in my songs.
Covid 19 has impacted the creative industry in a big way, what has kept you motivated?
As both a photographer and musician, work has become very unstable, so I focused on finishing my EP and spent a lot of time listening to music and finding new artists. Music definitely acted as a form of therapy during this strange and difficult time!
What artists are getting you excited at the moment?
I'm listening to Laura Misch a lot at the moment and would love to see her live! I really like how she incorporates jazz elements into her music and her voice is very gentle, which is perfect to listen to whilst working.
You are a multi instrumentalist, what instrument usually sparks your writing process?
Piano, synthesizer or vocals are usually the first elements I lay down when writing and I just go from there! Listening to unique instruments being played in world music also inspires me to create.
What are you looking forward to doing most next?
I'm looking forward to playing live and going to gigs once restrictions have eased up.
I've also started working on music I'm planning to release next year, which I'm excited for everyone to hear!