Hello Daman how are you?
Not bad at all thanks Del, hope you're keeping well too. And thank you for involving me in this wonderful blog!
You're a comedian, what was it like doing your first stand up show?
It was nerve-racking! I really don't remember much about it other than a bright light staring me in the face, a lot of sweat, and a lot more silence than I'd ordinarily care to admit to. As I have experience in performing Improv shows, I went onstage with a lot more bravado than I should have, thinking it wouldn't be that hard. I was humbled in seconds! I'm still very thankful for the experience as it's definitely improved my act in the long run, but at the time it was a tough pill to swallow.
Were you always the one to make jokes in class at school?
Only amongst my friends really, I was by no means the class clown. I tried to be funny in regular interactions in a more subtle, lowkey kind of way. Since I could make my friends laugh, I gained enough courage to join the Improv society at university which was the start of me performing comedy – so if you ever have any of my content thrown your way, you have my friends to blame.
Who are the comedians that have inspired you?
My influences are forever expanding, there are so many extraordinarily talented comics out there who I love watching and learning from, which always makes this question a tough one to answer! If we're talking day one, I'd have to say Dave Chappelle was and to this day remains one of my favourite comics – he is a master of the craft in every way. I love a good accent, so Trevor Noah and Russell Peters have really led the way for me there. Chris D'elia, Chris Rock, Bill Burr & Hasan Minhaj are all phenomenal… the list goes on and on.
What's the funniest experience you've had on stage?
I once told a joke at Jericho Comedy in Oxford (an amazing night out by the way) which made one man in particular giggle for way too long. He kept going for so long that it eventually broke me, and I started laughing at his giggle, which in turn made the rest of the audience laugh. We all had a shared contagious laugh… I absolutely loved it!
How do you prepare for a show?
It takes me weeks to write a series of Jokes I'm happy with, but once I've put a set together, I rehearse it until I've committed it to memory, before trying it at a gig. I try to learn from every set and modify it slightly before memorising it and doing the next one, etc etc until I die.
What's been your favourite venue to perform in?
My favourite venue to perform at so far has to be Angel Comedy Club @ The Camden Head. The audience there are always in high spirits, meaning everyone has a great evening and you leave with that confidence boost which you need all too often in this hustle (yeah that's how I refer to the stand up game, sue me).
What are your favourite open mic shows?
There are so many! Funny Feckers, Vauxhall Comedy Club, South Kensington Comedy Club, G&B
TNT, Comedy Virgins to name but a few of the several excellent Open Mic nights in London.
Which other comedians would you recommend?
There are too many to name. Go to my 'Following' list on Instagram (daman.bamrah) and you will see them all. There are so many talented open mic comics, many of whom are destined for greatness; You'd be missing out if you didn't come to see some Open Mic Comedy.
What are you looking forward to this year?
I'm going to the Edinburgh Fringe Festival in August to perform in a Semi-Final of the prestigious 'So You Think You're Funny?' competition, which I'm massively looking forward to! I will also be back at (my fave) Angel Comedy club later in August. I love the process of creating comedy, so you will see more sets and online content from me this year, which I'm very excited to share with you all! Find it all at www.damanbamrah.com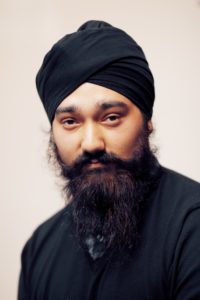 .📷 Minyahil Kifle-Giorgis
Instagram: @daman.bamrah