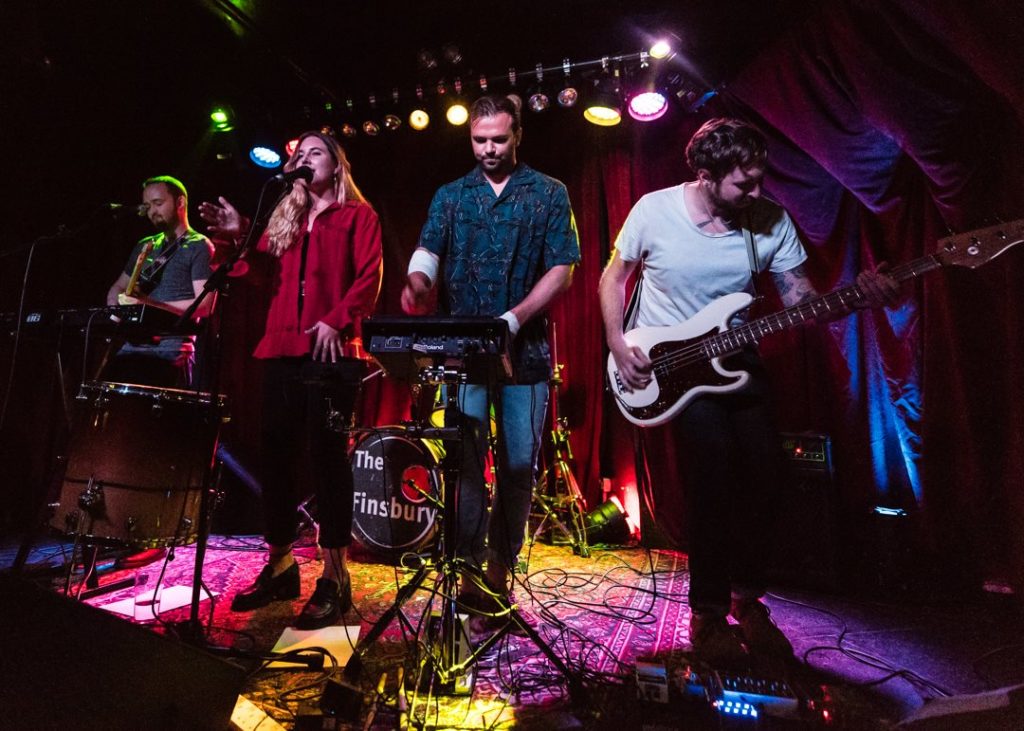 Ian from the band Kid Cupid thanks for agreeing to talk to us!
First of all how are you doing?
I'm very well mate! Keeping busy, planning next moves, travelling for gigs all over
Tell us about the band, who's who, and how did you get together?
Well, obviously my names Ian, I play bass 🙂
You have Laura on the vocals
John on guitar, backing vocals and keyboards
James on the drums
Laura is my best mate's girlfriend so I met her through him and she knew I played. James is an old work colleague from TV land and John came along from a gumtree advert
Describe Kid Cupid's sound in five words.
Catchy
Cinematic 
Pop
Electro
Dark
What have you been up to in the last 18 months?
We have been up to a lot! We have pretty much been together 18 months – 2 years so we have been grafting to make things happen. 
We've played countless gigs, toured the UK, played abroad, recorded lots of songs! 
We seem to have a big following Berlin, which is great as we all love it over there!
Do you have a favourite song each?
It'd be tough for me to comment for the other guys but Laura is a huge Stevie Nicks Fan. So that gives you a bit of an idea on where she comes from with her influences.
Personally and weirdly, I grew up on skate punk and punk rock. It's safe to say that my tastes have expanded as I've got older.
My fav artist of all time is Ryan Adams, but at the moment I'm listening to lots of contemporary Jazz!
I'm an avid vinyl collector so my studio space is filled with records from everywhere on the musical spectrum. This makes it hard for me to pick any song as a favourite (even picking a favourite album would be tough!)
What is your writing process?
Luckily we have our own studio. We normally meet once a week for writing sessions. 
It's a bit like bring your project to work day. As someone will normally bring an idea and then we will all sit down listen to it on loop and flesh parts out.
It might be James bringing in a chorus or something along those lines and then I will add my part, John his and we'll work from there forming the rest of the song whilst Laura gets in her lyrical headspace.
We will generally record demo versions and tweak them until we are happy and those are the final versions you and everyone else hears 🙂 It does mean we have stacks of different versions knocking around. 
Our studio sound is also quite a lot different to our live sound. We like to tweak it again once recorded so we can make it into an exciting live show.
You released the "Unholy Ceremony" EP this year, how did that come about?
We had released quite a few singles and decided we should probably work on a more cohesive project. Something where we could showcase our different sounds and influences. We sat down in January with nothing and worked on maybe 6-7 songs cutting it down to the 4 you hear on the record.
Some of the other tracks we left off can be heard at our live shows still.
The name actually came from one of Lauras lyrics and we just really liked it 🙂
If Kid Cupid could be remixed by anyone who would your top 3 choices be?
Personally, I'd love Mark Ronson to have a go. I think his style of production is amazing.
At the odd end of the spectrum someone like Aphex Twin.
And 3rd I'd have to go with Justice, see how they could funk electrify the tracks
Your sound is a mixture of electro acoustic and synth textures, has there been any challenges in replicating this live?
As previously, we record the tracks just to get the best recorded sound we can.
We will then take those tracks to the rehearsal room and work out our specific parts for the live version. Sometimes these can be quite different so it's almost like relearning our songs. That can keep you on your toes 🙂
We will strip the recorded versions to basic items purely for backing track parts for the live show and fit everything into those. Whether that be synth parts or a backing vocal here and there.
What's next for Kid Cupid?
We would just like to grow our fan base, play more and more succesful shows and hopefully at some point give up our real world jobs to do music full time.
A support tour with a well established would be ace. More travelling and just being able to have fun doing it!
Unholy Ceremony EP is available now.
www.instagram.com/wearekidcupid